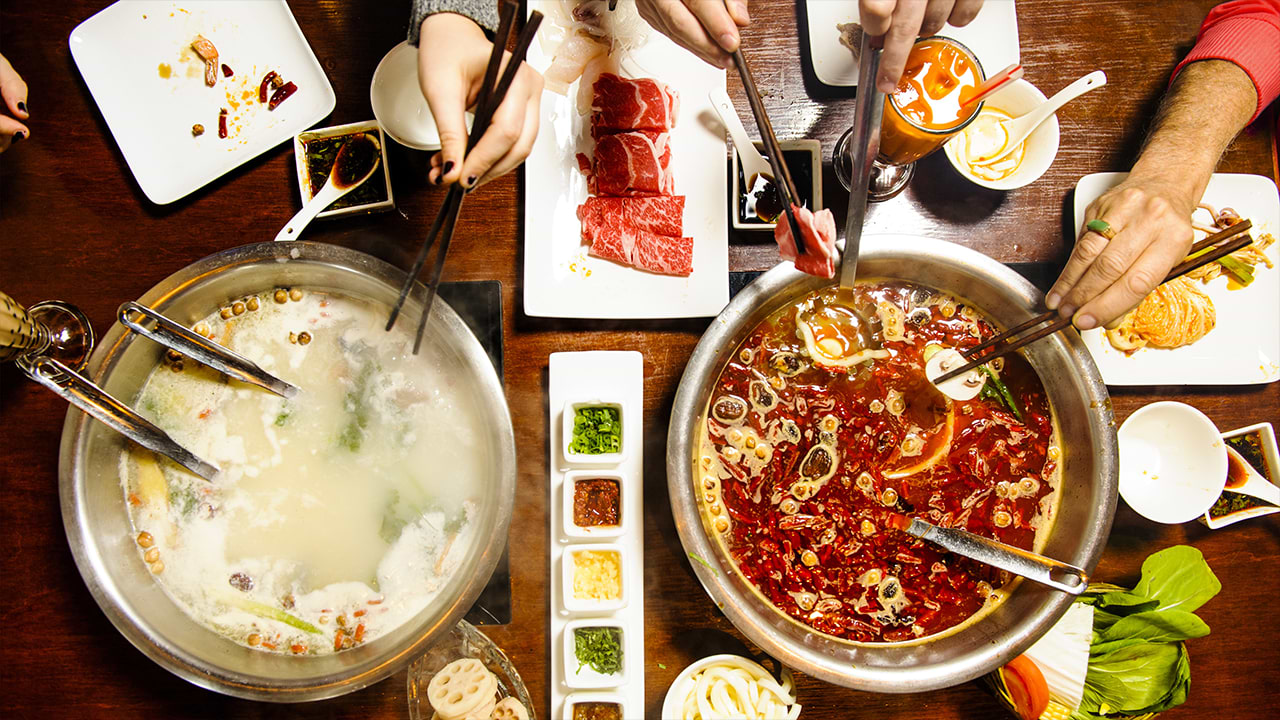 Food at Scarlet Lady
If you only had a handful of places you could choose to eat for the rest of your life, what would they be?

An exciting proposition, but not as easy as it sounds. This is the very task we gave the culinary masterminds responsible for the selection of eats and drinks on board our Scarlet Lady. Imagine you're building a city, an epic city, in the middle of the ocean (miles from civilization). Look around the world, find what's hot, ignore what's not, think about what's next, bring it all together, and only pick the very best.

After you've decided what you want to eat, you need to figure out whom you want to share it with, and how. Because what's the best meal you've ever had if you don't have great company to soak in the vibes with? Is it a meal for 2? Maybe it's a group of 4 or 6? It might even be 8!

We believe breaking bread with other sailors, no matter the number, is much more than just fueling your body, it's the rejuvenation and transformation of your mind, body, and soul. Because of this, we've crafted each space, and the food they offer, to reflect the best-loved eating experiences of our future sailors.

Whether your circle is large or small, whether you're about the grit or the glam, whether you're looking to throw on that glamorous outfit or go from the pool straight to dinner, on our voyage there will be a place to satisfy everything you've been looking for (and a few things you had no idea you wanted).

When deciding where we wanted to draw inspiration from, our potential sailors let us know there are a few plates and places around the world that make their hearts skip a beat.

So we set out to inspire the cities that inspire them, and us.
"Our potential sailors let us know there are a few plates and places around the world that make their hearts skip a beat."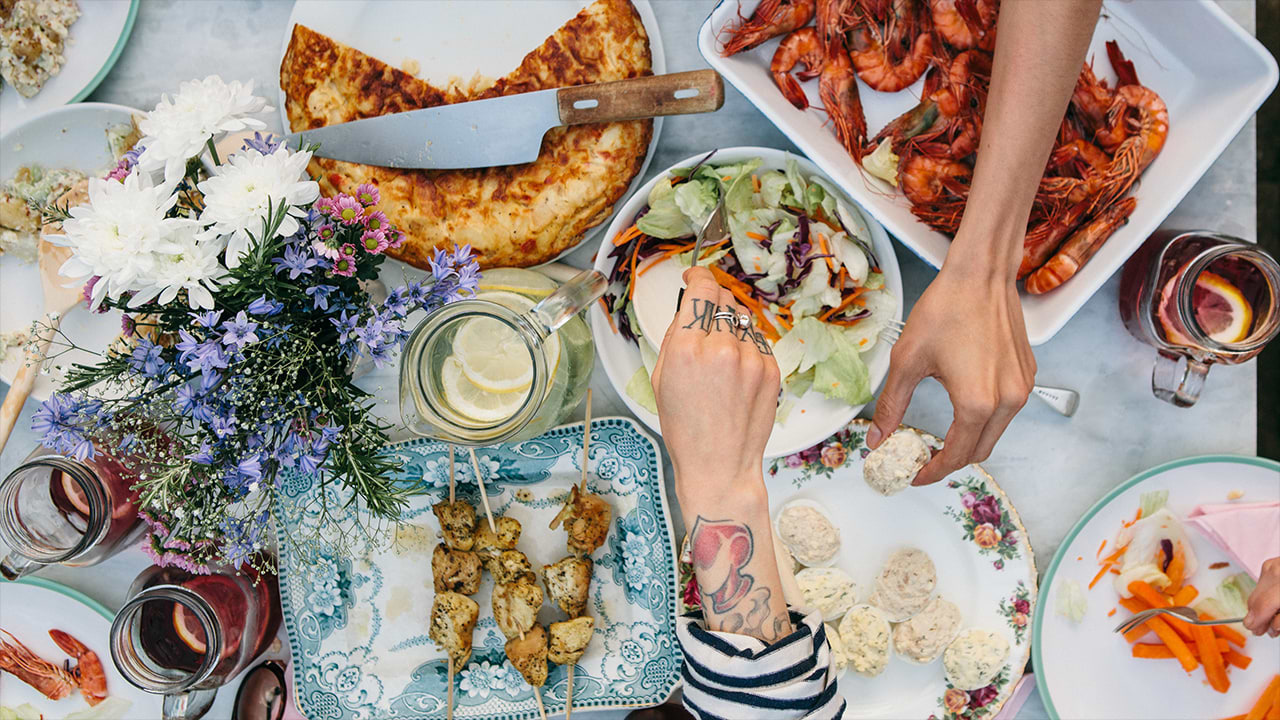 Food at Scarlet Lady
From SoHo to Shoreditch, there's a medley of eateries and experiences that stand out. And while the most famous cities in the world might not be able to agree on who does what the best, there will be no debate about the delicious delights you can only find aboard the Scarlet Lady.

To bring this vision to life, we went in search of partners who understand that dining is more than just a daily task to be completed according to schedule. It's an immersive journey. A time to indulge. A crucial part of your day that has the potential to set the rhythm for what happens from that moment forward. And it doesn't come along just once every voyage. It happens every day, three times a day, and probably more once you get a taste of what we're cooking.

So we tapped into our Creative Collective, who believe, just like we do, that food is more than just what something tastes like. It's about how it makes you feel (before, during, and after your meal).

We also decided to expand our Creative Collective to include world-class AvroKO Hospitality Group, and their very own Michelin starred chef Brad Farmerie (whose claims to fame include: Saxon + Parole, Public in New York City, Genuine Liquorette, and Ghost Donkey, among others) to crystallize the best and most forward-thinking trends on land, and help bring them to life at sea.

Our vision quickly began taking form after we locked in the dynamic duo behind Roman & Williams, Stephen Alesch and Robin Stanfeder, whose years spent crafting sets for some of Hollywood's top films taught them that building a space isn't just about creative design, it's about creating an experience. One that reflects the everyday habits sailors treasure too much to leave behind, while also providing the opportunities they won't be able to find anywhere else (whether on land or at sea).

As time passed, Alesch and Stanfeder quickly realized that the narrative and potential immersion were essential parts of any environment or set they created. And that very same mindset was used to design spaces aboard Scarlet Lady, except here, our sailors are the stars of the film.

Together with these brilliant minds, our Creative Collective, we have the opportunity to do something that's never been done. To set a new standard in an industry that isn't confined by four walls and a roof, but that has the freedom to travel anywhere our heart's desire.

Minds such as Tom Dixon's Design Research Studio, Softroom in London, Concrete Amsterdam, and the aforementioned Roman & Williams (among others), helped lay the blueprint for a voyage you won't believe even when you see it.

Each and every single one of our spaces, from the glamorous Wake restaurant to the exciting and innovative Test Kitchen, and even The Pizza Place, will be second to none.

And even though we're breaking the mold, providing complete creative and culinary freedom to our laureates of cuisine, there were a few caveats we considered to be non-negotiable.

Our voyages are Adult-by-Design, intended to provide an elevated eating experience that reflects our sailors' daily lives, and the lives they aspire to lead. Dine wherever you want, whenever you want, in whatever way you want, guaranteed to exceed your appetite's (and heart's) expectations. We have surprises waiting around every corner, and if you'd like to share a plate with your fellow sailors, that's fine too.

Forget having to wait for your fun to begin. There's already a bar in every restaurant. Go ahead, enjoy a few drinks before or after your meal.

And if you're looking to realign your chakras, become one with the ocean, all while doubling down on some exquisite eats, we have spaces for that too. After this voyage, it'll be hard to come to terms with the fact that you can't always sit outside (sorry, New York). Hey, it's still warm in the Caribbean.

We made sure to leave buffets behind. They're just not for us, or our sailors. In their place, we have a mélange of intimate eateries befitting the type of boutique hotels you might find in the poshest neighborhoods around the world. Except here, every sailor is invited.

All of our food will be made to order. In doing this, we're cutting back on waste, lowering our energy usage and emissions, and setting up the Scarlet Lady to be the future of sustainable sea travel.

If it hasn't become evident for you by now, this voyage isn't just about what you do, but how you do it. Our goal was to create a journey that brings together everything you love from your everyday life with everything you want while on vacation. With 20+ eating options available and included in your voyage fare, our wide variety of eateries will have you signing up for another voyage if for no other reason than to try everything you missed out on the first time around.

You don't eat at the same place every day of the week, so why should you have to do it while on holiday?

We're writing a brand new definition of what it means to dine at sea. Uncharted waters excite us
"We made sure to leave buffets behind. They're just not for us, or our sailors."