Get a lil taste of the (very) good life at sea
Warning: The content depicted on this page may cause increased appetite and intense desire to sail with us. Viewer discretion is advised.
We're rethinking the way people dine on board.
Always bringing fresh ingredients and made-to-order cooking to the table, our foodie-approved eateries offer everything from food truck faves to ten-course feasts — perfect for crushing any craving.
Mixing sophistication and nostalgia with stunning views of the ship's trail, The Wake brings a modern twist to the classic chophouses of the mid-20th century. In fact, just entering The Wake is an event in and of itself. And once you've made your way down the grand staircase, you'll enter a world that harks back to the old steakhouse, three-martini-lunch days of Madison Avenue ad men. But, thankfully, with gender equality now and, you know, no cigar smoke.
Fare with Flare
Razzle Dazzle
The go-to option for cool and casual dining on board – serving dinner, breakfast and… *dramatic head turn*...all day boozy brunch.
So your best friend wants something healthy, and you want…sunny side hash? This is the place. Boasting a bold interior and a daring new dinner menu, this happening spot offers our creative twist on some classic American comfort go-to's. Razzle Dazzle strikes a culinary sweet spot between balance and decadence, with a menu that skews partly toward veggie-conscious dishes, and partly toward meats, sweets, and gluttonous treats.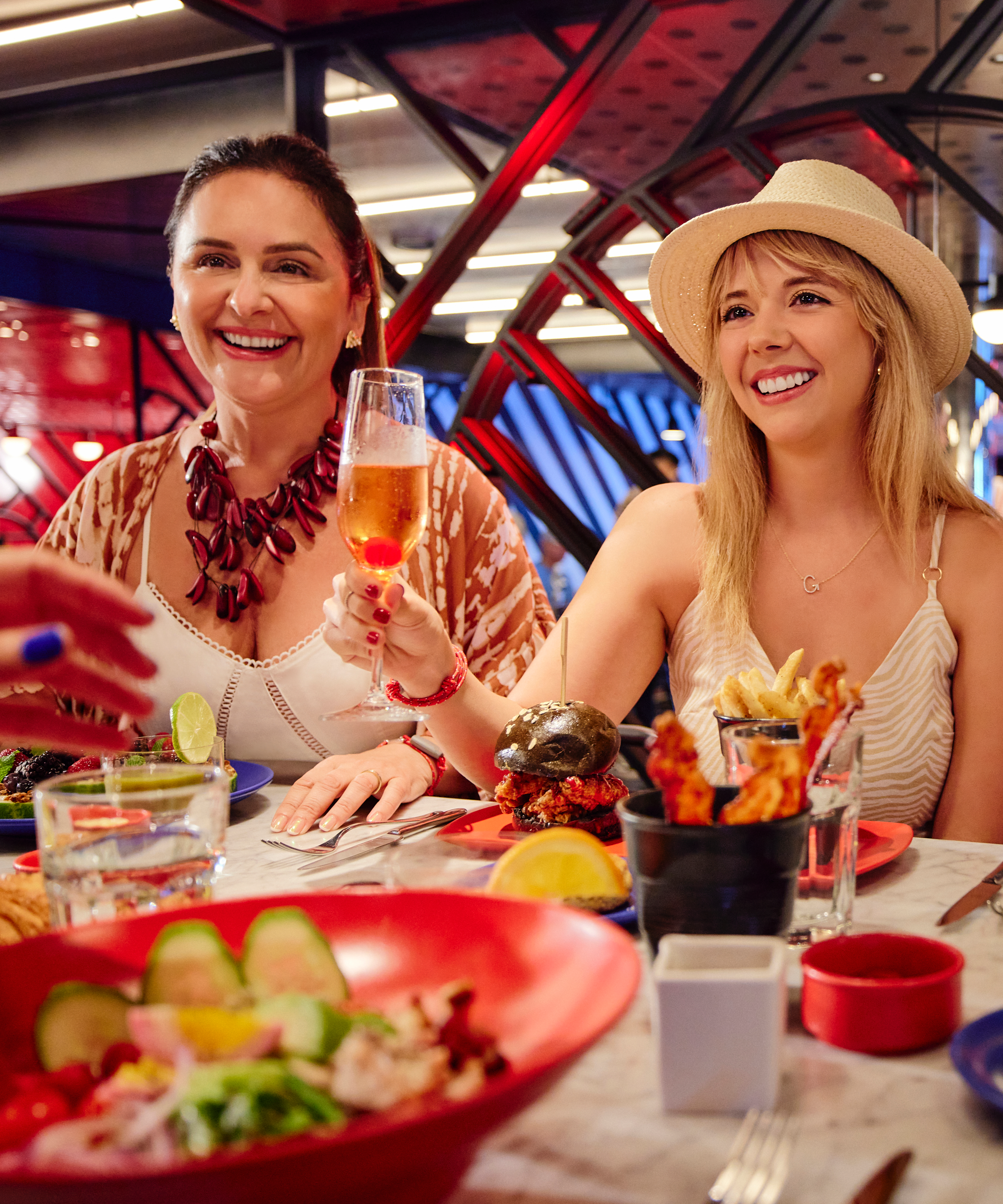 FARE FOR EXTRA FLARE
Razzle Dazzle by Night
Let us dazzle you with daring dishes and disco beats.
You don't just walk into Razzle Dazzle for dinner — you sway in. Already available on Resilient Lady, and now on Valiant Lady and Scarlet Lady, the Razzle Dazzle by Night menu puts a bold twist on America's favorite dishes. Balancing the quirky attitude that stole Sailors' hearts with dimmed lights and neon signs, Razzle Dazzle by Night is spreading the love across all three of our ships.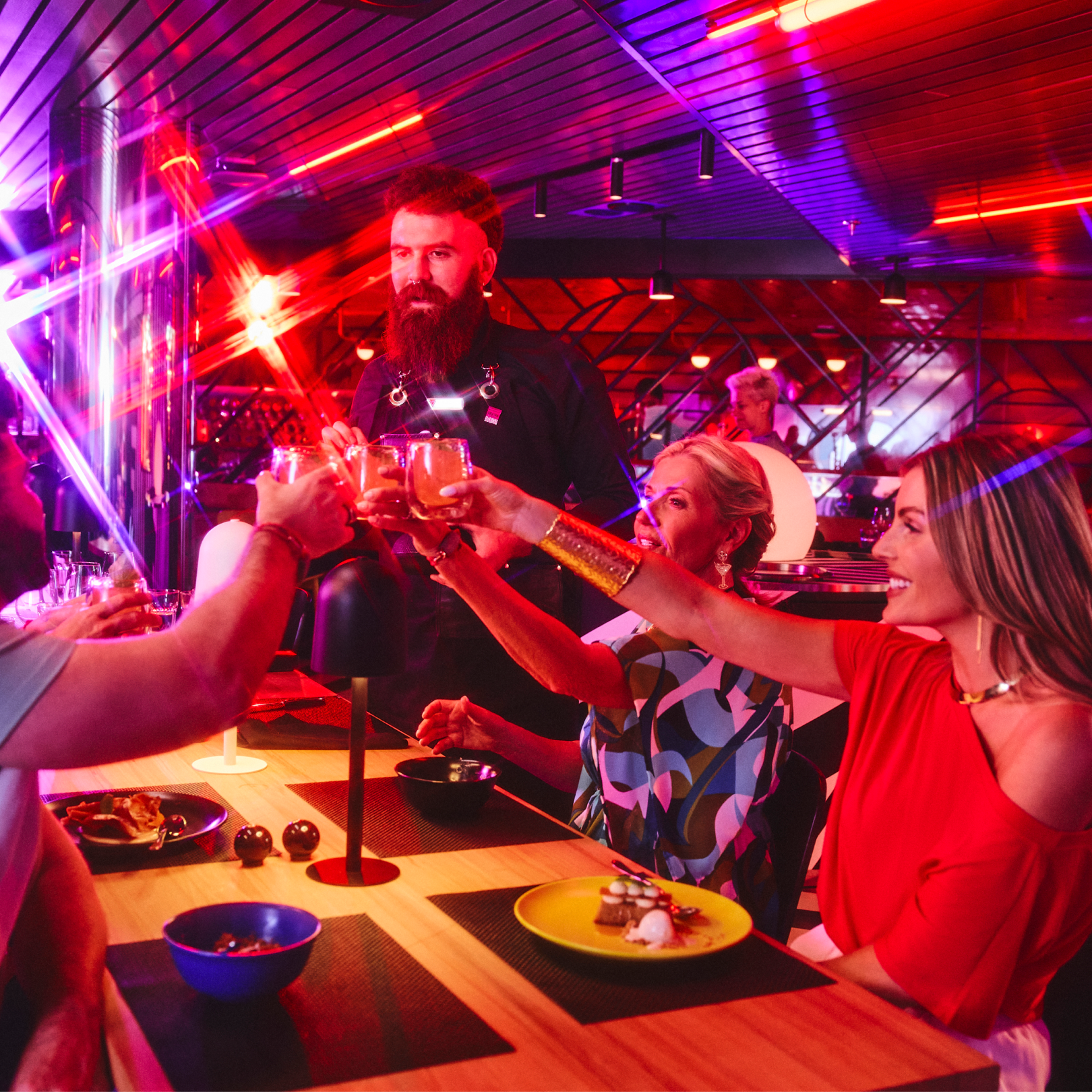 Upscale Mexican
Pink Agave
Inspired by Mexico's red-hot culture and sexy food scene, the experience at Pink Agave goes far beyond the usual taco. Shareable, social, and spicy — it transports you to the vibrant streets of Mexico City on an immersive odyssey of local cuisine. With our Crew to take you on a highly curated dining journey, the largest selection of tequila and mezcal at sea, and DJ beats to amp up the energy, we won't judge if you order one of everything… and end up dancing on tables by the end of the night.
If you're into hands-on meat grilling and soju drinking, our Korean BBQ is *the* perfect spot to do all that with maximum social engagement (IRL, of course, but feel free to 'gram it if you want). Interactive, energetic, and really fun, every meal at Gunbae begins with a Korean drinking game that includes a complimentary shot of soju. And since we all have that one friend who insists on being the meat master, this is the time to roast the master while the master roasts the meat. GUNBAE!
IRRESISTIBLY ITALIAN
Extra Virgin
Deeply rooted in Italian traditions, Extra Virgin serves regionally-inspired food punctuated by our handmade pasta. From shared antipasti to fresh pasta, you'll worship the carb gods as any good vacation begs of you — but in a culinary experience as rich in culture as it is in flavor. Try the grilled meats, taste the seafood, then get some homemade gelato from the Affogato cart. Top it off with a traditional Italian aperitivo to help get your night started... or a digestivo to make it complete.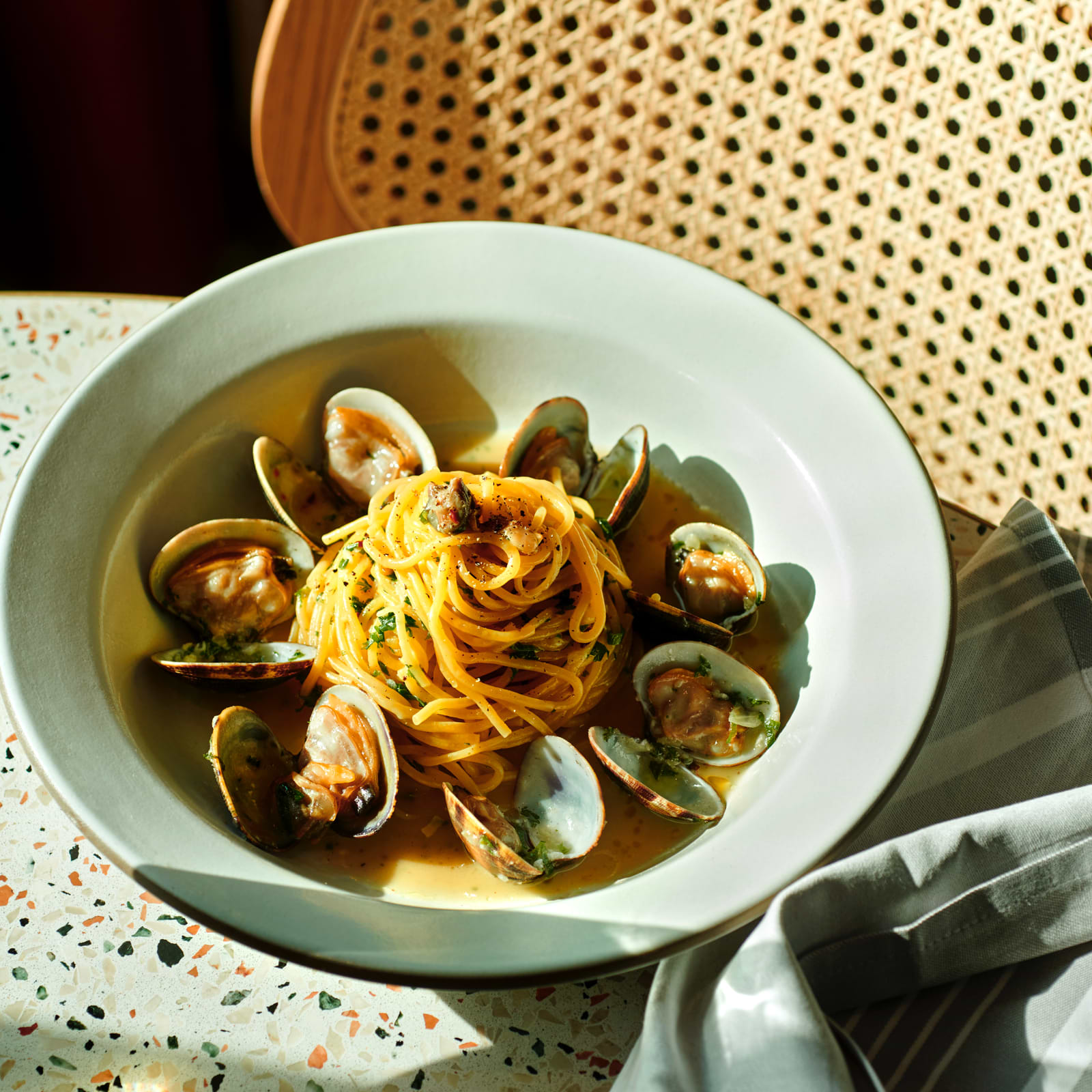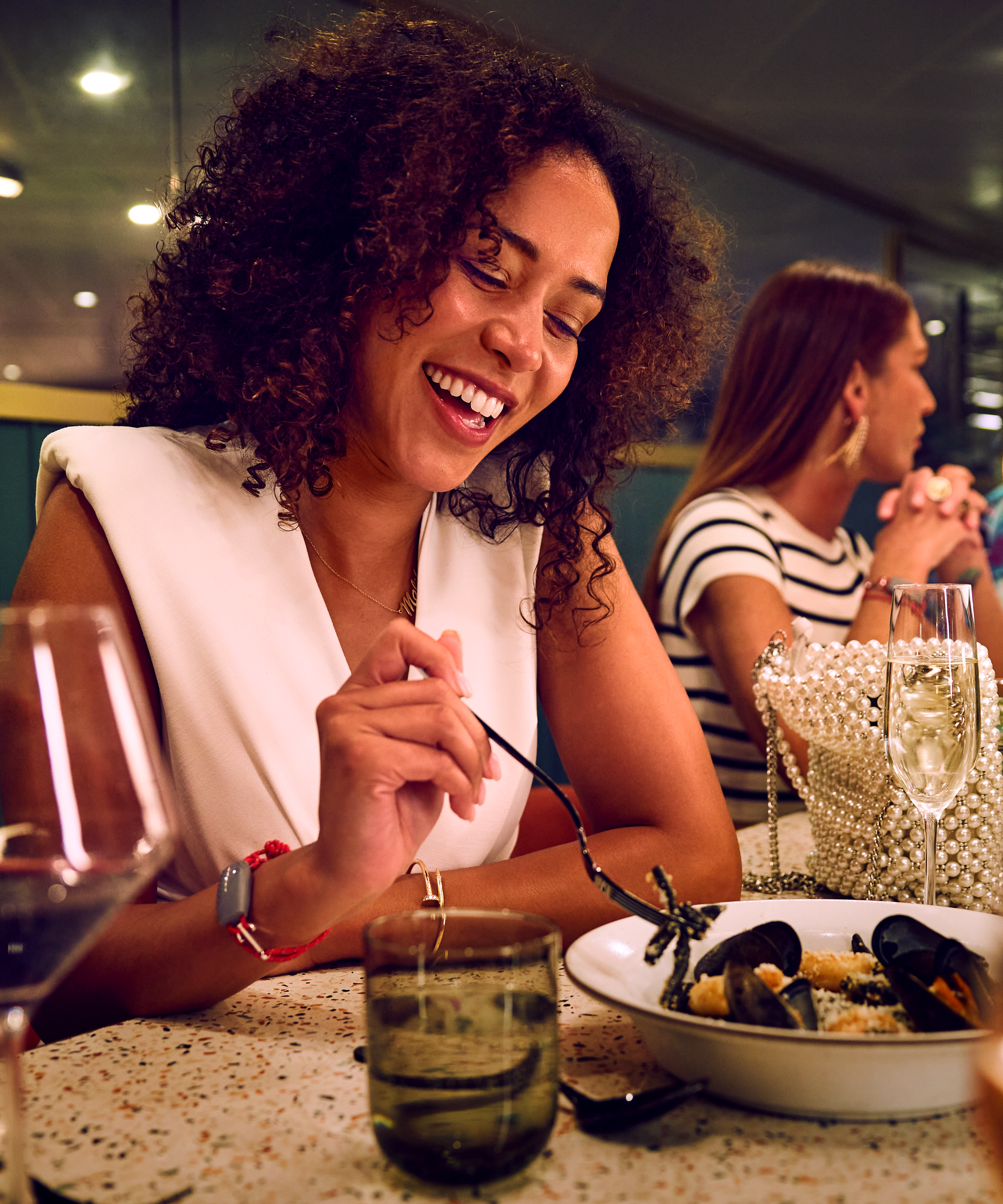 We told you there's 20+ eateries waiting for you
Wait, there's (a lot) more!
We've replaced the traditional single dining hall with an array of mouthwatering eateries always included so that you don't have to eat the same thing in the same place with the same people you don't even know every day. You're welcome.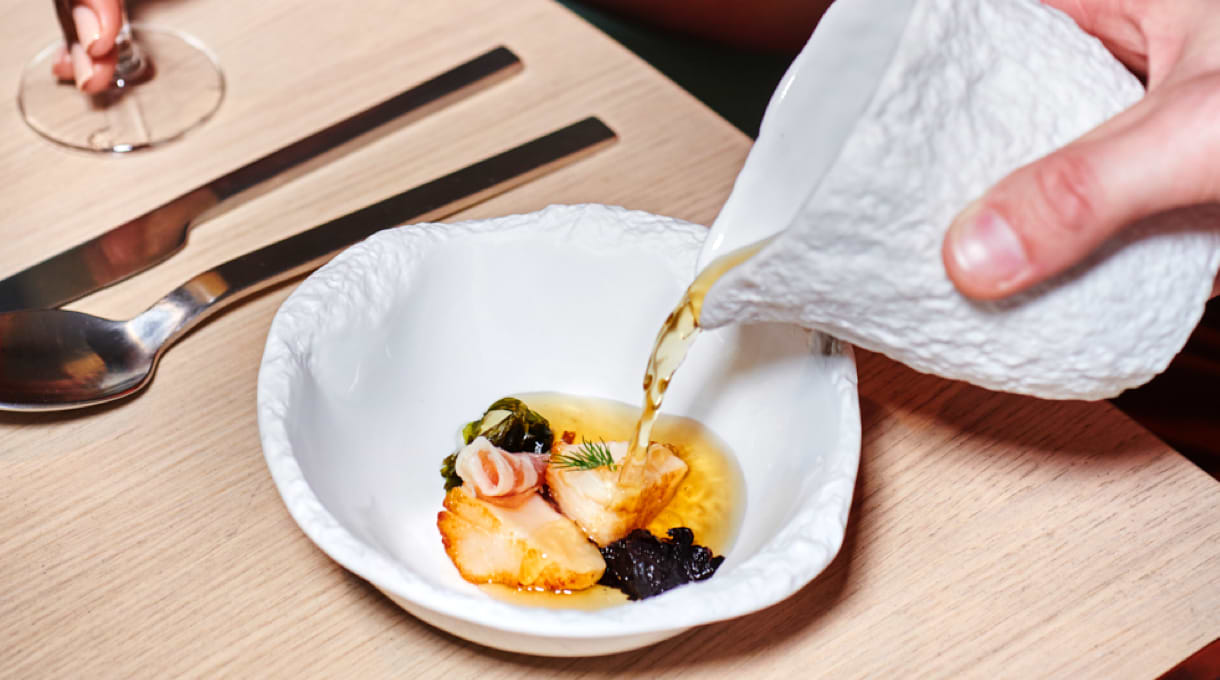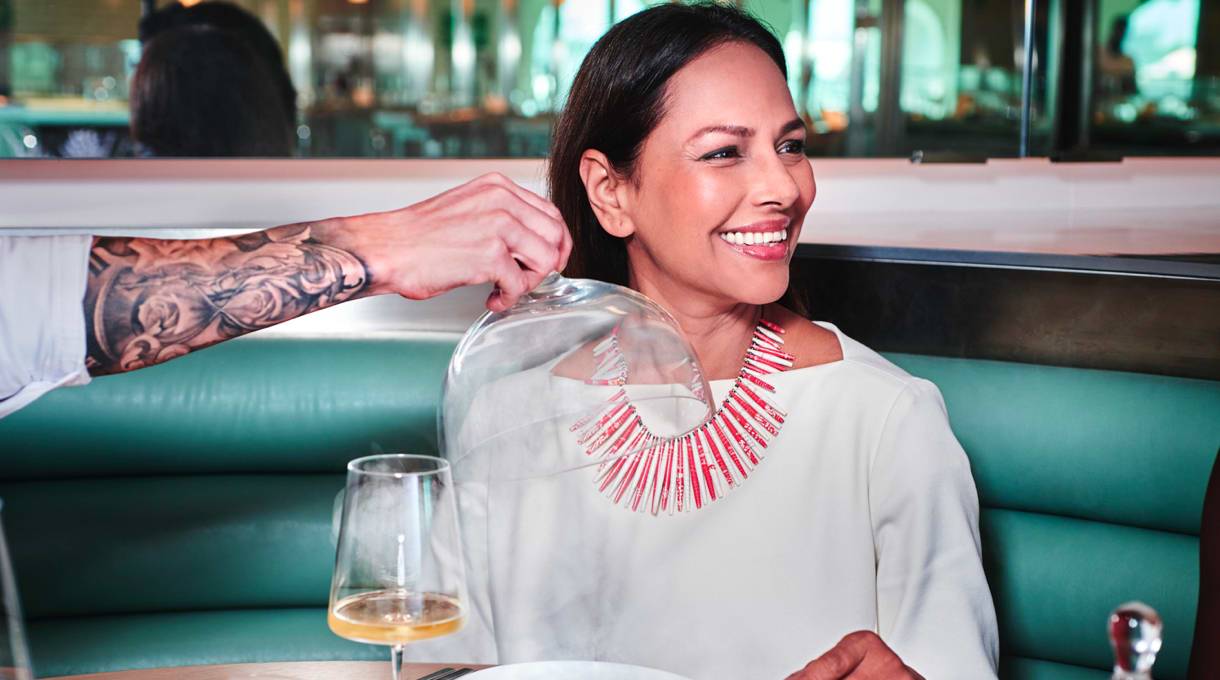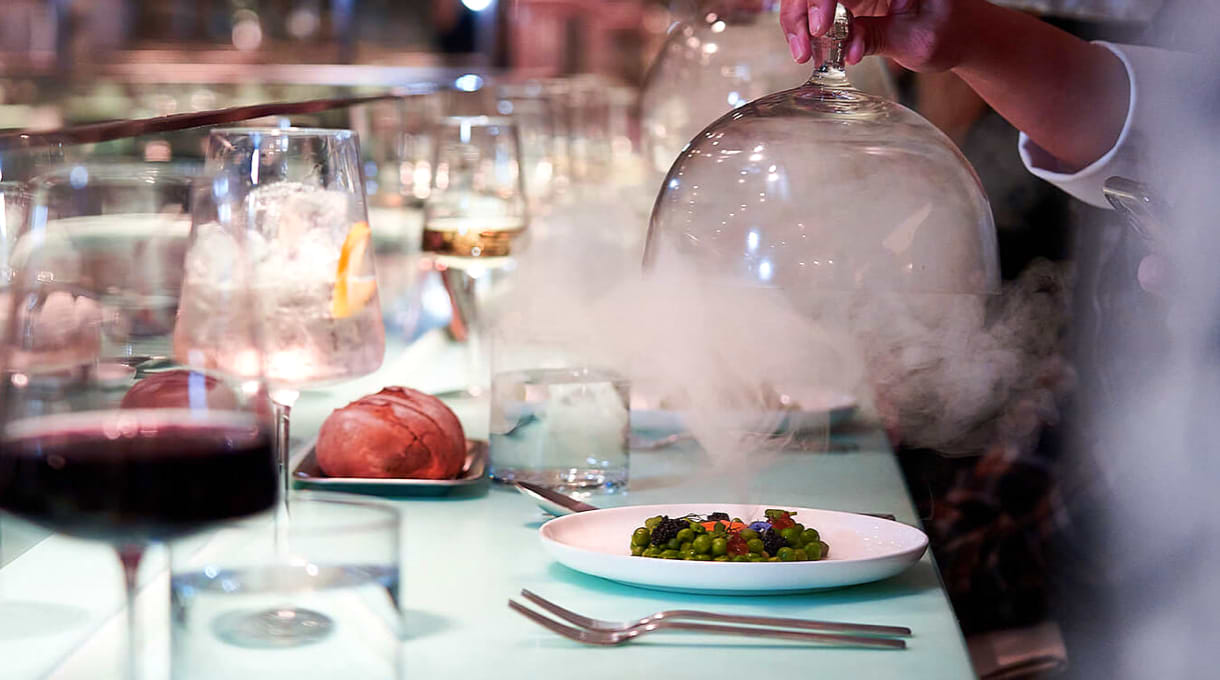 The Test Kitchen
Specially designed for the boundary-pushing tastebuds onboard, the laboratory-like Test Kitchen is both an eatery and an unconventional cooking school. Inspired by Escoffier's Ma Cuisine, its evolving, chef-driven tasting menus are presented as an ingredient list — but the cooking techniques, presentation, and flavors are explored in ways you've never seen. With innovative and experiential classes like Mixology and coffee labs, you'll try different methods and components for unique results.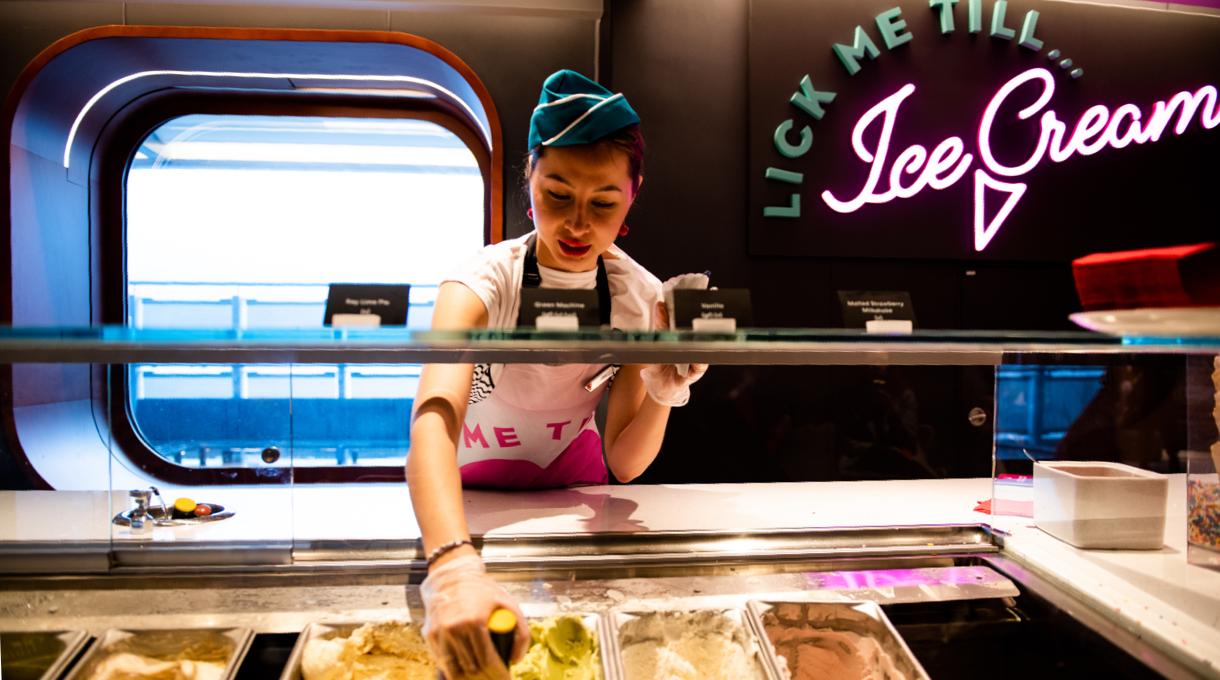 Lick Me Till… Ice Cream
Our whimsical ice cream shop harks back to warm summer nights spent in family-run parlors — if the scoops were complementary and our onboard talent ran the joint. With six home (er... ship) made flavors to choose from and a featured flavor announced in theatrical fashion by our fabulous Happenings cast every day, our scoop shop is the perfect stop for a mid-day or late-night snack. Vegan? Don't worry — we got you covered.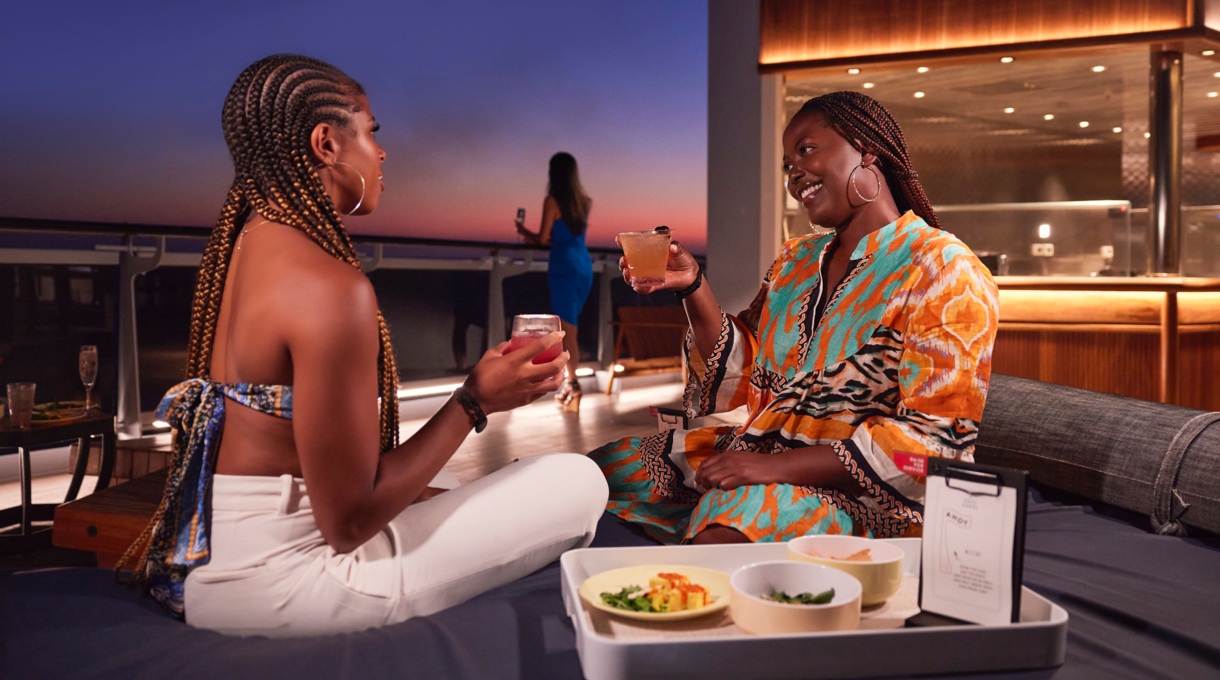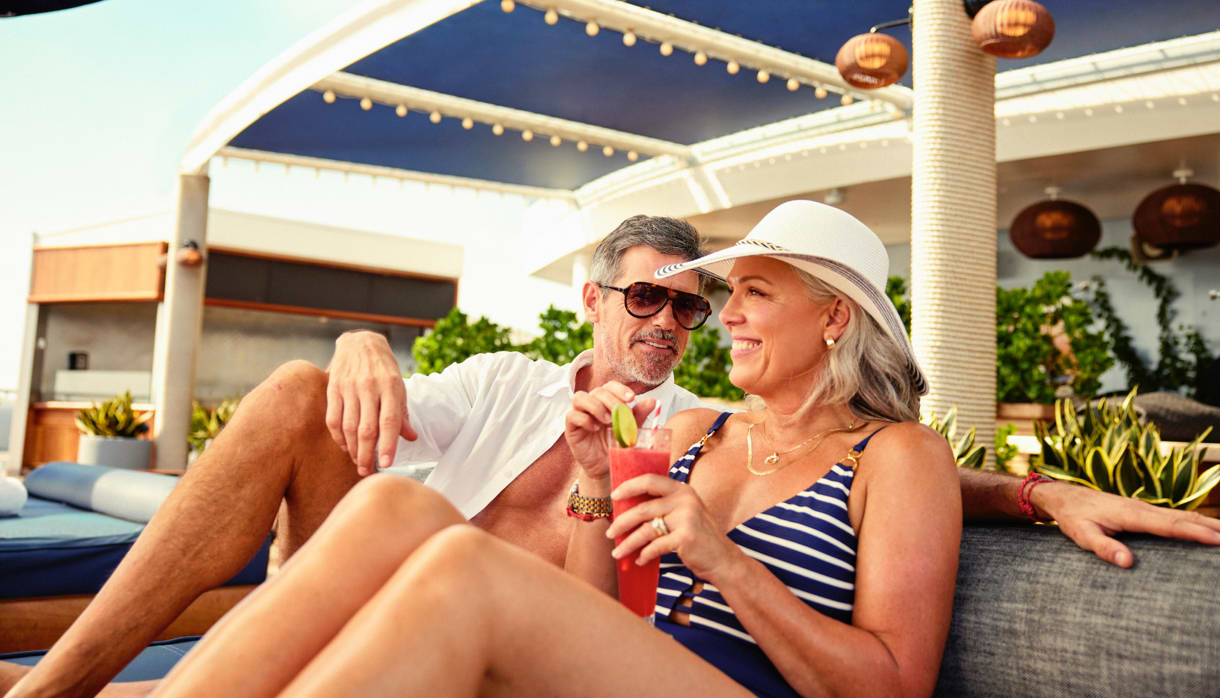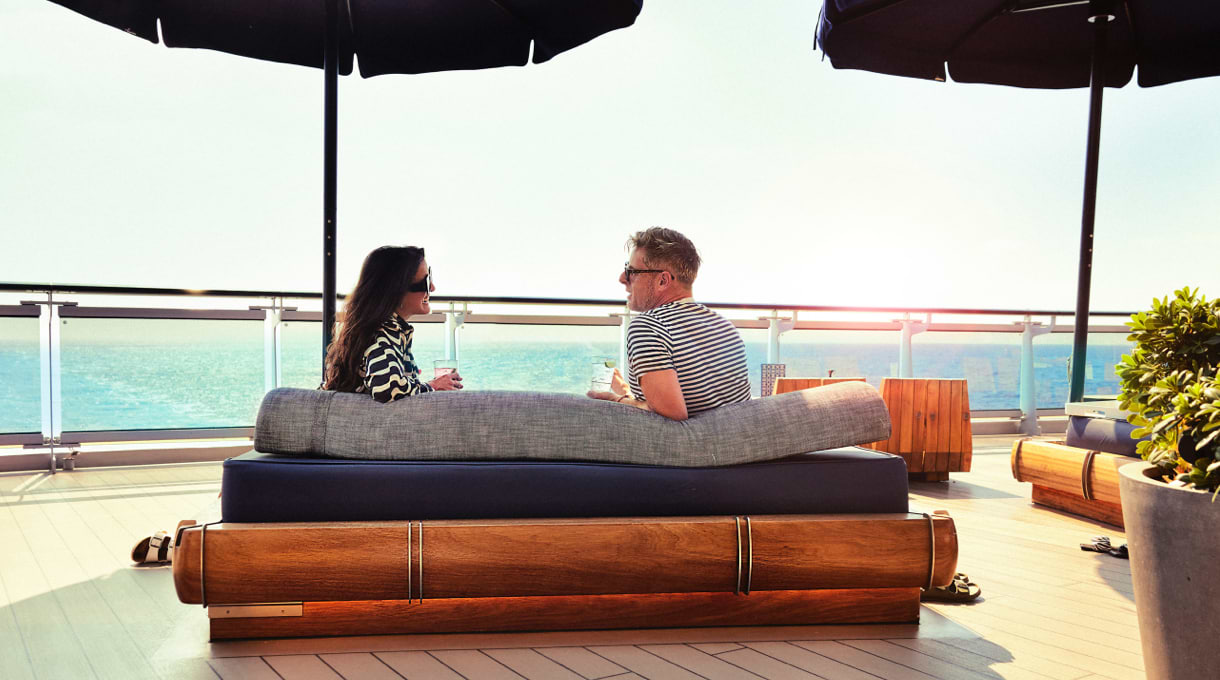 The Dock
Featuring the same Mediterranean-inspired menu as its indoor counterpart, The Dock brings you the ultimate in lounging with the wind in your hair and the sun (optionally) on your face. Like an elegant cabana caught between the chill, seaside perfection of Ibiza and the rustic-chic resorts of Brazil, The Dock allows you to kick back and sip from our rosé or spritzer menu and leisurely indulge in mezze bites until your next adventure calls.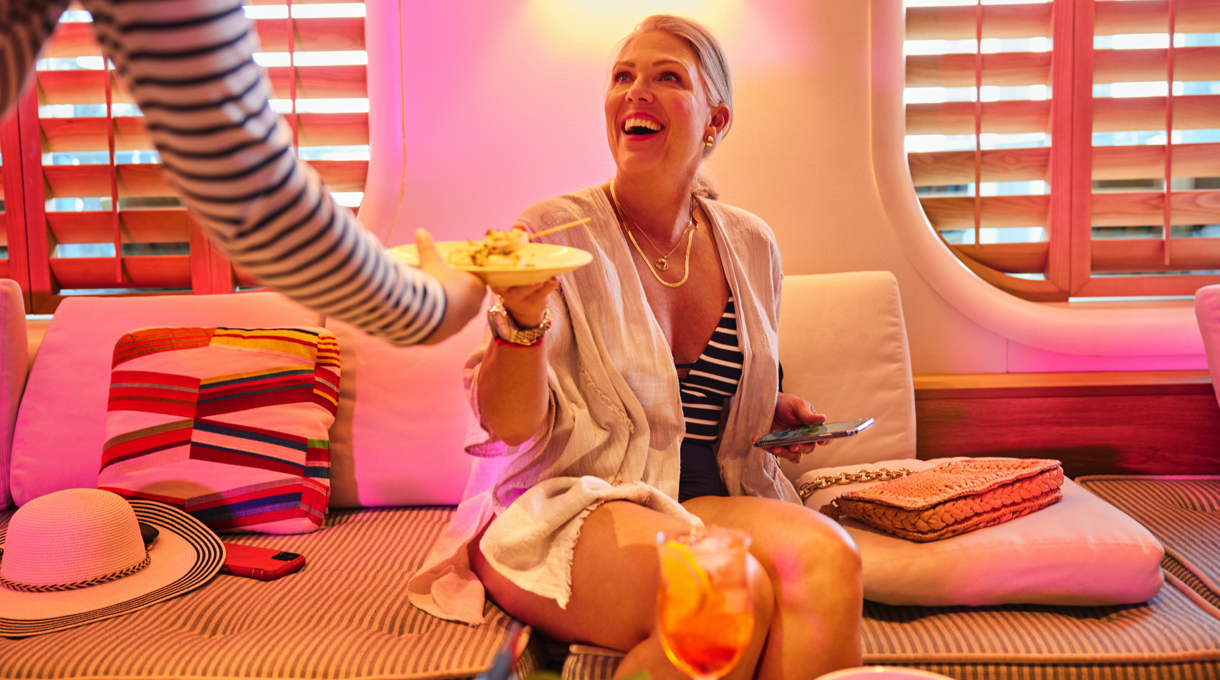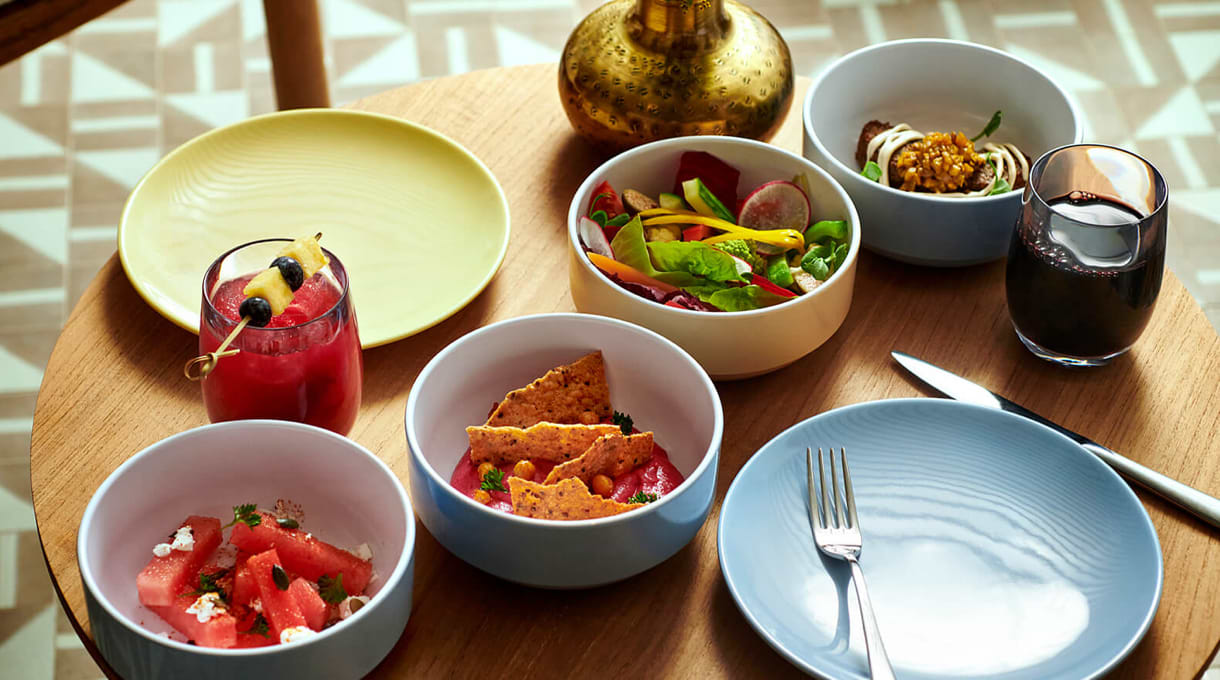 The Dock House
An effortlessly elegant yet cozy counterpart to the view-focused scene outside, The Dock House delivers bright flavors with live acoustic sounds. Enjoy some flame-grilled skewers or bites like house-made pita and dips from the roving Mezze cart. Detox with a fresh-pressed juice, retox with Mediterranean-inspired cocktails, or peruse the selections of our rosé and spritzer program. Part elegant Ibiza cabana, part rustic-chic resort — The Dock House is always full-on delicious grazing all day.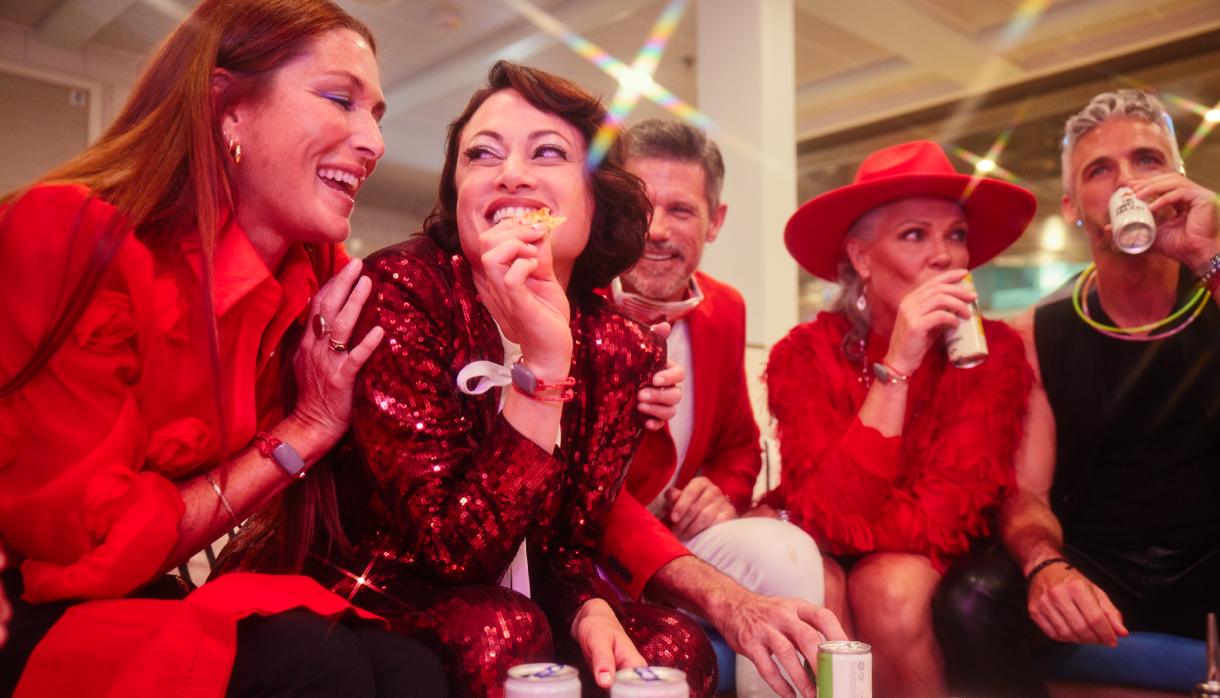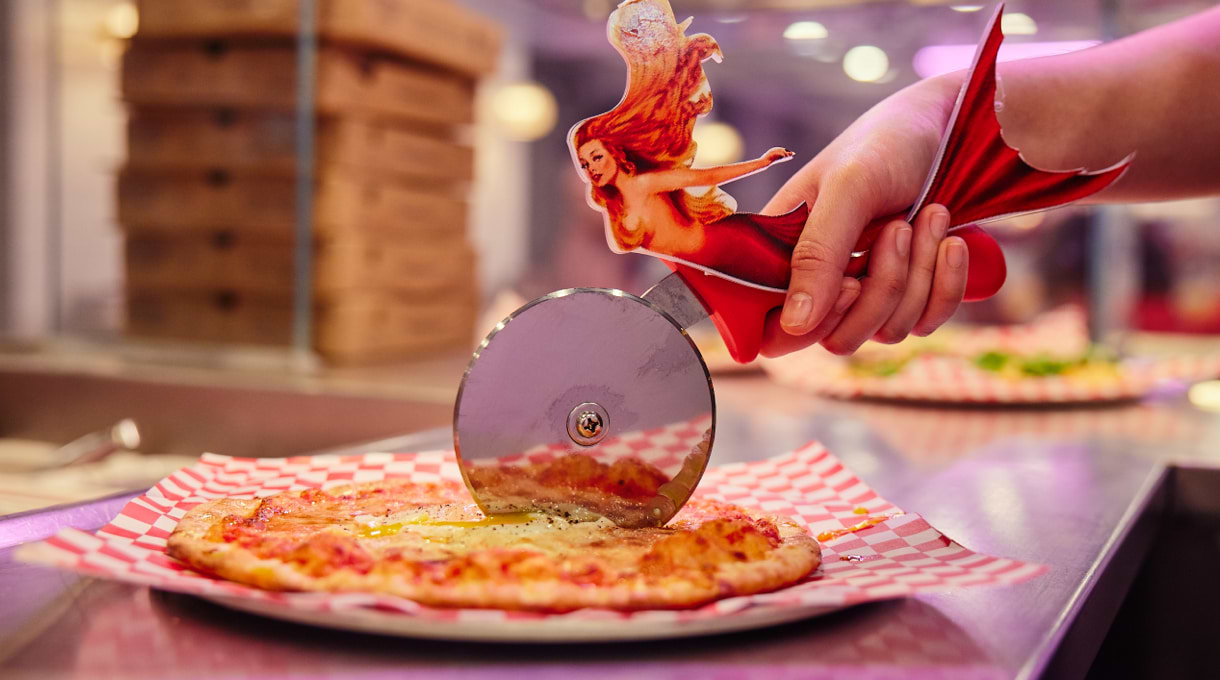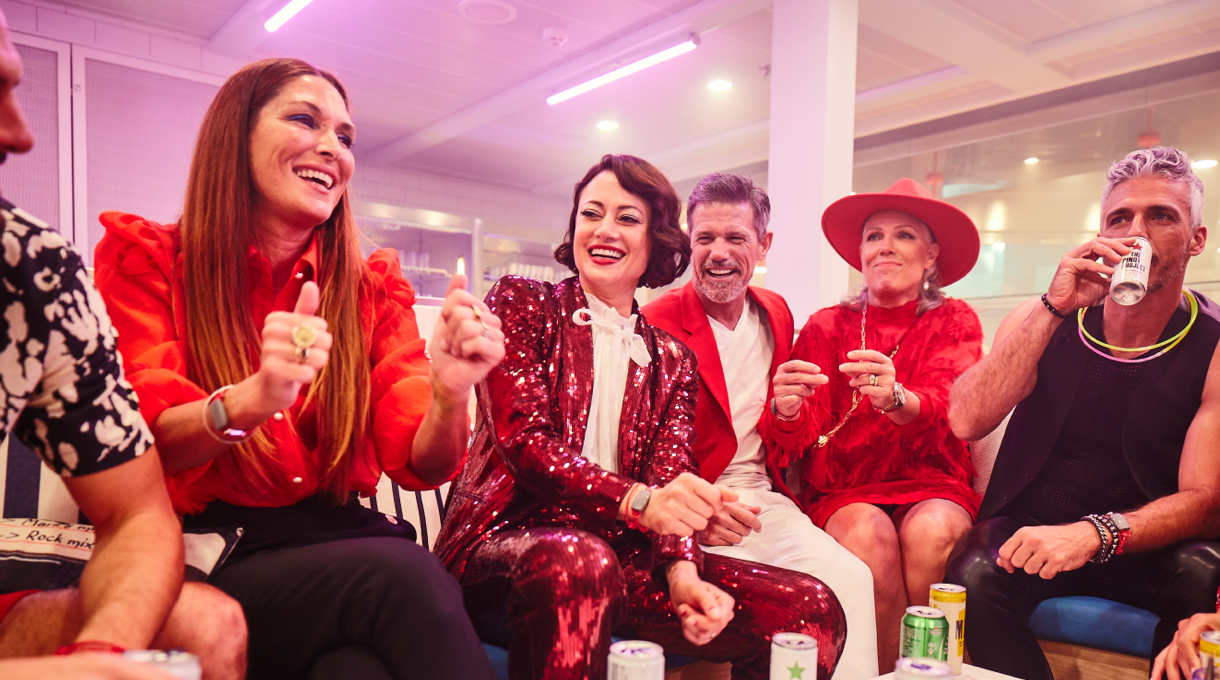 The Pizza Place
No pre-cooked pizza slices sitting under warming lamps here. At The Pizza Place, you have complete control over your pie — from the dough to the cheese, a little cracked pepper, a little ricotta, and any other topping you want… Or you can just choose from the class menu and lounge on the hammocks outside. Featuring a beach club-inspired design with white and pastel-colored furniture and navy-striped accent pillows, this spot is a perfect late-night, post-drink, hunger-buster go-to.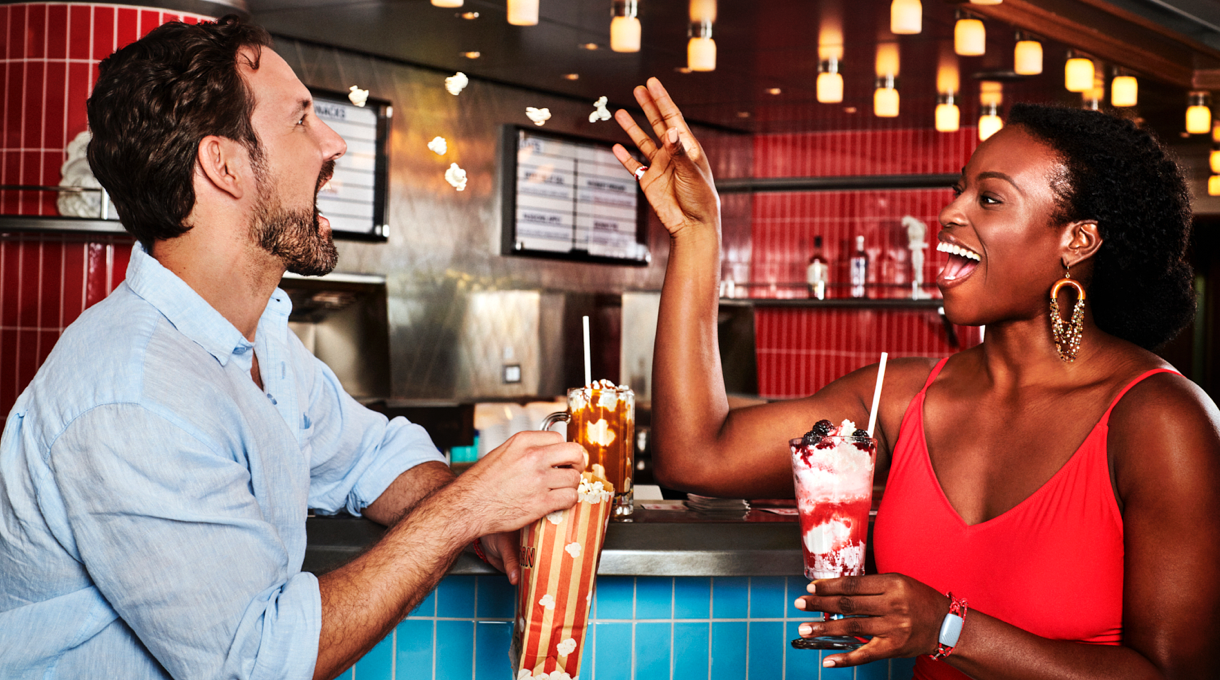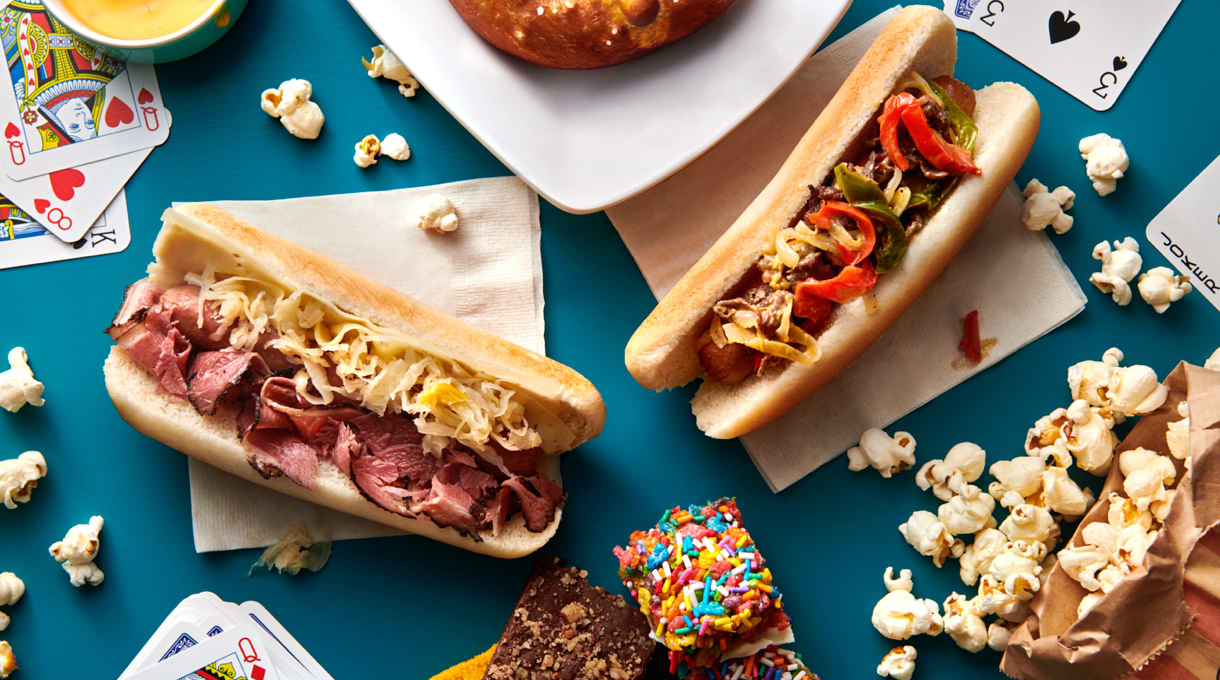 The Social Club
The Social Club is an ode to carnival classics both in fare and in spirit. From fairground staples like pretzels and hotdogs to modern takes on milkshakes and floats (which can be spiked with a lil booze for an adult-friendly upgrade), our signature drinks and treats are just as photogenic as they are stacked high with cookies, frosting, and candy. But we don't call it "social" for nothing — this dinner is perfect for playing a good game of air hockey, shuffleboard, foosball, and more.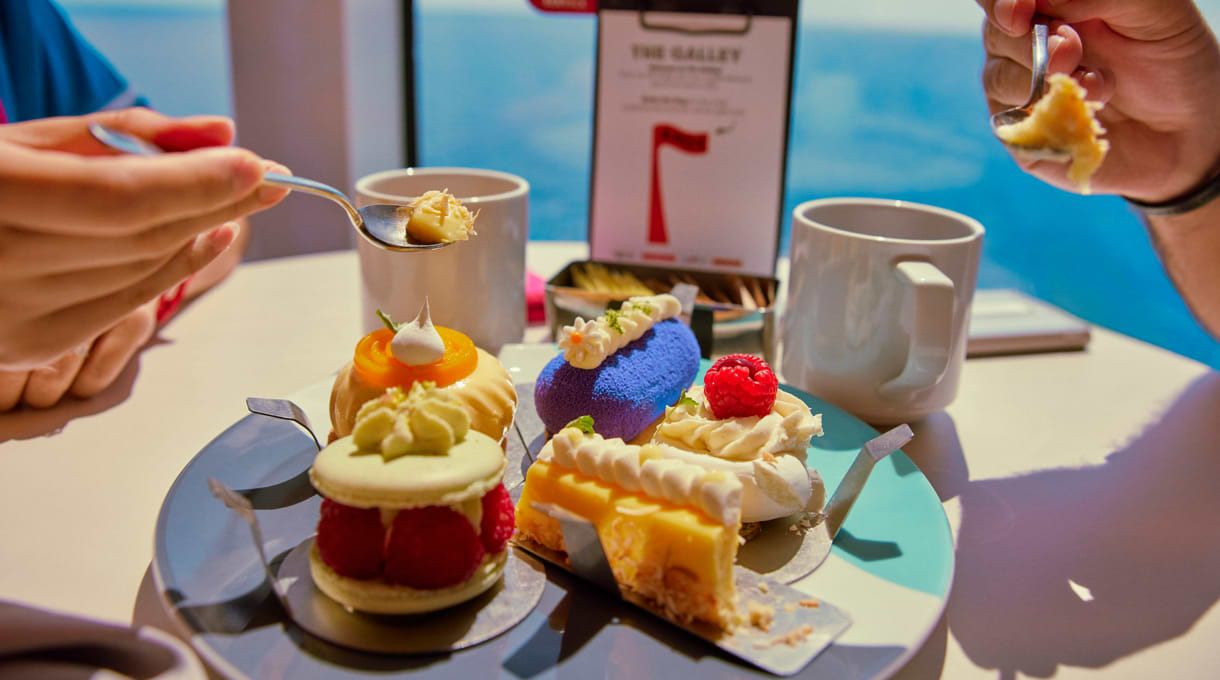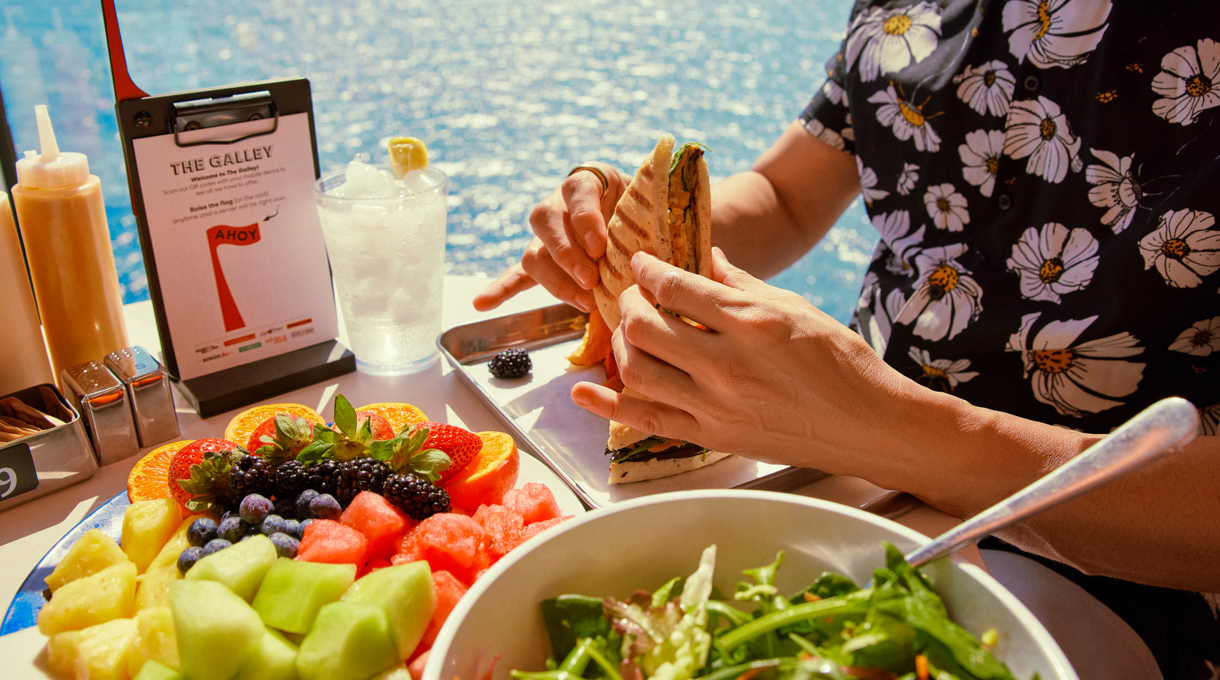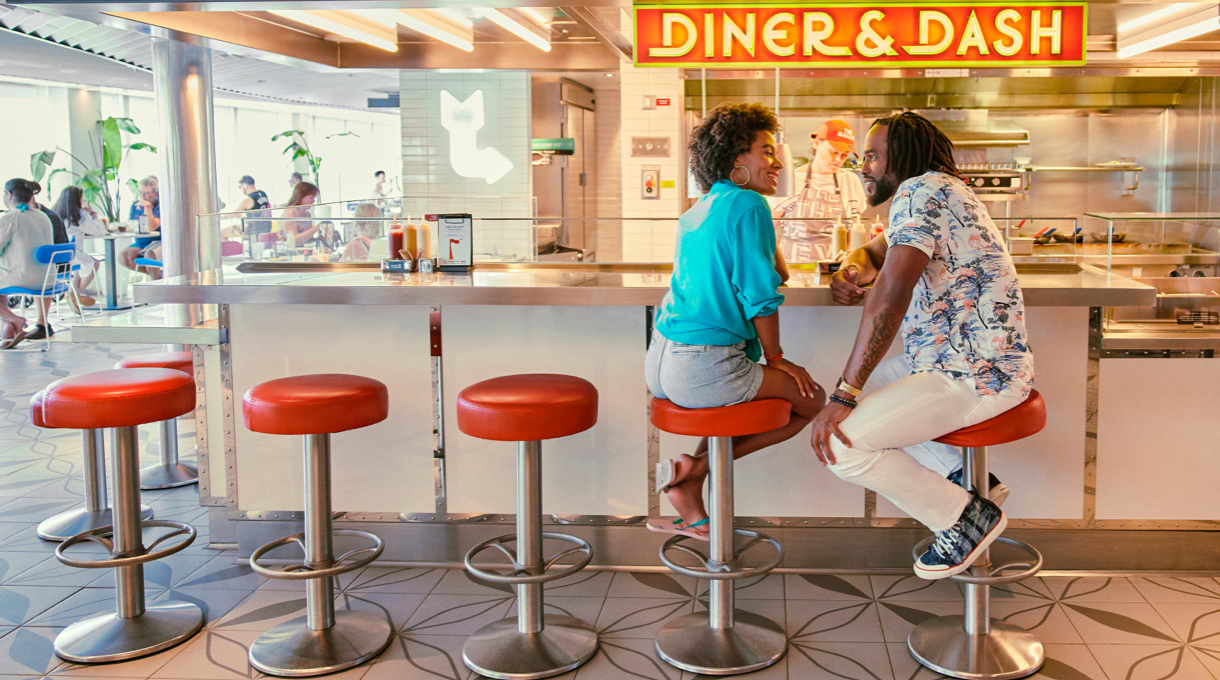 The Galley
The Galley is your go-to for a quick bite, meal, or pick-me-up throughout the day. Featuring a mix of shops and food-truck-style carts, each spot has a unique concept with signature dishes that change to suit the time of day. The Galley boasts (takes a deep breath before reading an impressively long list) a dedicated bakery and pastry shop, a panini shop, a burger grill, a taco shack, a sushi bar with bento boxes, a noodle bar, a soup and salad stand, and a 24-hour American diner. And exhale.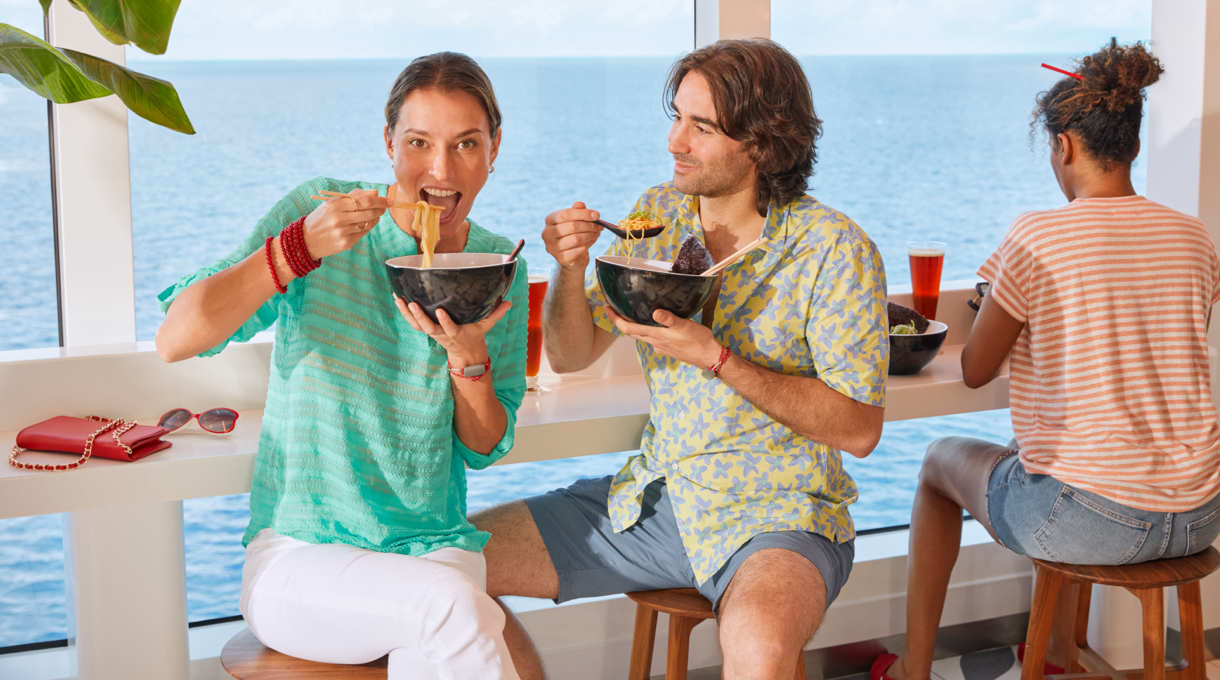 Noodle Around
From NYC's busy streets to our delightful lady ships, chef Waki Ng's noodles steal the show wherever they go. Richly-flavored masterpieces for which Chinatown's Shinka has won several awards, they found a new home in The Galley, snuggled between the udon soup specials on Noodle Around's slurp-worthy menu. Go on, order up your bowl, and get to slurping — we know you want to.
Reviews as spectacular as life on board tastes
While our Crew keeps the energy, cocktails, and good times flowing — we'll hand the mic over to our Sailors and let them tell you about our eateries.
SAILOR SPOTLIGHT
No frills, just mouthwatering videos with a side of epic views
Specially designed to transport you to a different time and place, our eateries are the perfect backdrop for the long-lasting memories you'll make.
Sure, our gastronomic experiences are signed by a jaw-dropping Michelin-starred chef collective and just won Best Dinning on Cruise Critic Editors' Picks Awards in both the US and the UK; but we'd love you to take a peek at these real Sailor-made videos to sea what they have to say.
The solution for midnight cravings. Or 3 am cravings. Whenever you get them, really.
Forget cold, soggy dishes covered in plastic wrap that'll end up being tossed away. We cater far more than just food — we curate an elevated experience. Whether you don't feel like wearing pants, would rather have a candlelight dinner, or feel like waking up to a pre-scheduled brunch at your door, our 24-hour food delivery service is just a tap on your Virgin Voyages app away.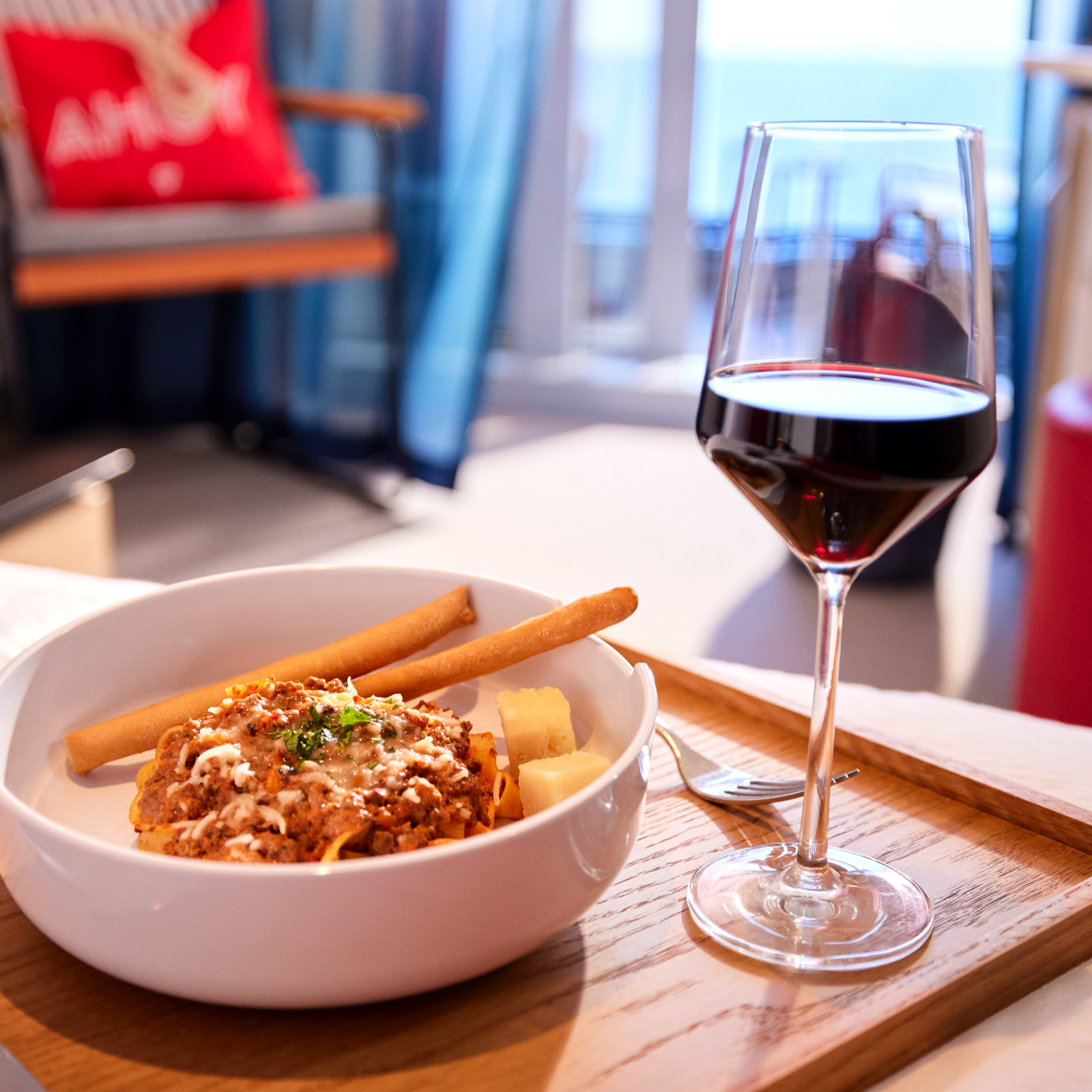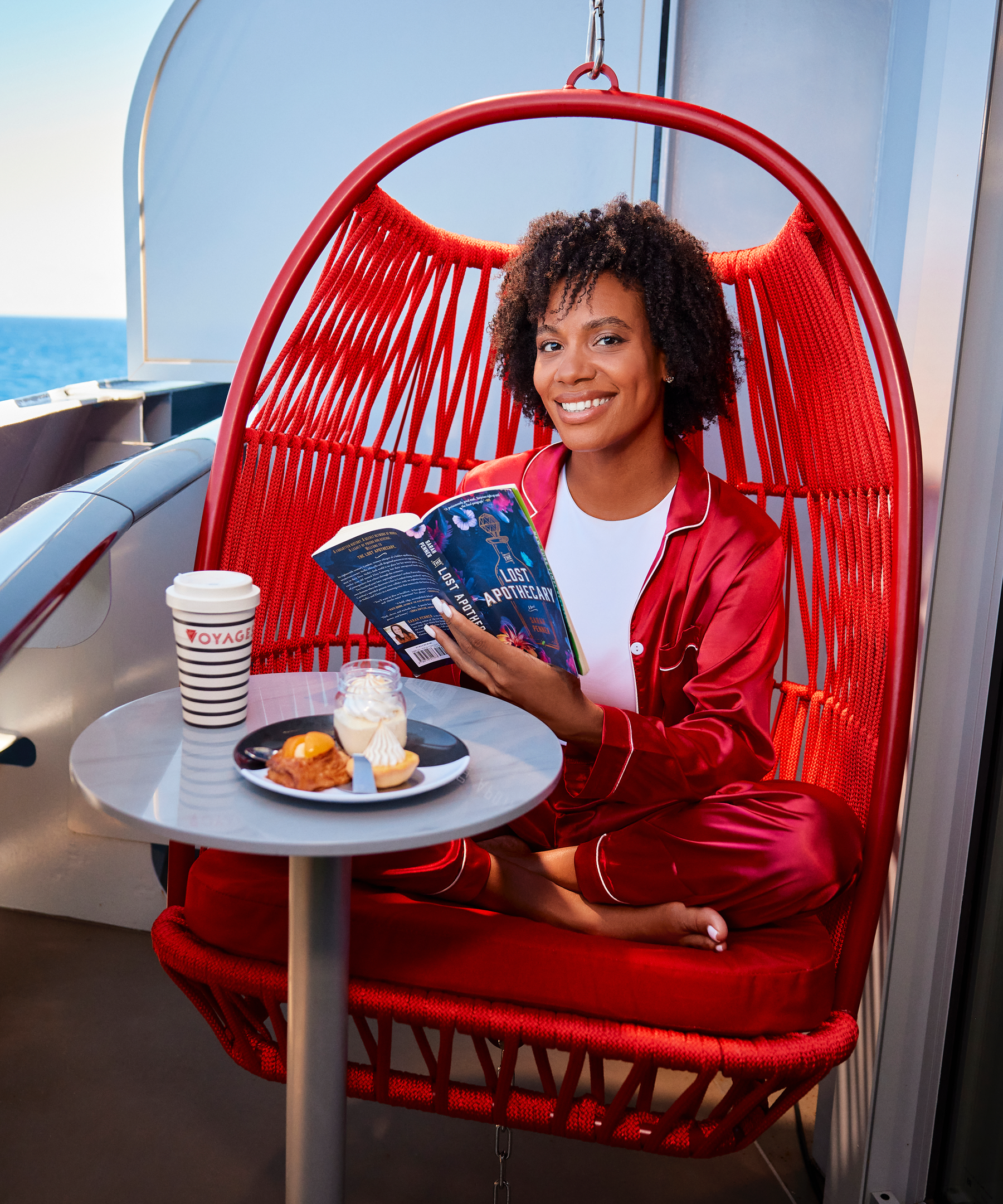 Everything you need to know about our dining experiences
Do I need to make reservations for dining?
If you would like to make a reservation, you can! If you prefer to plan ahead, you'll have the ability to book dining experiences during the pre-voyage period directly from our Virgin Voyages App or through a First Mate starting 45 days before departure, and our Sailors booked in Mega RockStar and RockStar Quarters will have the ability to book starting 60 days before. That being said, if you like to go with the flow, we take walk-ins and day-of reservations at all of our eateries. With so many options, you'll never have to stress about having an incredible dining experience waiting for you.

If you would like to make reservations prior to voyage and none are available, no need to worry! We don't open all reservations prior to the voyage, so more reservation slots open up once you come aboard the ship.

"We booked some restaurants before the voyage, and other times, we just walked right in. It was a frictionless experience, booking before or just popping in when we felt like it. So simple and so delish."
- Taylor A., San Diego, CA
What if I'm allergic to certain food?
Our kitchens are not allergen-free environments, but our expansive food and beverage programs can accommodate most dietary needs and requests. We offer lots of vegan, vegetarian, and pescatarian dishes throughout the ship, as well as great options for gluten and lactose-intolerant Sailors. Please contact our Sailor Services Crew about any specific requests or allergy concerns before sailing, and make sure to inform our Crew once you're on board.
Do you have vegan/vegetarian restaurants or dishes?
Shell yes! All of our eateries feature at least one vegetarian option on their menu. In fact, one of the most iconic spots on board, Razzle Dazzle, offers a modern twist to comfort go-to's with plant-based vegetarian and vegan alternatives to classic dishes. You can't miss it (literally, there are red and white stripes all over the walls.)
Is food delivery available on board?
A few delicious bites without leaving your seat, or wherever you happen to be at the moment? Say no more. Check out the Virgin Voyages App for all the info about onboard food and drink delivery.
Be the first to get our exclusive deals + onboard happenings
Oops, something went wrong. Please try again or visit our Contact Us page. You can also:
Check you've typed your email address correctly.
Make sure you've checked the signup box.
Success!
You've successfully signed up for our email list... You're in for some treats.
Fresh flavors, unexpected pairings, and emails worth the open.
Please enter a valid number
Sorry, there's something wrong
Woop, woop, you're signed up!
...your inbox won't know what hit it 💃🕺