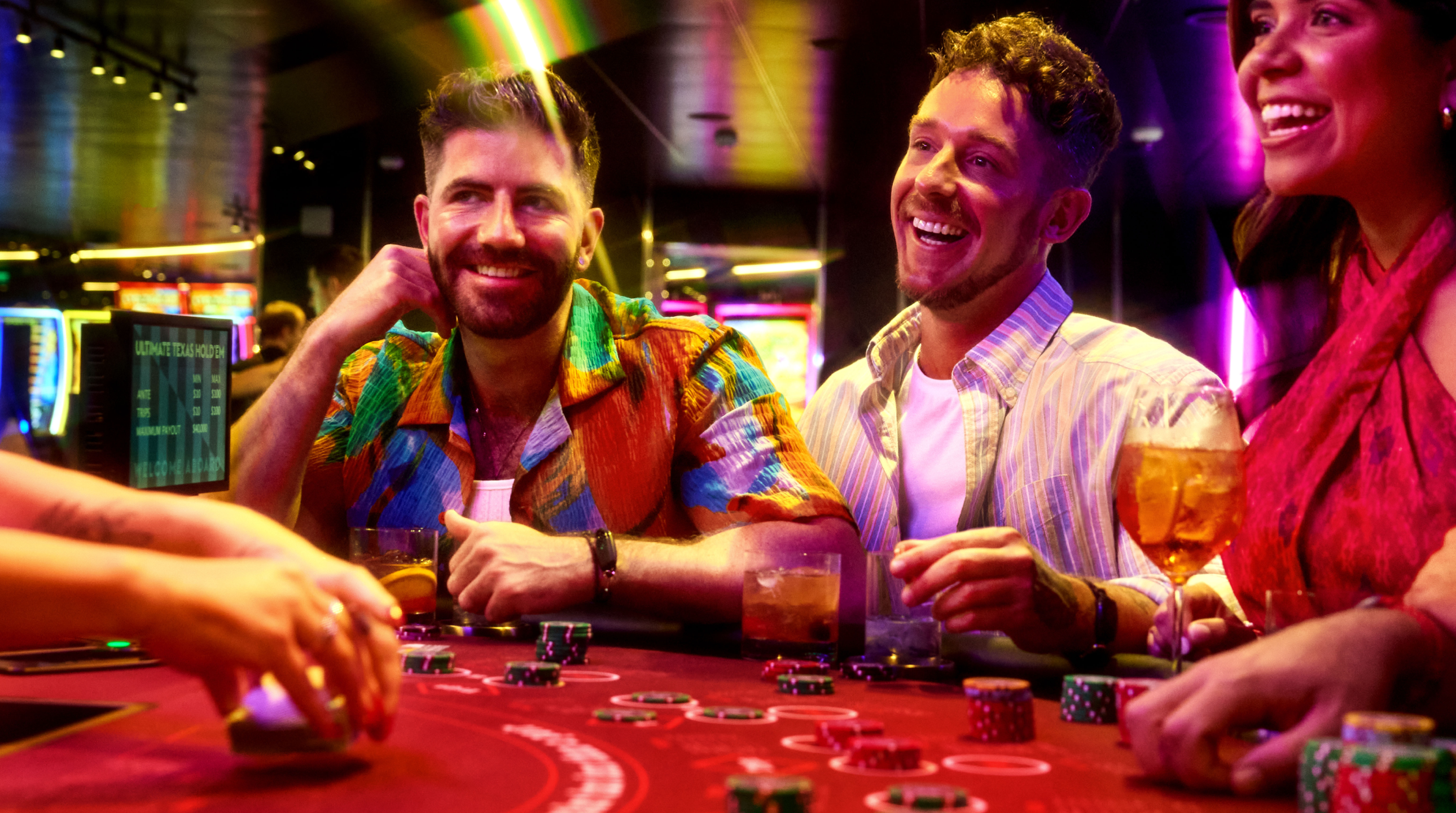 Casinos in movies aren't always the most relaxing places. Maybe they're the setting of a James Bond film, where Bond — in a debonair but decidedly uncomfortable suit — is engaged in a life-or-death poker match, wiping beads of sweat from his brow. Maybe they're the backdrop of a heist movie, where millions of dollars are at stake and every character looks paranoid. Even in buddy comedies, like Swingers, casinos aren't exactly temples of relaxation. But our cruise casino is different.
You might be playing the same games at sea as you are on land, but there's something about watching the water drift by out the window that makes all the stress wash away. There's also something about wearing a tank top and sandals, rather than a Bond-esque suit, that brings the anxiety level down a few notches. Our cruise ship casino isn't an exclusive Monte Carlo experience — it's an inclusive gaming experience that's designed to capture the fun and thrills of Vegas without sacrificing Virgin Voyages' casual atmosphere.

What to expect at our casino
Even if you're not a gambler, just strolling down the rows of slot machines and checking out all the different themes can be a fun way to kill some time. And if you are a gambler — well, buckle up, because we've got game variety in spades (sometimes literally).
We've got 115 slot machines on our gaming floor — 104 on the main floor and 11 in the smoking room — that range from traditional slots to multi-line and even video poker. We stay as up-to-date as possible on the latest games so there's always something new to try out, whether it be Lightning Link, Buffalo Gold, Adventure Alley, or Little Asia. You could easily spend a whole day losing yourself in the immersive electronic worlds of our slot machines (not that we'd, you know, recommend that).
If simply pulling a lever or pushing a button isn't quite enough stimulation for you, there's nothing like playing blackjack on cruise ships. Well, except poker, craps, Texas Hold 'em, and roulette, of course. We've got it all. Here's a breakdown of all the games we offer: blackjack (Perfect Pair side bet), single deck blackjack, craps (odds are 3,4,5), three-card poker (Six Card Bonus side bet), Ultimate Texas Hold'em, baccarat, and double zero & single zero roulette.
If you're scratching your head about what those words even mean, don't worry. We have seasoned gaming pros on hand to show you the ropes. That's the beauty of our cruise casino vs. a typical Vegas casino — we want to give you the best chance to win. That's why, on embarkation day, we offer complimentary gaming lessons on the casino floor. You'll learn the ins and outs of games like craps, poker, blackjack, and the best ways of tilting the odds in your favor.
But like most games, it's not really about winning (though that's obviously the goal), it's about having fun and maybe even meeting new friends. Nothing brings people together like going on a 7's streak in craps, or cheering on the guy next to you as he doubles down a huge blackjack bet. So wear your lucky socks and walk into the casino with cautious optimism. You might win, you might lose, but the real victory is meeting and connecting with fellow cautious optimists. You might make a voyage-long friend. After all, the casino has a bar and cigar lounge – so it's easy to segue into a more social setting — and since it's conveniently located right next to the Manor nightclub, the casino makes for the perfect start to a social night out.

For the (semi)pros
So you're not a complete newbie and you're actually looking to make some big bucks on board. Good news for you, because we've partnered with World Poker Tour, meaning Sailors on Scarlet Lady get exclusive access to cash games and tournaments. It's the first-ever poker room at sea, featuring eight professionally-staffed poker tables hosting live games, tournaments, and other special events. You don't have to be Phil Ivy to participate, but if you're a seasoned gambler looking for a challenge beyond your standard floor casino games, this is the place for you.
A $320 buy-in "WPT at Sea" main event will be held during each sailing, with prizes valued at up to $5,000 awarded. Even better? The experience is completely cashless, so you can buy-in and cash out entirely with your Sailor Bands.
"After witnessing the magic of cruise-line poker with Virgin Voyages last season," said WPT CEO Adam Pliska, "we instantly sought to establish a permanent fixture. Scarlet Lady provides the perfect residence for WPT at Sea."
And if you're a real seasoned vet, you can take advantage of our Casino Program. While we don't match status or offers, we do our best to give the best rates and comps for casino players looking to take their talents to the high seas. Just fill out our Direct Casino Sailor Form so see if you qualify.
So whether you're a pro looking for real competition, or an amateur who just wants the experience of gambling on a cruise ship, our cruise casino has something for everyone.