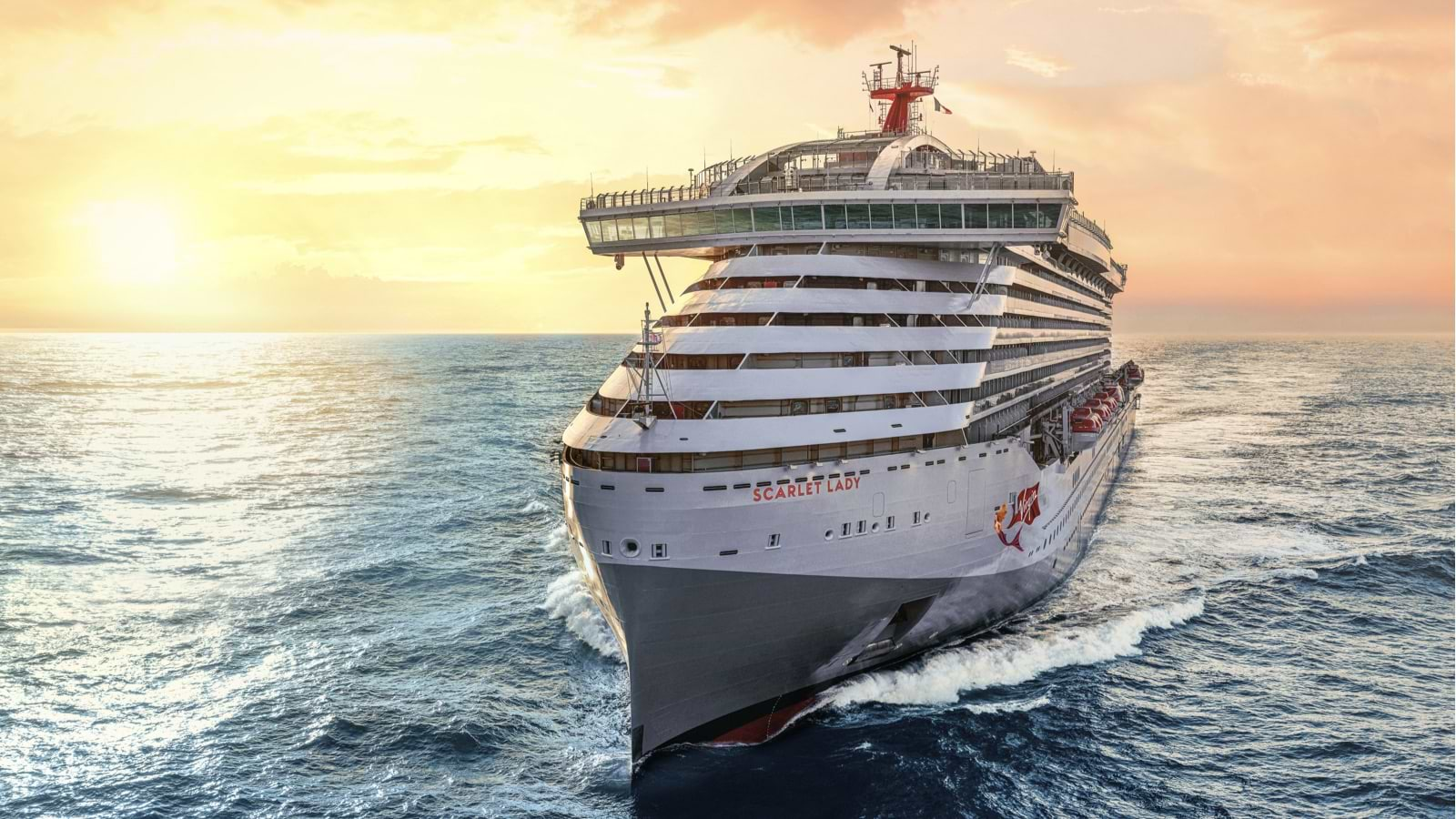 It's been a long year, and we've all been itching to get out of the house and out to sea; wind blowing in our hair, sun on our faces, and evenings filled with orange and indigo sunsets as far as the eye can see. You deserve it, so we're making it happen — but only for a very limited time later this summer.
For only three weeks in August, Scarlet Lady will be making six, short and sweet sailings around the southern coast of England — giving you a sneak-peek of who she is and what she's all about. It's the staycation-at-sea you've dreamed about all year, all while being the first to set sail on Scarlet on either a four-night Summer WeekDaze voyage, a three-night Long Weekender voyage, or book both sailings back-to-back for a full week at sea.
Since we can't sail out of PortMiami just yet, we're taking this opportunity to do a homecoming tour, heading back to where the Virgin brand first got its start. Sailing out from Portsmouth, England, you'll have the opportunity to join us at sea for long summer days and nights spent under the stars — all while getting a taste of Scarlet's incredible offerings.
From our 20+ unique eateries to getting a proper dose of Vitamin Sea at our spa or any of our fitness spaces, we're ecstatic to finally show a select group of Sailors what makes us really stand out from the rest. Our entertainment line-up will be a showcase of our very best experiences — giving you a glimpse of the immense talent we're so thrilled to have on board. As an ode to our roots, both the United Kingdom and rock'n roll, we're also tweaking our entertainment programming slightly for these sailings to highlight some local musicians and artists who haven't been able to go on the road (or sea) over the past year. And as with all of our voyages, these sailings are adult-only and include access to all of our restaurants, group fitness classes, WiFi, tips, and all our basic bevvies.
Most importantly, we're committed to a healthy and safe start at sea, and would never set sail without the proper precautions and considerations in place. With our Voyage Well initiative — which includes, but is not limited to, enhanced cleanings, contactless experiences, a new air purification system, reduced capacity, and frequent testing and vaccine requirements — we've made sure sailing safely is our top priority. And based on their own assessments, the UK has determined that its citizens can safely sail this summer. So at this time, only residents of England, Scotland, Wales, and Northern Ireland will be sailing on our Summer Soirée Series — with Sailors aged 18+ vaccinated against COVID-19. Additional testing and protocols will be confirmed closer to sailing — all in line with the most up to date recommendations from the UK government.
We're so unbelievably excited to give you a taste of what it's like to Set Sail the Virgin Way in an elevated yet relaxed adults-only experience at sea. After a year filled with adversity and stillness, it's time to reward yourselves with outstretched horizons and unrivaled experiences — making a years worth of unused luggage in memories along the way.
Score 10% off voyage fare plus receive bonus Sailor Loot per cabin on Summer Soiree sailings from Portsmouth.*
But hurry, this offer ends on August 23, 2021
*Offer subject to change. Sailor Loot bonus is per cabin on Summer Soirée sailings only, giving $200 per cabin for RockStar and Mega RockStar Quarters, $100 per cabin for Sea Terraces, and $50 per cabin for Sea View and Insider.