Virgin Voyages' guide to Bodrum
An ancient chrysalis of interwoven cultures.
BODRUM
A remixed melody of traditional echoes
Some words don't translate well from one language to another – a perfect example of this is the Turkish word keyif. Pronounced "kayfe," roughly translated it means "the pursuit of idyllic pleasure" or "to do nothing happily" but – as Bodrum locals will tell you, the best way to translate keyif is simply just – vibes.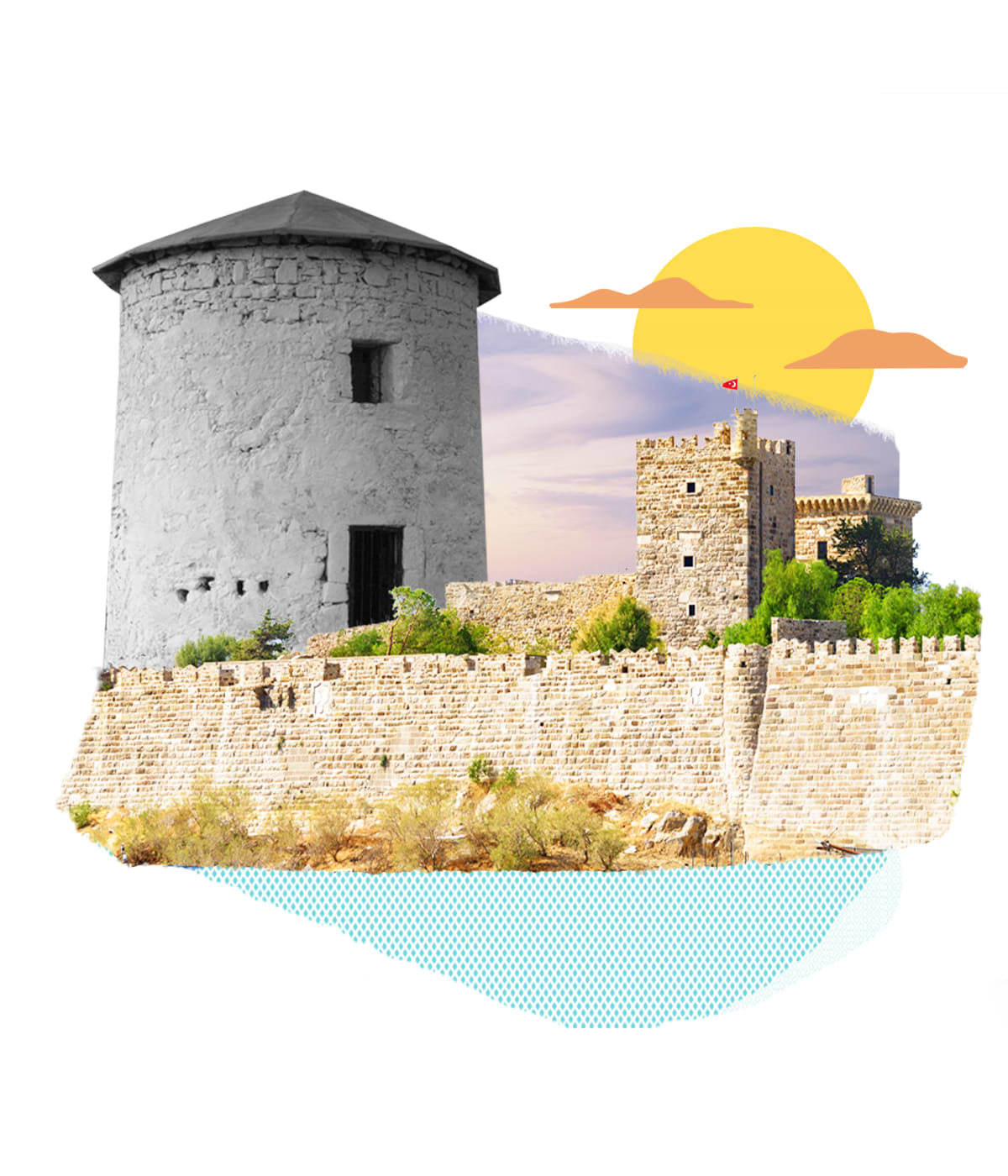 Bodrum is the ideal location to live out all your keyif fantasies. Spend the day at one of its idyllic top-rated beach resorts or gaze out the window on the short drive to the nomadic village of Etrim – where notoriously warm locals are eager to share their homemade wine and carpet weaving abilities.

Geographically part of Asia Minor, or Anatolia, most of Turkey is surrounded by seas that border Europe, Africa and the Middle East – creating the perfect fusion of colliding cultures, tastes and an aesthetic unfathomable to those who've yet to have the privilege of wandering through its famed outdoor bazaars.

However, Bodrum has so much more to offer than perfectly designed cuisine and instagram-worthy beauty. Dripping with a history richer than one of its homemade baklavas, Bodrum has something to offer everyone – especially the forever adventurer at heart.

Originally built as a gothic style fortress, the legendary Bodrum Castle came under the rule of the Ottoman Empire until after WWI when it was vacated and left vacant for nearly 40 years. Now serving as one of the world's premier archaeological museums it houses a (literal) treasure trove of artifacts pulled from sunken ships and wreckage sites dating back to the Bronze age. Continue your adventure and make your way to Bodrum Castle's neighbor, The Mausoleum of Halicarnassus – one of the seven wonders of the world.

Whether in search of a history lesson unlike any other, an over the top underwater adventure, phenomenal cuisine or to simply lay out on one of the best beaches the world has to offer, in Bodrum the only thing you have to worry about – is keyif.
Shore Excursions
The classic hum in modern Bodrum
Simple pleasures offering infinite treasures
Ancient Ephesus & The House of Virgin Mary
One of the earliest areas to adopt Christianity, Ephesus, has been privy to some epic history. Uncover two millennia's worth of it on a visit to the home of Mary (yes — the mother of Jesus), a Greco-Roman theater, a temple, and a carpet weaving center. Surrounded by vibrant colors and craftsmanship of tapestry artworks, you'll enjoy a folkloric dance performance and taste various samples of typical Turkish Cuisine for a glimpse of the lifestyle and timeless pride the natives have for their home.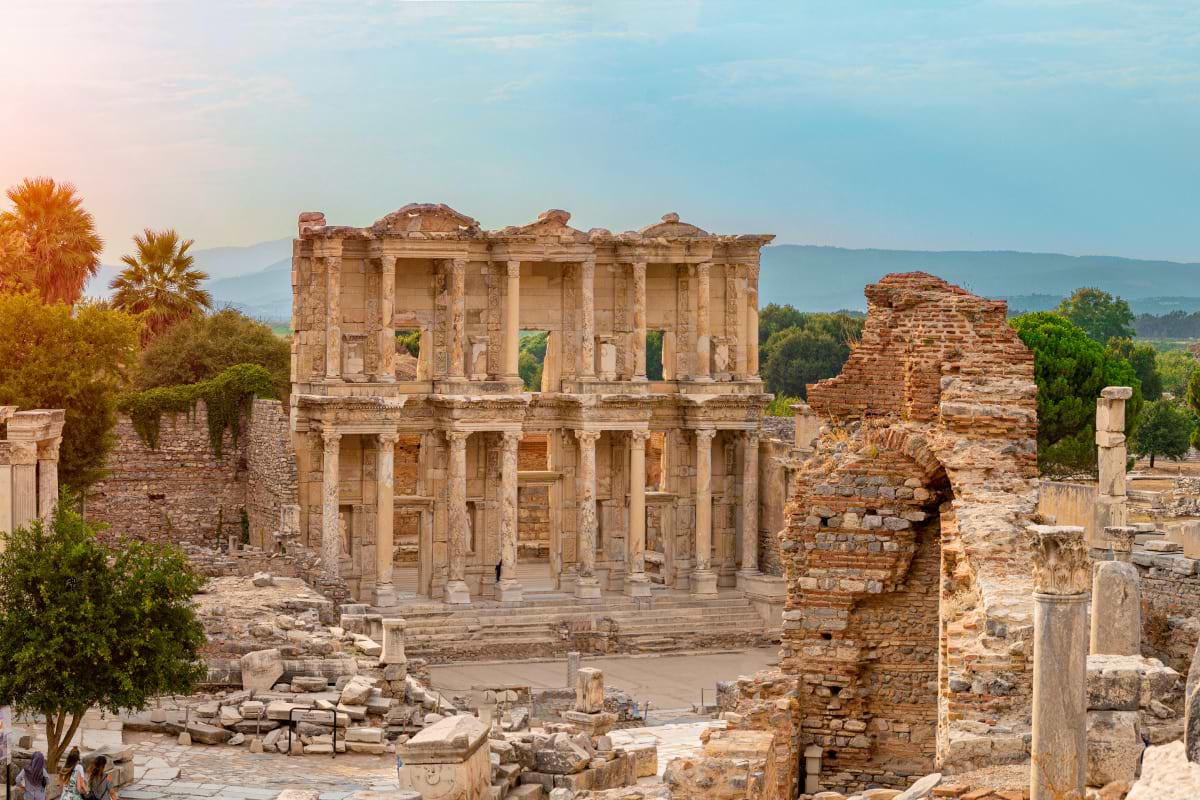 Bodrum Hills & Beautiful Views
See some of Bodrum's marvelous panoramics from above and below. You will stop for some excellent photo ops of the harbor, cross the Myndos Gate (the same used by Alexander the Great), and visit the gorgeous fishing village of Gümüşlük. Buildings adhere to strict codes, so the views from (and of) the seaside have remained unchanged with original building fragments. Here you'll take in the beauty of the coast sitting at Ali Riza Restaurant along with local refreshments and pastries.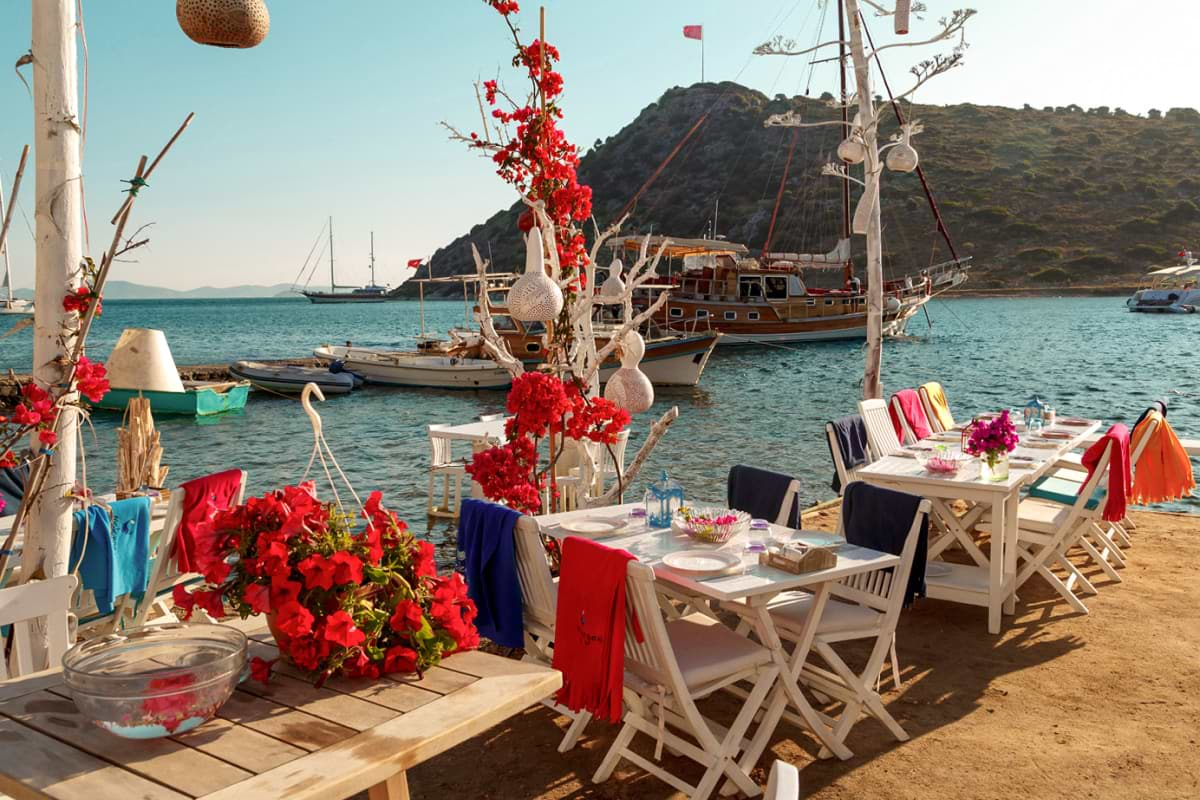 Get the ultimate concoction of Vitamin Sea at the stunning Xuma Village — one of Bodrum's best beachside retreats. Like Turkish cuisine, this beach club's digs are simple yet bursting with laid-back elegance and a captivating personality. Featuring wide-open coastal vistas, docks extending over turquoise waters, and stylish green spaces surrounding plush beach loungers, any ordinary day at the beach becomes an extraordinary travel escape at a top beach club like this.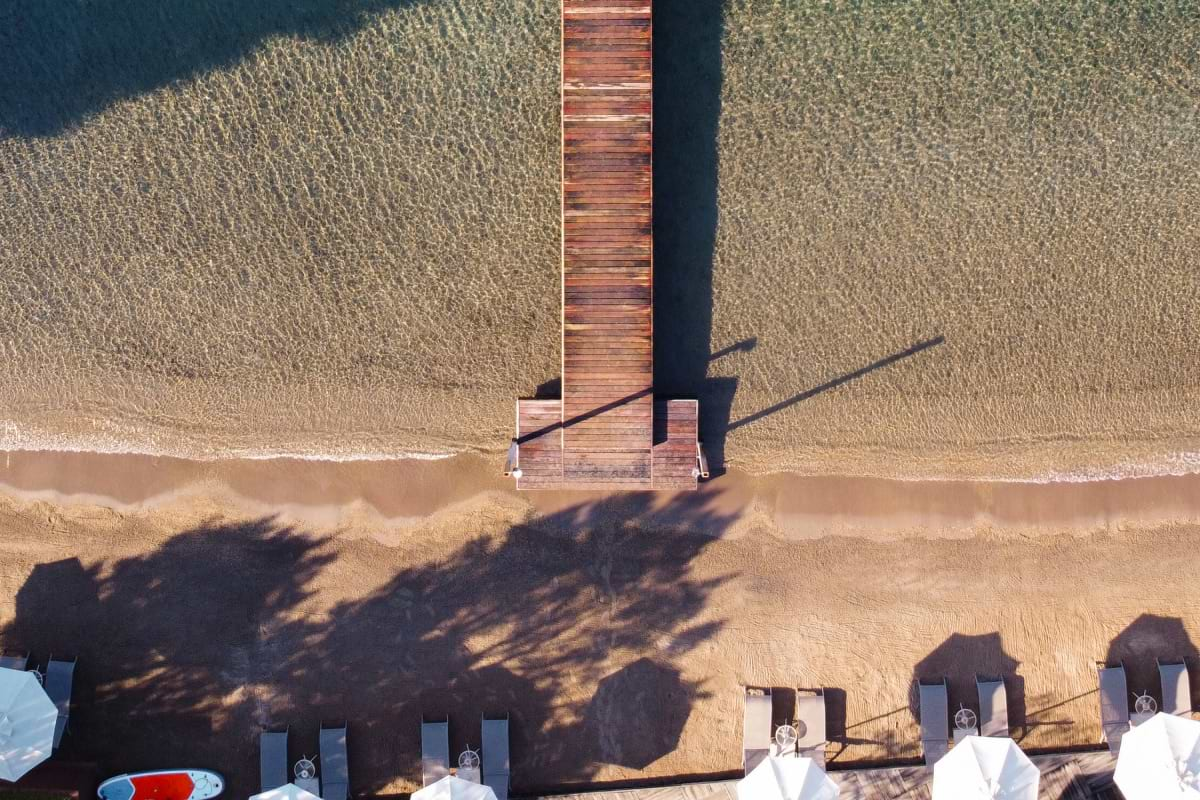 More Shore Things for your wishlist...
We have even more in our curated catalog.
One of the Seven Wonders of the Ancient World is a mausoleum built for its former Persian king
The word "mausoleum" pays tribute to its entombed ruler — Mausolus.


There's a reason there's a specific word for vibes in Bodrum — and when it comes to "happily doing nothing," the Republic of Turkey certainly has a lot to offer. The intentionally simplistic ivory-washed facades peppered with verdant green trees and purple-pink bougainvillea flowers will bring an unknowing smile to even the most seasoned of travelers.

Just like the classically designed wood-accented gulet sailing vessels and modern champagne-slinging luxury yachts dotting its coast, Bodrum's mainland offers the perfect balance of old-school wonder and contemporary flair. Witness the city's heritage unfold before your eyes through a panoramic performance of folkloric song and dance at a 25,000-seat amphitheater in the Greco-Roman city of Ephesus. Here you can also visit the house of *the* Virgin Mary and shop along the streets of the bustling nearby market — just follow the billowing finely handcrafted tapestries.

Stone windmills atop Gümbet Hill. Pink flamingo filled bird sanctuaries. Off-road Jeep safaris to the Çamlik village. Dalyan mud baths at turtle bay beach. Dancing the night away under the stars in a club on a stationary catamaran — these are just a few things that exemplify the keyif mentality.

Whether you're looking out over the coast from a conveniently located mountain top village, enjoying a traditional meal of locally sourced ingredients that you helped create with your own hands, or staring aimlessly into the sapphire waves from a seaside lounger — in Bodrum all you have to do to have the time of your life is embrace the vibes.
Set sail the Virgin way and find a new approach to cruise vacations. Select a cruise itinerary and let's sail.
Be the first to get our exclusive deals + onboard happenings
Oops, something went wrong. Please try again or visit our Contact Us page. You can also:
Check you've typed your email address correctly.
Make sure you've checked the signup box.
Success!
You've successfully signed up for our email list... You're in for some treats.