Virgin Voyages' guide to Corfu
The sophisticated sister of Ionia's isles.
CORFU
Peek beyond the City of Peaks
In every big family there are bound to be labels given to each child. There's the leader, the mischief-maker, the one who goes with the flow — the list goes on. If Greece's islands were to have such designations, Corfu would be the effortlessly chic tastemaker.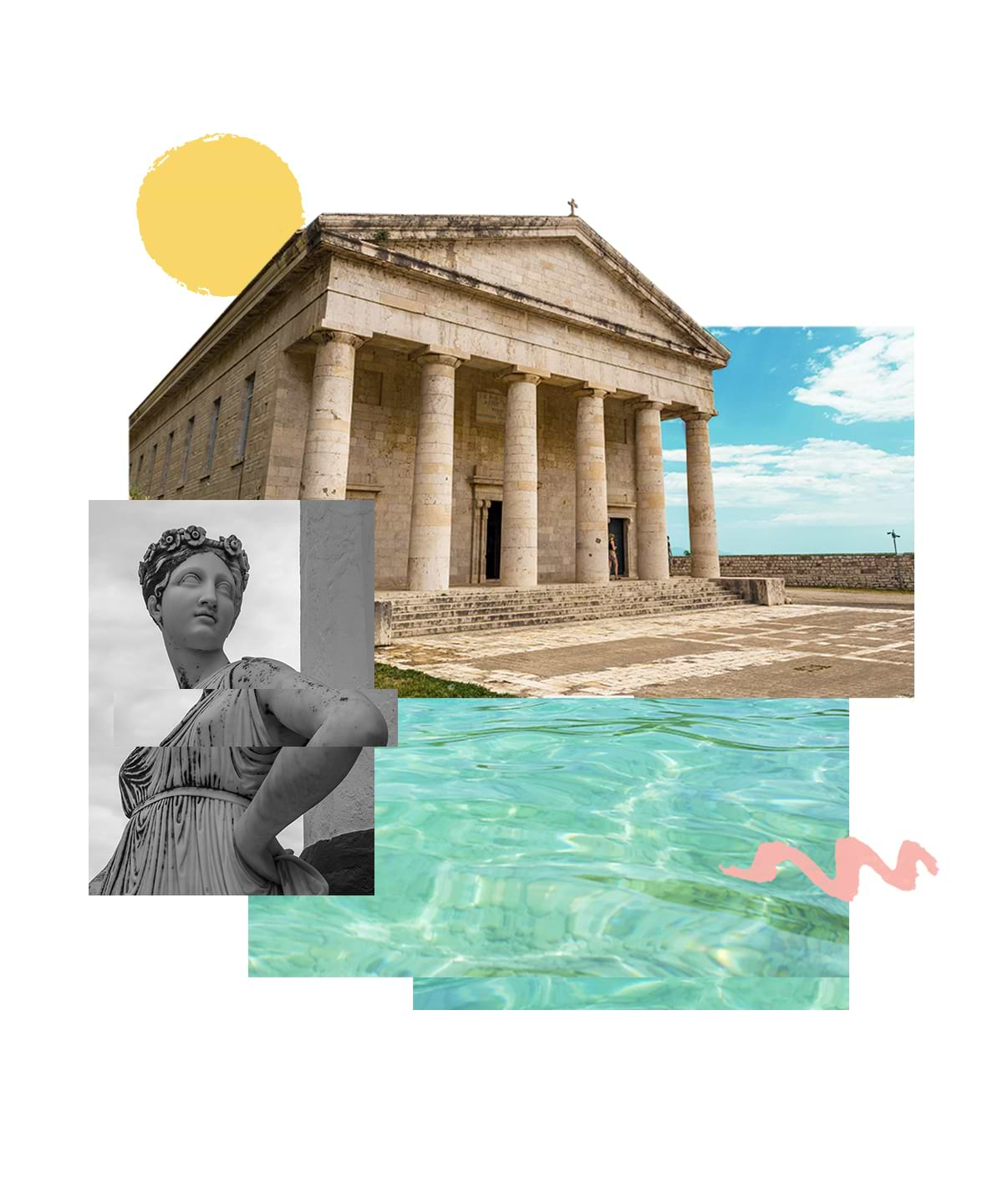 Corfu is simply dripping in history. Wander through the narrow cobblestone alleys and discover a world of adventure worthy of a fantasy film. Stumble upon historical landmines — like The Old Town's stunning municipal building, which served as its first (and former) grand theater and opera house built during the Venetian empire. Admire The Palace of St. Michael & St. George, which provides a home to the Museum of Asian Art that displays Chinese, Japanese, and Greco-Buddhist masterpieces. Take in The Saint Spyridon Church's bell tower – whose patron saint was said to have expelled the plague from the island. All the while appreciating the wafting aromas of local flora and fauna that are so expertly used for numerous liqueur and culinary infusions. It's not that Corfu is pretentious, it's just the classic Hollywood starlet of Greek Islands — emitting that aura of worldly sophistication that naturally makes you want more.

Corfu gives you the freedom to relax with your toes in the sand sipping kumquat liqueur one minute and diving (literally and figuratively) into adventures unknown the next. You can choose from a number of sumptuous beaches to bask in the sun, peruse a new book under the shade of an umbrella or go for a swim in the iridescent waters. You can venture to hilltop ruins on horseback and sail the coast before plunging into the sea from the comfort of your own private vessel. You can picnic on a seaside cliff, explore groves of kumquats, pomegranates, pears and olives, hike the otherworldly scenic trails by foot (or by ATV) or — you can do it all. In Corfu the sea is merely a starting point — and you're in control of the dynamic story about to unfold.
Shore Excursions
Mythical splendor to modern endeavors
A symphony of intrigue through palaces, vineyards, and lagoons
Taste Your Way Through Corfu
Hit up all the local spots in search of the yummiest flavors across the Bonati arch. Walk the winding streets to a stunning 300-year-old synagogue before visiting George's traditional store to sample his noubolo cured ham, then to a local deli for ice cream. Pass the Venetian Town Hall en route to a family-owned taverna where you can savor bourdeto, a baked fish casserole, and sip on delicious kumquat liqueur while marveling at the historic red-domed bell tower backdrop.
Cruising Corfu On A Cool Caïque
Enjoy the gorgeous views of Corfu's Old Town from a traditional fishing boat locals call a caïque. As you sail along the narrow channels of the Sivota Islands and glide into a cave, your local guide will share all the cultural facts. Once the captain drops anchor, you'll get to cool down with a dip, swim for a bit, and snorkel in the exotic waters of Blue Lagoon. Feast your eyes on the surreal Corfiot landscape, see the Greek coastline from the water, and if you're lucky, some dolphins too.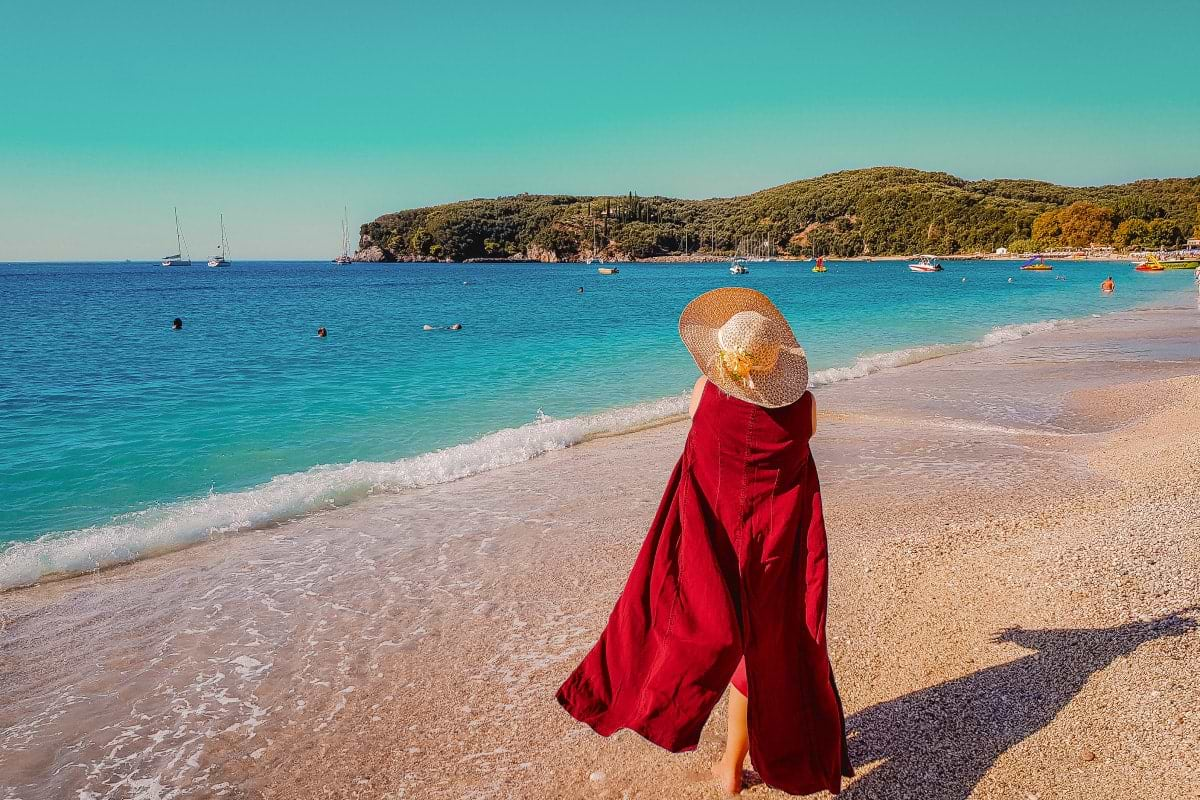 Greek Wines & Corfiot Sights
Travel to Ropa Valley, one of Corfu's densest green areas, to explore the family-owned Theotoky Estate and Winery. Over the vineyard's sprawling expanse of grapevines and olive groves, check out its impressive winepress and farmlands, then taste some exquisite wine varietals. You'll also tour the village of Paleokastritsa — known for its beaches, lush greenery, and pristine bays. Then, drive uphill to witness Lakones' panoramic views over the striking waters below.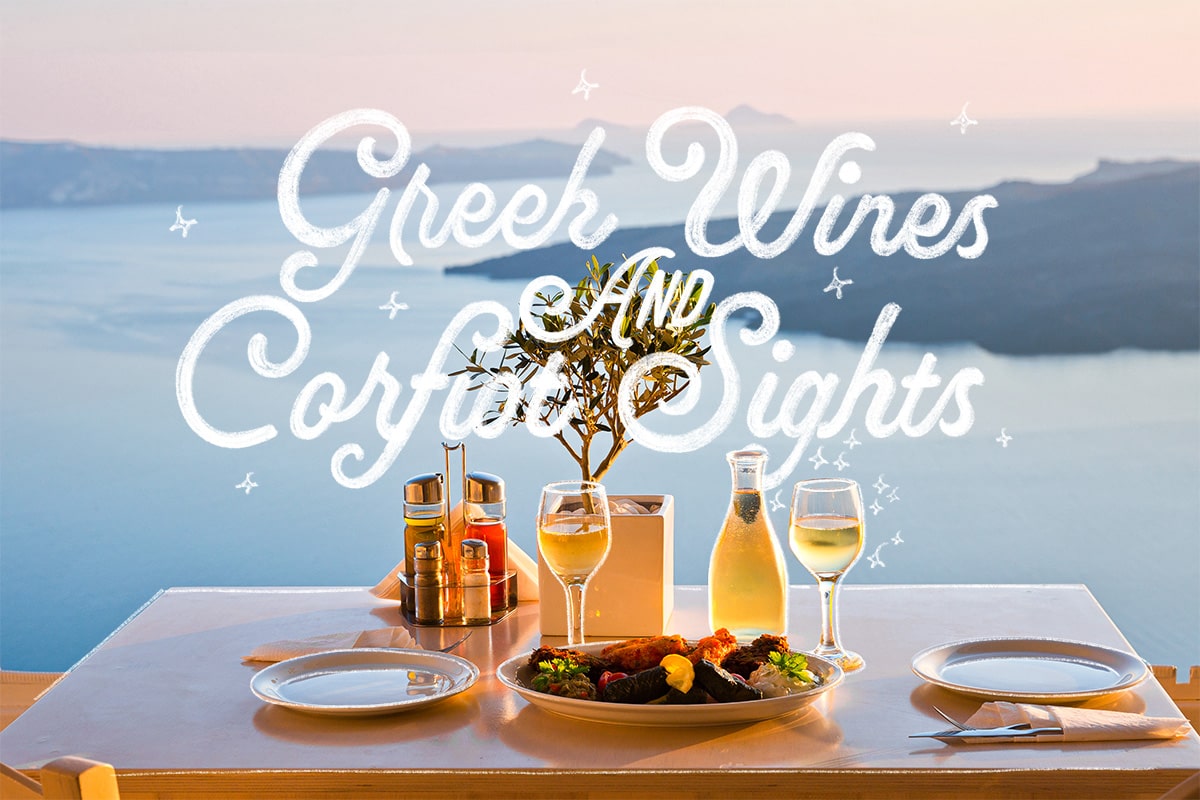 More Shore Things for your wishlist...
We have even more in our curated catalog.
Very special delivery...
Prince Philip, Duke of Edinburgh was born in Corfu on a dining room table.


When trying to change your habits and redefine what your life looks like, taking yourself out of familiar territory is a terrific way to start. Corfu is just one of those places that has an immediate vibe of excitement, the kind that makes you feel like you can be anybody you want to be. It helps you to realize sometimes segwaying off the beaten path is just what you need to reinvigorate yourself.

If you're looking to expand your palette, Corfu's endless supply of fresh exotic fruits, unlimited varieties of veggies, locally sourced meats and freshly caught seafood are the ideal way to experience new flavors. Whether it's the locally grown citrus or the passion of the island, the food here just doesn't exist anywhere else in the world.

If you're determined to go on an adventure of a lifetime through the unbelievable cathedrals and palaces, romantic villages or ancient ruins but also crave the tranquility of Greece's famed beaches, Corfu is tailored for you. The extended stay allows Sailors to get the most out of a visit to a place with so much beauty and exciting happenings, while still finding time to relax with your freshly pedicured toes in the sand.

There's nothing quite like the adrenaline that comes with Corfu — it just has an inimitable charisma. It could be its natural charm, or perhaps its mystery that entices you to branch out and toy with the unexpected — or to simply relax guilt free of life's usual constant expectations.

When you're engrossed in Corfu's effortlessly chic surroundings you can't help but feel that an alluring twist is always just around the corner.
Set sail the Virgin way and find a new approach to cruise vacations. Select a cruise itinerary and let's sail.
Be the first to get our exclusive deals + onboard happenings
Oops, something went wrong. Please try again or visit our Contact Us page. You can also:
Check you've typed your email address correctly.
Make sure you've checked the signup box.
Success!
You've successfully signed up for our email list... You're in for some treats.