Virgin Voyages' guide to Marseille
From France's second-largest city to its countryside, discover medieval villages frozen in time (or Van Gogh's paintings).
Marseille
The Mediterranean melting pot
With the glamorous French Riviera to its east and quaint Provençal towns to its north, Marseille is the crossroads of Southern France. Its bustling port welcomes in a wave of diverse cultures giving it a distinct character that has contributed to the soul of Marseille.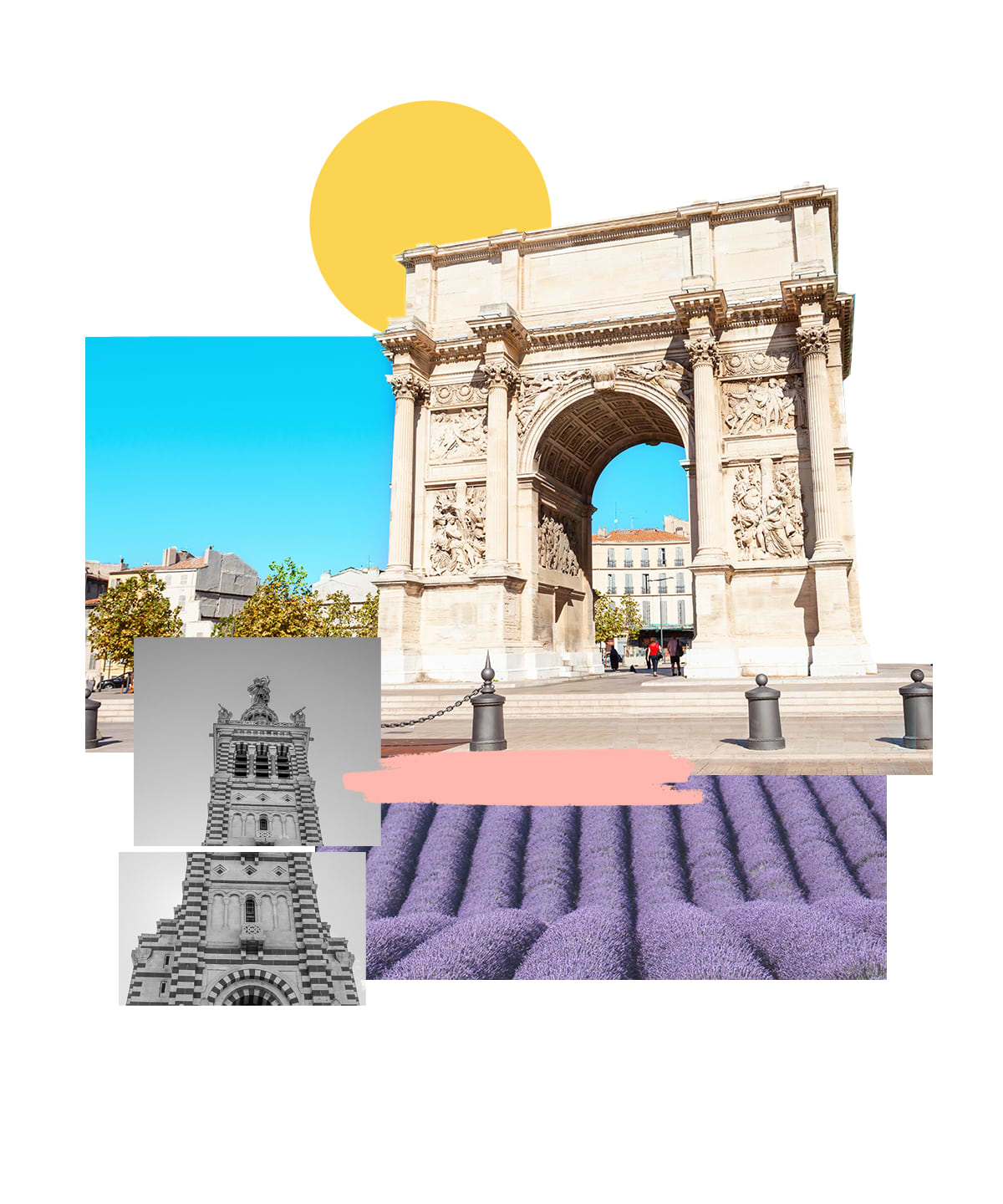 As the oldest city in France, the streets of its Vieux Port and Le Panier quarter preserve thousands of years of history while also embracing modernity — with vibrant additions like murals, funky potted plants, and street art displays accenting the city. The Basilique Notre-Dame de la Garde (affectionately called the La Bonne Mére for short) overlooks the city from the highest hill; giving visitors a bird's eye view of Marseille. And if you'd really like to make like a local and get to know the city, order a pastis on ice (the official drink of Marseille) and post up at a cafe — taking in the incredible personality of the second-largest city in France.
Shore Excursions
The near and the far, far away
Hike the Calanques from Cassis
With a hiking guide, opt for adventure in Calanques National Park . Over a dramatic coastline of beautiful bays, turquoise inlets, and rocky terrain, you'll reach the small sandy beach of Port Pin. Surrounded by incredible natural beauty — the kind reserved for Top Places to Visit lists — cool off in shallow crystalline waters and recharge with a tasty picnic lunch.

Le Castellet Tour with Winery Visit
Enjoy a relaxing, scenic ride toward the seaside village of Le Castellet, a charming feudal town nestled on the tip of a cliff. Stroll through the historic cobblestone streets with your guide to see more than meets the eye before taking some time to explore the local galleries, shops, restaurants, and bars. Then, reboard the coach to embark on a different journey-- a local wine tasting experience that will teach you about the origin and production of Bandol wines.

A Tuk-Tuk Tour of Marseille
Leave a big bus behind with this quirky drive through the smaller streets of Marseille by tuk-tuk. See the historic district up close, zipping past charming cafes on your way to Notre Dame de la Garde basilica. Breathe the ocean air as your tuk-tuk whips along the Kennedy Corniche before stopping to explore and take photos in the small port of Vallon des Auffes. A chocolate tasting awaits at the end of your tour.

More Shore Things for your wishlist...
We have even more in our curated catalog.
Sing-along from the French Revolution
Citizens marched in Paris singing "La Marseillaise" — the national anthem.
Discovered by the Greeks in 600 BCE, Marseille has a past as diverse as its people. MuCEM, a waterfront museum with striking architecture, shares the story of the Mediterranean and its many civilizations. Whether perusing Marseille's historic streets, admiring the Palais Longchamp, or taking the train up to La Bonne Mére — you'll get a peek into how France's very first settlement turned into an essential and can't-miss city. As Marseille continues to grow, the contrast between the bustling Provençal town and its neighboring quiet villages become more and more clear. And with 300 days of sunshine, Marseille is a must-see destination on the shores of the Mediterranean.
With an extended stay in Marseille, there's more time to seas the day. Between approximately 8 am to 8 pm, we are offering a complimentary shuttle service to/from the cruise terminal and the Old Port of Marseille. So when you're finished with your Shore Things adventures (or even if you did not go on one), you'll have plenty of time to immerse yourself in the local Marseille scene.
Shuttle service will be available every 20 minutes upon arrival time, 30 minutes between 12 pm and 2 pm, and every 20 minutes between 2 pm until the ship's departure.
8 am - 12 pm - shuttle every 20 minutes
12 pm - 2 pm - shuttle every 30 minutes
2 pm - 7 pm - shuttle every 20 minutes
The last shuttle from Marseille to the cruise terminal will be at 7:00 pm.
***Please be aware that all Sailors may be required to show proof of vaccination (a photocopy is acceptable) in Marseille, and a photo ID may also be required to return to the ship. Sailors should also bring masks with them as they may be required in some establishments.
Set sail the Virgin way and find a new approach to cruise vacations. Select this can't-miss itinerary and let's sail.
Behind the velvet rope and into your inbox
Oops, something went wrong. Please try again or visit our Contact Us page. You can also:
Check you've typed your email address correctly.
Make sure you've checked the signup box.
Success!
You've successfully signed up for our email list... You're in for some treats.