Virgin Voyages' guide to Burnie, Australia
A gem of the art deco era, a sensational hot spot for foodies, and a haven for otherworldly wildlife.
Burnie, Tasmania
The Nautical artist's respite
Once a bustling industrial port vital to Australia due to its prime location to the mainland, this northwest coastal town has become so much more than the commercial facade that it presents to approaching visitors. Now, Burnie is filled with artists, dreamers, and nature enthusiasts alike, who all come together to create some of the chillest vibes in the South Pacific.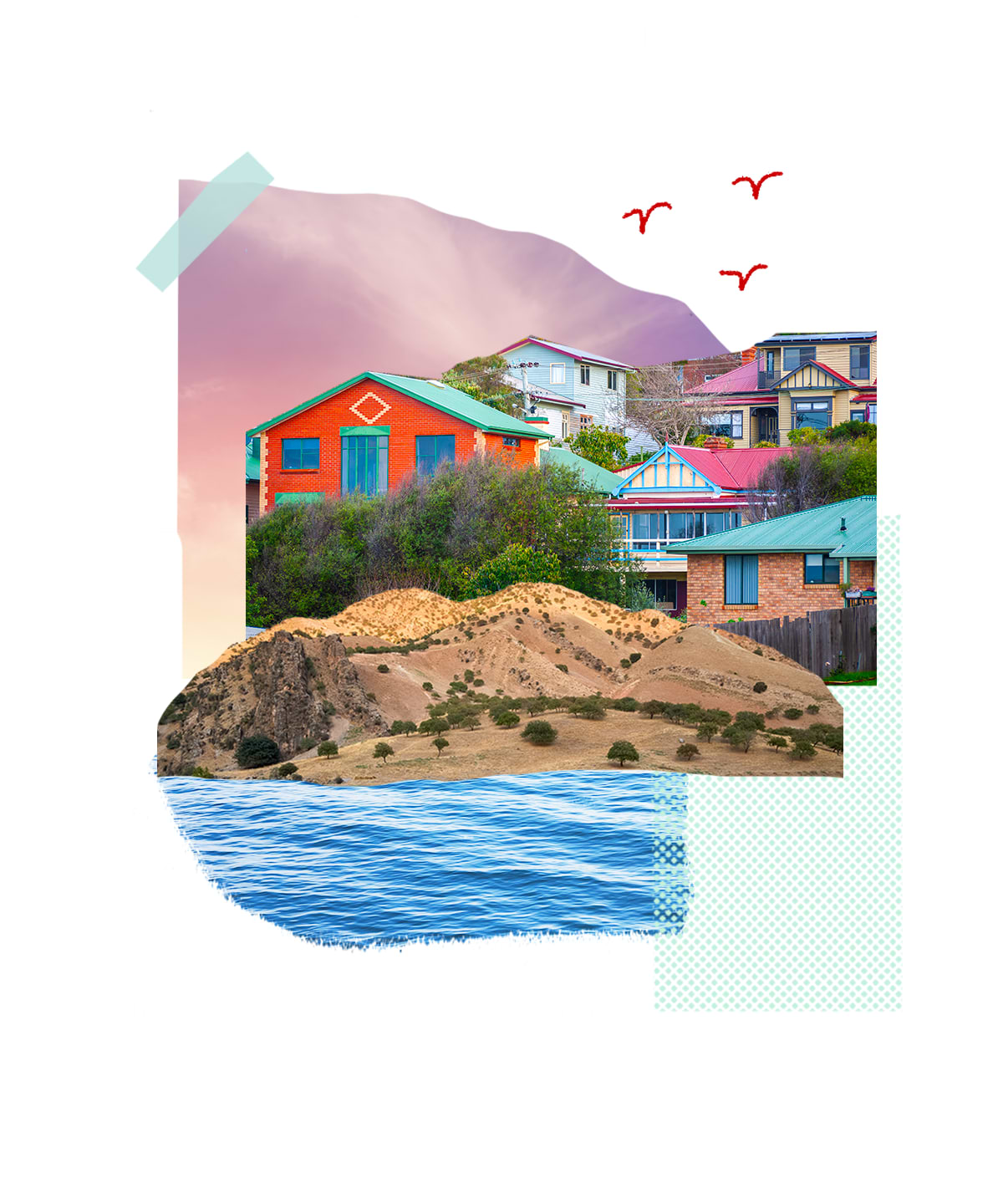 Featuring iconic locations for hiking, stunning waterfalls, and exciting wildlife (ever heard of Tasmanian devils?) there's something for everyone here. Whether your adventure is touring the inspired art that's everywhere you turn, diving into its ever-evolving food scene, or tasting the countless beers, ciders, and whiskey that are created every day here — no matter how you choose to spend your time in Burnie, you're guaranteed to have a once-in-a-lifetime experience.
Shore Excursions
Whiskey tours, mystical mammals, and historic gems.
Tasmanian Truffles & Whiskey Adventure
Enjoy the views of Tasmania's forests and foothills on your drive to The Needles — a range of protruding mountain spires, where you'll begin your adventure into the heart (and art) of truffle cultivation. Learn all about these gourmet fungi goodies, meet the dogs who hunt for them, then sample different truffle products, local produce, and wine. You'll then get to visit a whiskey distillery — where myth, determination, and the unique landscape offer one of the most unique blends in the world.
Burnie's Caves & Wildlife Park
Uncover Burnie's natural beauty when you head out to its incredible limestone caves. With a guide, you'll step back through millions of years when you wander over winding stalagmite and stalactite trails, plus see an underground river, glowing from the tiny bioluminescent worms who live in the tranquil waters. Above ground you'll explore Burnie's wildlife park on your own to check out the local kangaroos, Tasmanian devils, and plenty of extraordinary creatures native to this area of the world.
Tasmania Culinary Tour & Lunch
Head out over Tasmania's beautiful north coast to a truffle farm to learn about how truffles were first grown in Australia while sampling local truffle products. You'll then go to a honey farm to see local bees at work (from behind safety glass) and find out the secrets of their hives. Lunch will be served at a local vineyard where you can sample different wine blends, followed by dessert in a chocolate factory that produces handmade cakes, pralines, liqueurs and more sweet delights.
More Shore Things for your wishlist...
We have even more in our curated catalog.
Breathe easy
Tasmania has the cleanest air in the world. Literally.
Shore Excursions
Guide Falls
Drive along "the edge of the world" on your way to see Stanley and The Nut, a volcano plug that rises above the water overlooking the gorgeous Bass Strait.
DISCOVER MORE SHORE THINGS

While Australia is loaded with unique places, Burnie may top the list as one of the most original. With historic neighborhoods adorned with cozy cottages and unpretentious restaurants, measureless opportunities to witness some of the most interesting wildlife in the world, picturesque vistas everywhere you turn and some of the world's most charming collections of art there's so much to see and explore here.

Whether you choose to spend your time celebrating the auspicious food and beverage scene, taking an adventure to one of the world's most beautiful waterfalls or through one of the world's most breathtaking distilleries — the only thing that's definite about your trip to Burnie is that you're going to have an unbelievable time.
Set sail the Virgin way and find a new approach to cruise vacations. Select a cruise itinerary and let's sail.
Be the first to get our exclusive deals + onboard happenings
Oops, something went wrong. Please try again or visit our Contact Us page. You can also:
Check you've typed your email address correctly.
Make sure you've checked the signup box.
Success!
You've successfully signed up for our email list... You're in for some treats.