Sir Richard Branson unveils that first ship will be named 'Scarlet Lady'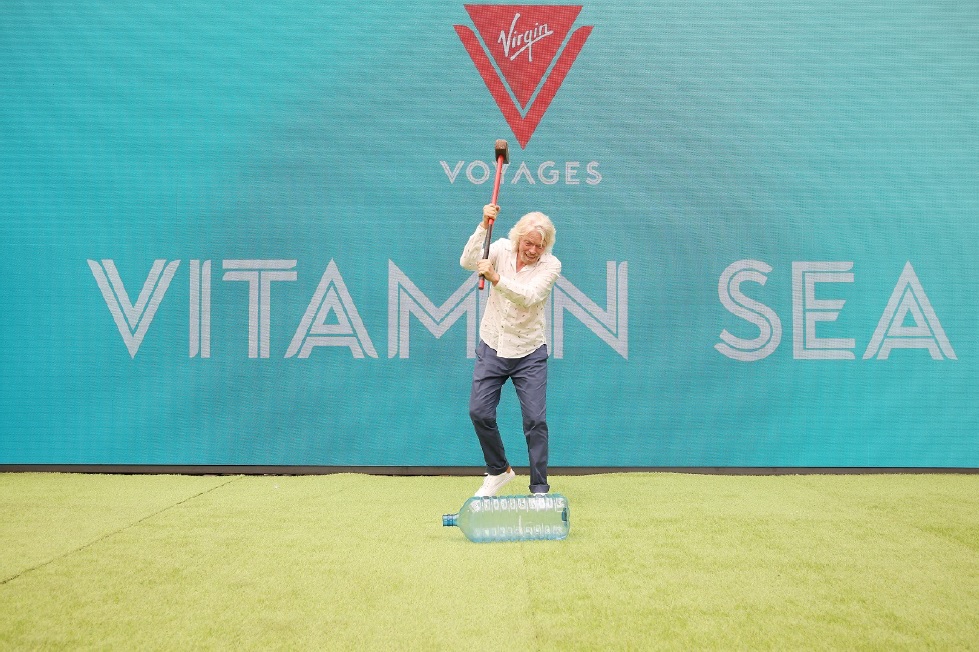 GENOA, Italy — July 20, 2018 — Virgin Group Founder Sir Richard Branson and Virgin Voyages President and CEO Tom McAlpin announced that the company will eliminate the use of sailor facing single-use plastics as part of its aim to create one of the cleanest fleets at sea.

This initiative includes banning plastic items on board including straws, bottled water, other beverage bottles, condiment packets, shopping bags, food packaging, stirrers, and take-away coffee and tea cups. Instead, the company will emphasize the use of recyclable and reusable materials across the ship.

Sailors will have access to complimentary filtered still and sparkling water at all bars and restaurants, as well as specially designed Natura filtered water stations throughout the ship.

"Nothing makes me prouder than seeing companies like Virgin Voyages striving to make a positive impact on the world we live in," said Branson. "Business is a force for good and can and must be the catalyst for global change."

"We believe that in order to fulfill our purpose of creating an 'Epic Sea Change for All,' we must make a commitment that is bigger than just eliminating straws," said McAlpin. "We must make a commitment to building ships and experiences that do everything possible to look after the well-being of our precious oceans. We are delighted with what we've achieved so far and will continue to push ourselves to look for innovative ways to do things that will make a difference."

In an homage to sister company Virgin Atlantic, Branson revealed the ship's long-awaited official name: Scarlet Lady. This name appeared on one of the earliest planes to fly for Virgin Atlantic. Now, as the flagship for the Virgin Voyages fleet, the Scarlet Lady name will be paired with the brand's iconic mermaid image. She reflects a powerful spirit guide who is creating a whole new way to travel and will adorn the hull of the ship when she sets sail in 2020.

The ship's namesake has also inspired plans to launch the 'Scarlet Squad' program aimed at recruiting, supporting and mentoring female shipboard talent, and growing opportunities to access leadership roles in onboard areas such as marine, technical and hotel management, that statistically show low numbers of female leadership. Virgin Voyages will release more details on the program in the company's sustainability and social impact report later this year.

"Across the maritime industry, we can do better in onboard recruiting and leadership representation for women," said McAlpin. "I want all future crew to know that Virgin Voyages will create an onboard environment that is fair, inclusive and where everyone has an opportunity to reach their full potential."

While at the shipyard, Virgin Voyages also celebrated construction milestones. The day began with the flooding of the ship's drydock, a celebratory ritual done in preparation for the connection of two hull sections, signifying the first time the hull of the Scarlet Lady touches sea water. The day at the shipyard also featured a ceremony to cut the first pieces of steel for Virgin Voyages' second ship, which is due for delivery in 2021.

Future sailors and travel partners are invited to check out Virgin Voyages by visiting www.virginvoyages.com or following @virginvoyages on Instagram, Facebook, Twitter or LinkedIn.
ABOUT VIRGIN VOYAGES
Virgin Voyages is a global travel brand committed to creating the world's most irresistible holiday. With operations in the US, UK and Europe, Virgin Voyages currently has three ships on order with master shipbuilder Fincantieri. Virgin Voyages' first ship, Scarlet Lady, will arrive at PortMiami in 2020 for her inaugural sailing season, where she will sail to the Caribbean hosting more than 2,700 sailors and 1,150 amazing crew from around the world. Keep watch on virginvoyages.com for more updates.