Sir Richard Branson's new cruise line embraces sailor tradition with tattoo studio onboard featuring world-renowned guest artists.

To celebrate reveal, Virgin Voyages partners up with Soho Ink to give away 100 free nautical inspired micro tattoos and sweepstakes to win a free voyage.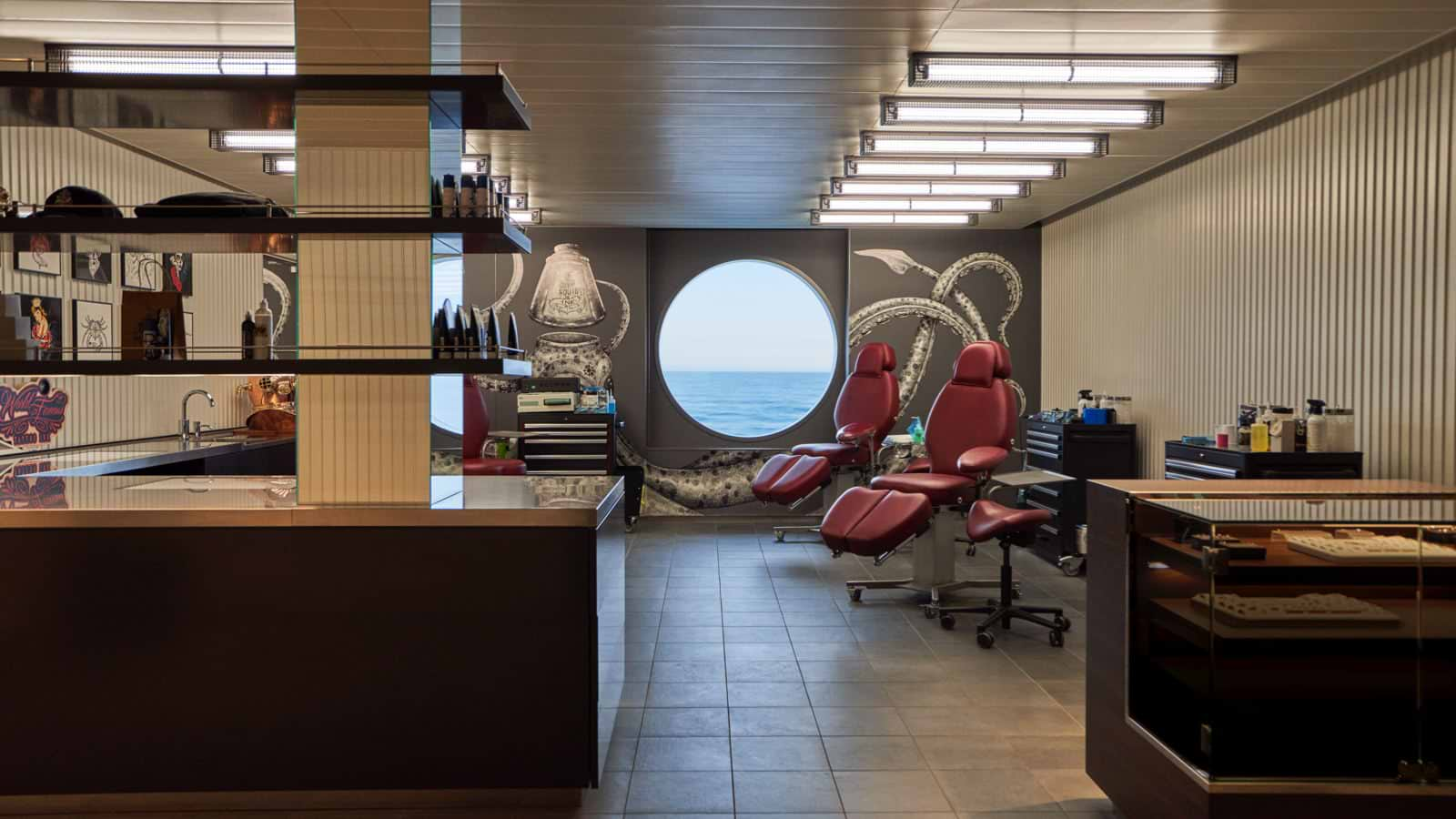 PLANTATION, FL — October 18, 2018 — Virgin Voyages announced today that the company's first ship, Scarlet Lady, will bring stylish tattoo artistry to the high seas with Squid Ink. To create this one-of-a-kind experience on board, Virgin Voyages has teamed up with the ink industry legends from World Famous Tattoo Ink.

"Tattooing is a time-honored seafaring tradition, and we're continuing that legacy with rock and roll style by bringing some of the best ink artists to sea," said Tom McAlpin, president and chief executive officer for Virgin Voyages. "Our sailors are looking to make lifelong memories, and we think there's no better way to commemorate their first voyage with us than with a souvenir they'll never lose track of."

When Virgin Voyages' Scarlet Lady sets sail in 2020, she will have two full time resident tattoo artists on board, handpicked by ink industry legend Lou Rubino Jr., the visionary behind World Famous Tattoo Ink, Soho Ink and Freshly Inked Magazine.

Squid Ink will also feature a star-studded line-up of guest artists including the tattoo industry's most sought-after trendsetters and celebrity artists. While details and timing are still to come, renowned artists to the likes of Spike TV's Ink Master star Sarah Miller, surrealist specialist artist Arlo DiCristina and illustrative specialist Jime Litwalk have already committed to a guest artist appearance aboard the Scarlet Lady in 2020. Artists from the World Famous Pro Team have inked celebrities like Nick Cannon, JWoww, Nico Tortorella and Daymond John, among others.

All Squid Ink tattoos will be created with World Famous Tattoo Ink original vegan ink, which is globally recognized to exceed safety standards with no animal by-products or testing. In addition to tattoos, Squid Ink will also offer body piercings as well as permanent makeup treatments using vegan-friendly Perma Blend pigments.

"The World Famous Tattoo Ink family has been working with sailors, pirates and rock stars for more than 50 years," said Lou Rubino Jr., owner of World Famous Tattoo Ink. "As global acceptance of tattoos and body art continues to grow, partnering with Virgin Voyages gives us the unique opportunity to bring color to places people might have never thought possible before. We couldn't be more excited to leave our mark on the sea travel industry."

True to the Virgin Voyages' brand design ethos, the "Modern Romance of Sailing," the inspiration behind Squid Ink is steeped in the traditions of sailing; with many historians crediting the expansion of tattooing to British colonial sailors who picked up the concept from aboriginal tribes while exploring the South Pacific. Squid Ink will feature exclusive voyage tattoos designed by the World Famous Tattoo Ink team for those sailors looking to commemorate their voyage.

Virgin Voyages will encourage its crew members to also express themselves freely through tattoos if they wish; in a unique move for the cruise industry, the company has indicated that the hiring of shipboard candidates with visible tattoos is a-okay.

To celebrate the news, Virgin Voyages is teaming up with the World Famous Ink team to give away 100 free nautical-inspired micro tattoos this Saturday, October 20, at Soho Ink in Manhattan, 285 Lafayette St, New York, NY 10012, located on the corner of Lafayette and Jersey street. The first 100 participants who head to Soho Ink at 12 p.m. on October 20 will be able to choose one of 10 free nautical inspired micro tattoos to ink themselves with. All who receive one of these tattoos and post about it on Instagram will be entered to win a free Virgin voyage for two,* with a one in 100 chance to win the grand prize. New York based sailors can check out all of the details at www.virginvoyages.com/press/latest-releases/Tattoo-studio-at-sea. Sailors who cannot make it to Soho Ink this Saturday, can also enter to win a free voyage (and a free nautical inspired micro tattoo while onboard)* now through November 16 by visiting www.virginvoyages.com.

More details on the new travel brand's onboard features and experiences will be revealed throughout the coming year. Future sailors and travel partners are invited to check out Virgin Voyages by visiting www.virginvoyages.com or following @virginvoyages on Instagram, Facebook, Twitter or LinkedIn.
ABOUT VIRGIN VOYAGES
Virgin Voyages is a global travel brand committed to creating the world's most irresistible holiday. With operations in the US, UK and Europe, Virgin Voyages currently has three ships on order with master shipbuilder Fincantieri. Virgin Voyages' first ship, Scarlet Lady, will arrive at PortMiami in 2020 for her inaugural sailing season, where she will sail to the Caribbean hosting more than 2,770 sailors and 1,150 amazing crew from around the world. Keep watch on virginvoyages.com for more updates.