Patricof Co. investment brings superstar lineup onboard Richard Branson's latest travel venture in cruising.
World-Class Athletes Venus Williams, Blake Griffin, Kemba Walker, Travis Kelce And More To Join Virgin Voyages Crew.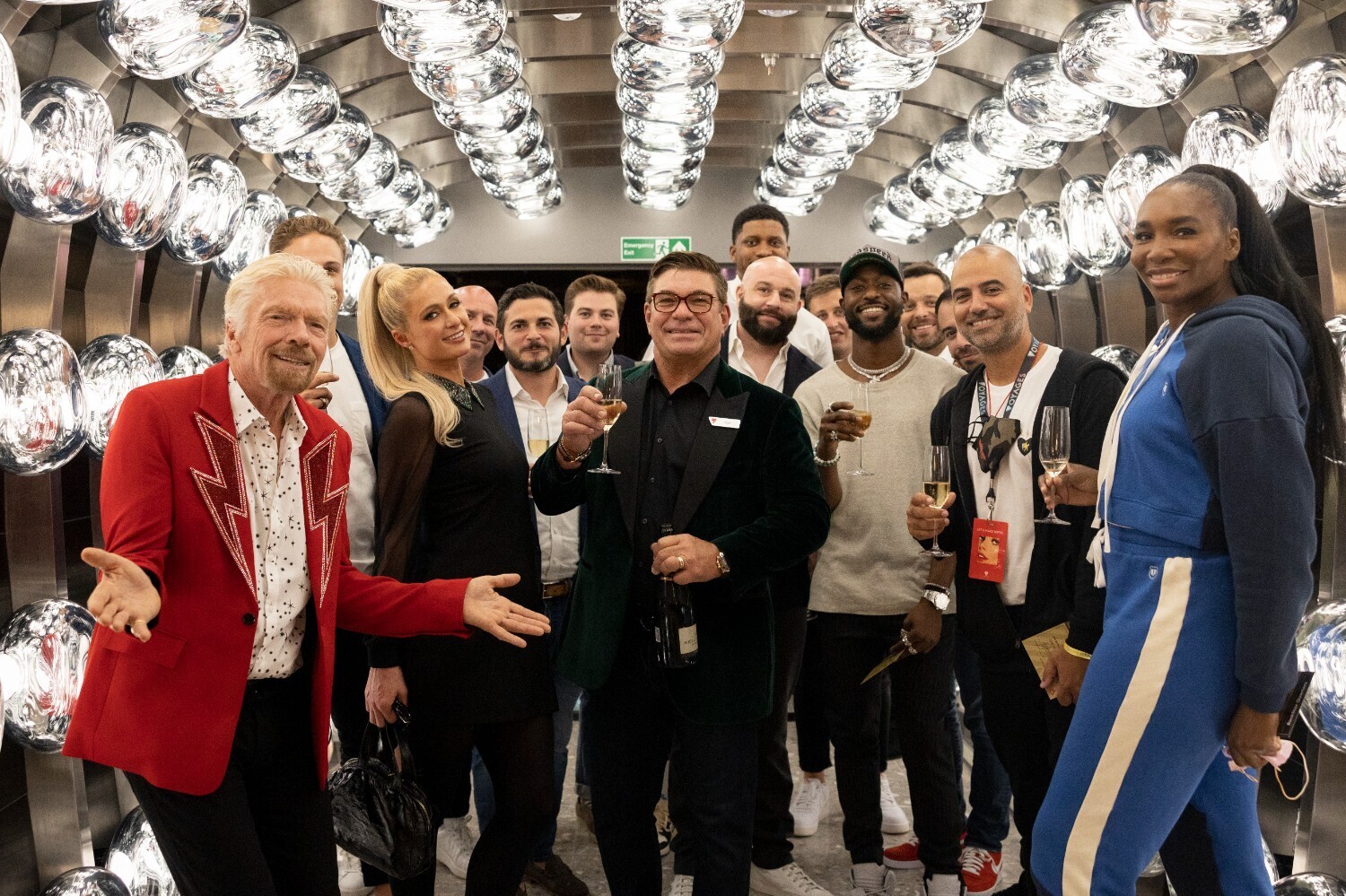 MIAMI, Fla. Nov. 10, 2021 - Virgin Voyages, the new lifestyle travel brand focused on delivering irresistible cruise vacations, today announced an investment by Patricof Co. (P/Co), a highly specialized private investment platform for professional athletes, adding a superstar roster of more than 40 entrepreneurial athletes including Venus Williams, Blake Griffin, Kemba Walker, Travis Kelce, CC Sabathia, Xavien Howard, George Kittle and Trea Turner as the brand's latest group of investors and fans. Following its recent successful launch in the US, Virgin Voyages new athlete investor line-up will be an active part of shaping the future of the product and the experience. P/Co and its roster of athletes join other blue chip investors Bain Capital and Virgin Group.
Tom McAlpin, President, and CEO of Virgin Voyages, says, "The past several months have been an exciting whirlwind of inaugural celebrations and our launch here in the US. It has been incredible to finally show off our beautiful Scarlet Lady to the world. We've been supported by incredible partners since we started this journey. It's exciting to welcome these superstar athletes onboard who will bring great energy and ideas as we grow globally and add three new ships to our fleet by 2023. It's also proof of how entrepreneurialism is at the heart of this brand as we evolve to have investors who are more than just people who write checks, they are part of the business and helping us navigate the future."
Officially setting sail on her inaugural season from PortMiami, the much-anticipated US launch of Virgin Voyages' first ship, Scarlet Lady, was preceded by a series of celebrations, gathering star athletes and celebs from around the world to welcome the ship home. Mixing a bit of business with pleasure, P/Co athletes and investors took the opportunity to experience a taste of Virgin Voyages and are now the newest additions to the privately held cruise line.
Sir Richard Branson, founder of Virgin Group, says, "Launching Virgin Voyages has been an incredible journey and it's exciting to align with superstar athletes who bring undeniable energy and ideas to Virgin Voyages as we expand our fleet globally. It was so much fun welcoming some of them on board Scarlet Lady earlier this year and sharing the wonderful experience on board the ship."
Venus Williams, tennis champion and entrepreneur, says, "I'm thrilled to be partnering with Virgin Voyages and helping to bring this incredible experience to the US. Traveling and taking in different cultures is so important to me and I'm excited to work with this team to deliver that opportunity to more customers."
Blake Griffin, forward for the Brooklyn Nets, says, "Virgin and Richard Branson instinctively know how to do things the right way… always leading with uniqueness and innovation. When Patricof Co brought this investment opportunity to me, I jumped at the chance to invest in Virgin Voyages in the early stages and I've been really impressed with the brand ever since."
P/Co will work with Virgin Voyages to establish an Athlete Advisory Council which will play an active role in designing experiences for Sailors to ensure the Virgin Voyages sailings are distinct from other holidays. The athletes will also work collaboratively with the brand on sustainability initiatives given the focus brought by Richard Branson and Virgin globally on this important issue.
Virgin Voyages' five-star experience comes without compromise, leading with health and well-being at the forefront. The award-winning brand has already received the most five-star reviews on Tripadvisor and continues to offer a brilliant value proposition, giving Sailors more for their money with all gratuities covered, free Wi-Fi, basic beverages and unlimited group fitness classes – all included in the voyage fare.
With 1,330 cabins and 78 RockStar Quarters, 86 percent of the cabins on Scarlet Lady feature a balcony and 93 percent have an ocean view. As an adult-only experience, Virgin Voyages offers a sanctuary at sea for the 18+ traveler with 20+ unique dining options, immersive entertainment and wellness-forward programming.
For more information on Virgin Voyages, visit www.virginvoyages.com.
For more information on Patricof Co, visit www.pco.com.
ABOUT VIRGIN VOYAGES

Virgin Voyages is a global travel brand committed to creating the world's most irresistible holiday. With operations in the US, UK and Europe, Virgin Voyages currently has three ships on order with master shipbuilder Fincantieri. Virgin Voyages' first ship, Scarlet Lady, will arrive at PortMiami in 2020 for her inaugural sailing season, where she will sail to the Caribbean hosting more than 2,770 sailors and 1,150 amazing crew from around the world. Keep watch on virginvoyages.com for more updates.
ABOUT PATRICOF CO
Patricof Co (P/Co) is a highly specialized private investment platform designed to meet the unique business needs and opportunities of professional athletes. P/Co optimizes athletes' direct private investment strategy through a combination of personalized services and a proprietary co-investment process. Their client service practice creates a deal sourcing advantage, allowing P/Co to secure allocations in highly competitive, blue-chip growth and private equity and real estate investment opportunities.
Follow Virgin Voyages:
Instagram: @virginvoyages
Facebook: @virginvoyages
Twitter: @virginvoyages
LinkedIn: Virgin Voyages
YouTube: Virgin Voyages

Follow Patricof Co:
Instagram: @patricofco
LinkedIn: Patricof Co

MEDIA CONTACTS:
Virgin Voyages (USA): Michelle Estevam - media@virginvoyages.com
Patricof Co: press@pco.com