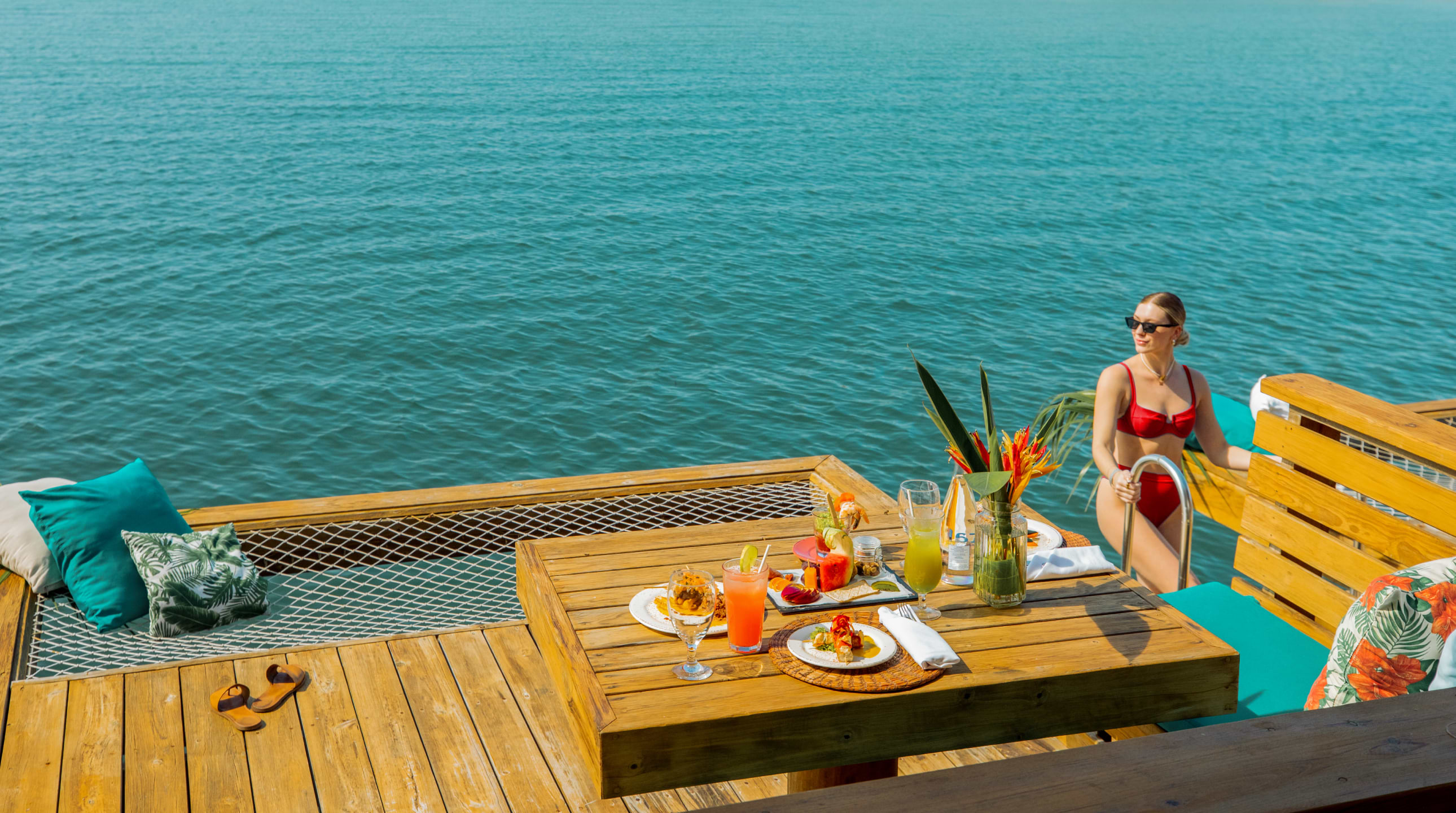 The Arubas, Bahamas, and Virgin Islands of the world comprise a mere fraction of the Caribbean's 700+ islands, but they seem to garner most of the attention. Sure, you can go on an epic ATV adventure in Aruba and party like a rockstar at the Beach Club at Bimini in the Bahamas, but there are other less-ubiquitous-on-social-media Caribbean islands equally worthy of the spotlight.
Roatán, an island off the coast of Honduras in Central America, is one of the most underrated and overlooked islands in the Caribbean. Situated between the islands of Utila and Guanaja, Roatán is surrounded by the Mesoamerican Barrier Reef – the largest barrier reef in the northern hemisphere – and known for its scuba diving, tropical and moderate climate, and coral reef brimming with marine life. Since the waters of Roatán are a mix of open and sheltered water, they're perfect for snorkeling and scuba diving.
But it's not all about the water. The West End is a small village in northwest Roatán, famous for its nightlife, restaurants, and beaches. Exuding a classic island village vibe, the West End is the perfect place to immerse yourself in local culture, as well as the perfect base for all your water adventures. The nearby Half Moon Bay and West Bay Beach not only have powdery-soft sand and stunning sunsets, but easy access to the reef for those with no time to waste dipping their feet in tropical waters.
Some travelers might be sleeping on Roatán, but we're certainly not. That's why we offer a range of Roatán excursions designed to expose Sailors to the very best of this little island.

Snorkel through a shipwreck coral reefs
When we say Roatán is a snorkeler's paradise, we mean it. The island's location right on the Mesoamerican Reef means the waters around Roatán are teeming with marine life, which is why snorkeling and scuba diving are the best things to do in Roatán. On our Starfish, Shipwreck, & Coral Reef Snorkel Shore Thing, you'll have the opportunity to snorkel shallow-water sites known for their large starfish populations. You'll also visit a shipwreck (buried treasure not guaranteed), and cap off the stay with a beach break for snacks and relaxation.

Chill at a beach club
If you're in the mood for a more laid back snorkel experience, the Sol y Mar Beach Club & Snorkel is one of our most popular Roatán excursions. Spend the day kicking back at the Sol y Mar Beach Club, a private paradise that doesn't require any physical exertion whatsoever – unless you want it. Think hammocks, umbrellas, loungers, thatched-roof palapas, food, and drinks. If you feel like being a little adventurous, a guided snorkel trip is also included. You'll swim along a nearby shallow reef, getting a glimpse of the island's local aquatic inhabitants. And when you're ready to hit the palapa again, it'll be there waiting for you.

Zip-line through the jungle
Adventure in Roatán isn't limited to aquatic excursions. The Extreme Adventure Park is one of the most fun things to do in Roatán, and it's all about the jungle. Our Extreme Adventure Trio excursion gives Sailors the chance to tap to get wild in the Roatán jungle, soaring through the treetops on an 11-line zip-line, crossing one of eight suspension bridges over the leafy canopies, and braving the Zuperman Zip – a blazing fast zip-line suitable only for the truly daring. Calling this Shore Thing "extreme" isn't overselling it. The Extreme Adventure Park truly isn't for the faint of heart, but the adrenaline-pumping thrill is totally worth the jitters you'll get standing on that zip-line platform. And once you're done, you'll have really earned that dip in the hot tub back on the ship.

Be a VIP in overwater bungalows
Discovering shipwrecks, exploring coral reefs, and swinging through the trees is great, but you're on vacation to relax. Some people are living their best lives when their blood is pumping and their heart is racing, but others are simply looking to exhale and unwind. For those Sailors, our VIP Overwater Bungalow on Turquoise Bay will hit the spot. Spend the day relaxing in your own private, overwater bungalow, indulging in chilled champagne and lunch – all facilitated by a private butler service. A double day bed will be your throne for the day, and the only reason to leave it is when you feel like cooling off with an ocean dip. Be warned, though, this 5-hour Shore Thing goes by fast, so make the most of every last tranquil moment.
You can experience these and other things to do in Roatán on our Western Caribbean Charm voyage, a 6-night trip from Miami hitting Roatán, Costa Maya, and the Bahamas.