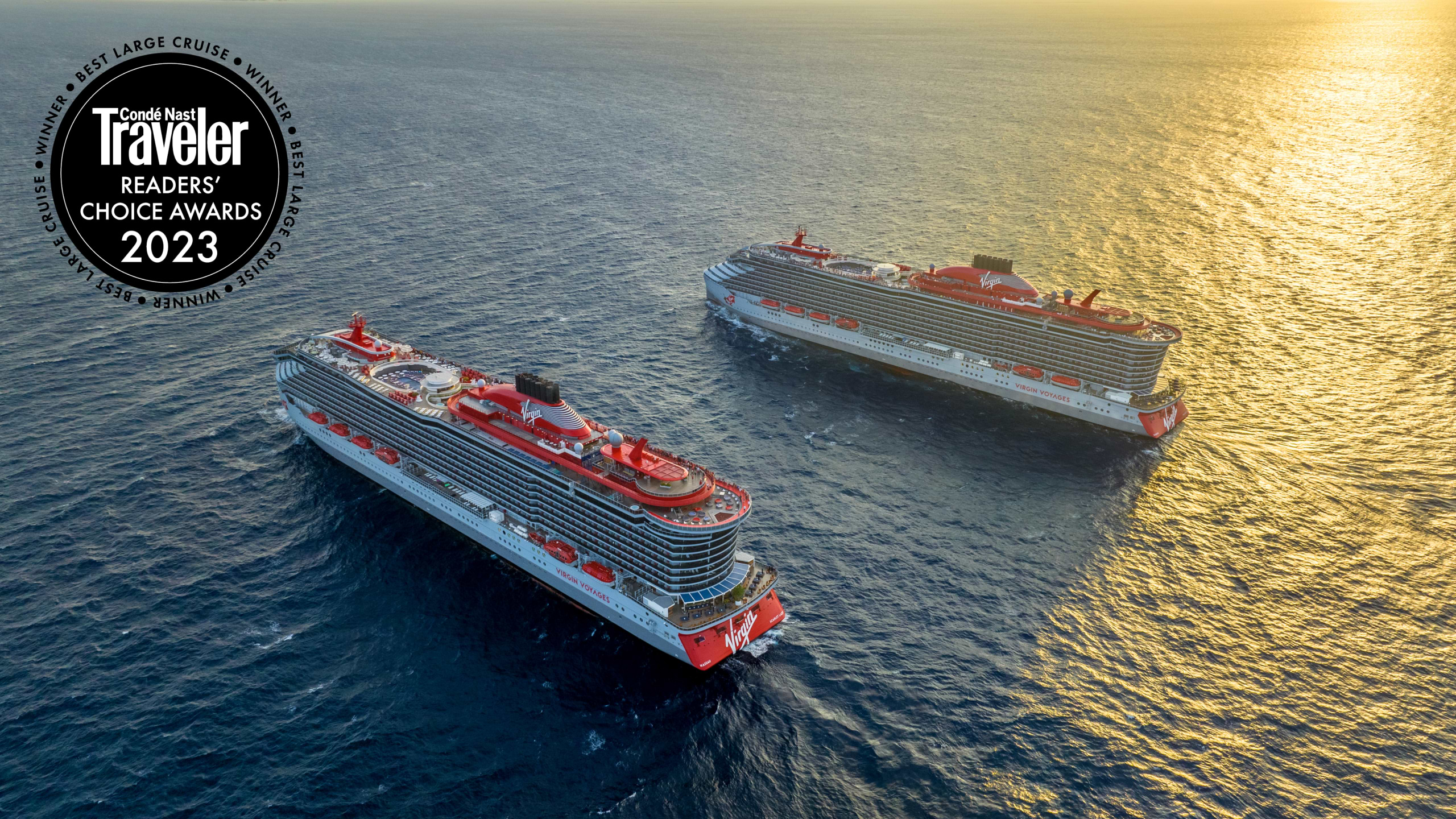 When we set out to create a new way to cruise, more specifically, An Epic Sea Change for All, it was clear that we wanted to highlight experiences that would become synonymous with the Virgin brand and what cruising specifically encapsulated on board our ships.
As the newest fleet in the industry, Virgin Voyages has always set itself apart from the other cruise ships. Now after just a few years at sea, we are thrilled to share that we were just named the #1 Large Cruise Ship in Condé Nast Traveler Readers' Choice Awards 2023. With their reach extending around the entire globe, and votes cast by hundreds of thousands of reviewers, this award encompasses our ships' elevated dining and beverage offerings, brilliant service, cabins and clever cabin-tech, activities, immersive Shore Things, epic destinations, and overall value.
This comes shortly after a series of incredible awards and accolades — from #1 on Travel + Leisure Readers' 5 Favorite Mega-ship Ocean Cruise Lines of 2023 and Cosmo's Must-Visit to our 2023 Cruise Critic Cruisers' Choice Awards sweep — however, each and every new win is just as important as the one before. It is a culmination of the hard work and dedication from all our Crew members, and of course you, our Sailors. From those who never cruised before and wanted to experience sailing for the first time, to those who've stuck with the same or different ships in the past, we are so grateful that you chose us to bring all your vacation desires to life, and appreciate you taking a chance on us during this unprecedented time of change.
And no award win would be complete without thanking our Sea Blazers, Sea Rovers, and all our Loyalty Sailors who are a part of the newly established Virgin Voyages Sailing Club. Not only have you been with us from the beginning, but you helped us get the word out about what it means to Set Sail The Virgin Way. While our Loyalty Sailor program is just one way we can highlight you during each and every new sailing, we appreciate you coming aboard and giving us the opportunity for you to fall in love with our lady ships time and time again.
While 2023 is starting to wind down, there's lots more in store for this year and 2024. The gratitude we have for you extends far beyond the horizon, and we can't wait for you to continue this ever evolving journey with us as we make (ever) bigger waves, and reach many new milestones.