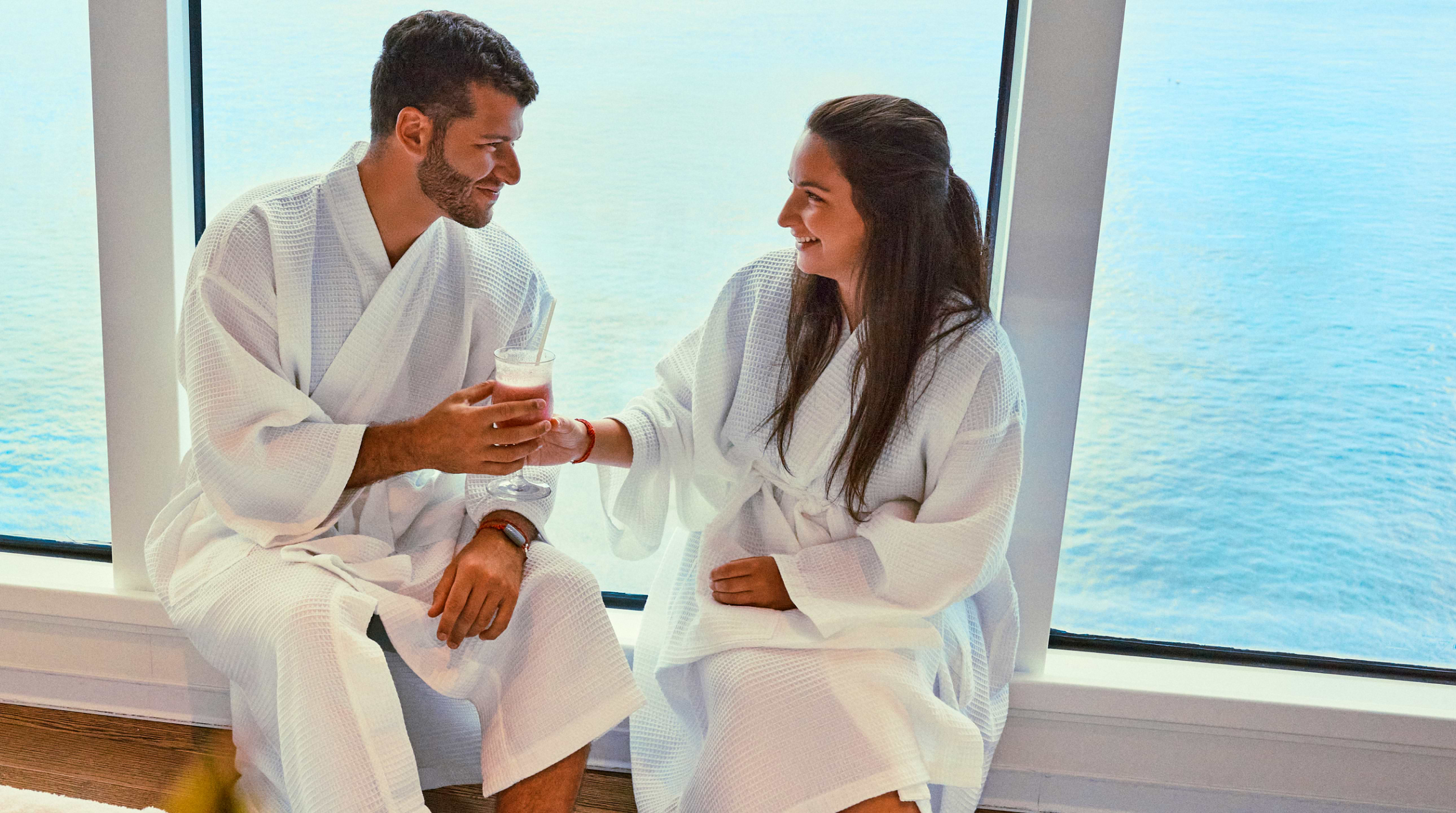 Everyone's idea of romance is a little different. For some couples, it means having an intimate, upscale dinner. For others, it might mean a spa day, or just relaxing poolside with drinks in hand. Or maybe it's just as simple as getting away from the kids for a few days, and spending quality time together doing literally anything other than errands and parental duties. While we certainly aren't in the business of defining romance, we like to think we have a pretty good idea of what couples are looking for on vacation. That's right, we've got it all: mud treatments in our Redemption Spa, "get it on" mood lighting in our cabins, sophisticated dining experiences, special treats and surprises for couples, and probably most importantly — no kids on board. So here's a bit more about why Virgin Voyages is one of the best cruise lines for couples.

The best cruises for couples = adults only
No matter what your concept of a perfect couples getaway looks like, chances are, it doesn't involve children. Don't get us wrong – kids are great. A romantic vacation just isn't quite the same when you can only keep one eye on your partner, while the other is making sure your 6-year-old son isn't cannonballing into the pool. That's why we made all our cruises 18+ – not just to set the scene for as much romance as possible, but to create a sophisticated atmosphere where you can focus on being an adult.
That means indulging in our boundary-pushing entertainment in the Red Room without worrying about covering your kid's eyes. Lose track of time enjoying dating game-esque performances, immersive cabarets, and adult-themed character dinners as a couple well into the night. Afterwards, hit up On The Rocks bar for a few drinks while listening to live music, and if you're ready to dance it out, head to The Manor nightclub for some after-hours fun. We wouldn't be one of the best cruises for couples without an epic nightclub, and indeed, this glitzy, '70s inspired venue serves up DJs and dancing every night of the week.

Romantic dining
A big part of the exclusively adult sophistication you'll find on board is in our dining experiences. We've got over 20 places to eat on board, and nearly all would be excellent settings for a date night. Whether it's The Wake, our classic steakhouse whose grand piano and ornate staircase offer a touch of Hollywood glamor; Pink Agave, our trendy yet intimate Mexican eatery, or the experiential Test Kitchen, defined by multi-course meals of small, experimental bites, you won't run out of fresh date night spots no matter how long your voyage is.

Relax and Rejuvenate
Whether you just need a break from all the eating and drinking, or your couple vibe is more relaxing than raging, there's our award-winning Redemption Spa. Nothing says couples getaway quite like a spa day, and our luxurious spa has it all — from couples massages to cozy hot tubs, a sauna, steam room, hot and cold plunge pools, and even a mud room. We're not saying slathering each other in mud is a scientifically proven rejuvenation technique, but we're not saying it isn't, either.

Add a Splash of Romance
While we pride ourselves on our romantic onboard offerings, we realize that you might want to go the extra mile and add an extra helping of love to your voyage. With our Splash of Romance package, you can choose to add onto your intimate getaway; curated exclusively for 75 cabins per voyage. This package comes with priority boarding, daily cold-pressed juices, two 3-hour thermal spa passes, champagne, tantalizing bites, and (much) more. Simply create or sign into your Virgin Voyages account, and go to the "Add-On" section to treat your special someone to sultry extras at sea.
A survey conducted by ECHO Research found that nearly 70% of couples surveyed said they didn't get to travel enough as a couple. So whether you're celebrating a special anniversary, or just a rare long weekend without the kids, there are (many) reasons we're one of the best cruise lines for couples.
(Afterall, they filmed The Bachelorette on board! I mean, come on…)