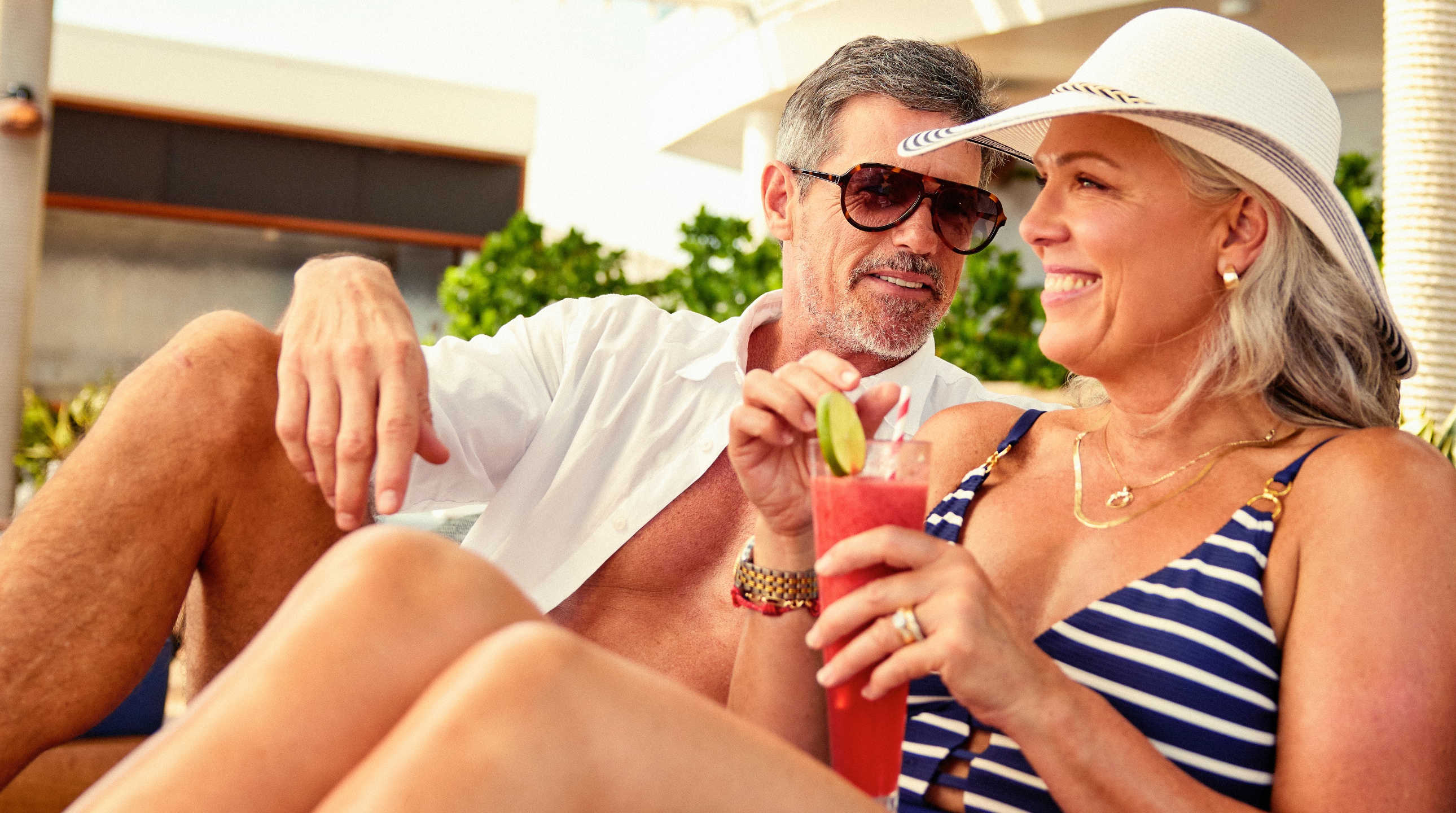 Many vacations that are supposed to be "romantic" lose the romance before they even start. The stress of deciding where to go and planning all the logistics can turn a honeymoon into a horror story, or an affair to remember into a nightmare to… hope to forget. That's why we've not only designed voyages perfect for couples looking for some much-needed time together, but we're also removing the dreaded "let's-sit-down-and-plan" conversation from the equation. On our cruises, you won't have to lift a finger — except if that finger is gripping a fork or a gelato spoon. Just choose your destination and let us take care of the rest.
Wait! We know what you're thinking. With so many voyages to dreamy places around the world, there are still some tough decisions to be made. Well, we're making it as easy as possible by highlighting some of our best trips for couples. From weeklong Mediterranean odysseys skirting the French Riviera and Costa del Sol to shorter Caribbean jaunts, these are the best trips for couples on Virgin Voyages.

Couples Trip Idea #1: The Irresistible Food & Wine of The Mediterranean
Nothing quite compares to the romantic idea of sipping fine wine while overlooking the rolling hills of Italy, or feasting on fresh bread and olive oil along the French Riviera. The Irresistible Med is a 7-night sailing aboard Valiant Lady, and one of the best couples trip ideas on the high seas.
Starting in Barcelona, you'll skirt the coast of Spain, France, and Italy, stopping in Toulon and La Spezia, before hitting the open water again and making your way to Ajaccio, the capital of Corsica — the island Napoleon Bonaparte famously called home. Don't just bask in the Mediterranean sun with your special someone, enjoy the rolling vineyards and endless hiking trails of Corsica, and indulge in the island's local wine, honey, and charcuterie. Before returning to Barcelona, you'll spend a night in Ibiza, the Spanish island known for its legendary nightlife and club scene. If clubbing isn't exactly how you and your partner unwind, check out the white sand beach, or enjoy some pampering in one of the many beach clubs.
For the charcuterie couple, take a walking and cheese tasting tour in Aix-en-Provence. This leisurely and peaceful stroll down the tree-shaded Cours Mirabeau will introduce you to famous French cheeses, as well as picturesque sights like the Saint Sauveur Cathedral and ornate fountains. If there's a perfect romantic complement to cheese-tasting in France, it's wine tasting in Italy. During your stop in La Spezia, take a drive to the scenic medieval town of Sarzana, defined by its 15th-century walls, towers, and fortresses. There, you can take a wine-tasting tour at the 18th century Cà Lunae estate, where you'll sample some of the finest Italian wines in the heart of a bucolic landscape.

Couples Trip Idea #2: The Historic Glow of The Greek Islands
Love didn't always work out for the heroes of Homer's famous Greek epics, but your prospects are far much more encouraging on this idyllic odyssey through the ancient isles of Greece. Greek Island Glow is one of the best trips for couples, sailing for seven nights from Piraeus (Athens) and island-hopping to Santorini, Rhodes, and Mykonos, with a pit stop at the Turkish coastal city of Bodrum.
While real love certainly takes place off the 'gram, we know how important it is to inspire envy in other couples who chose to celebrate their anniversary with Netflix and Chinese food. The islands of Santorini and Mykonos, famous for their whitewashed Cycladic architecture, are the perfect backdrop for your romantic getaway. Red might be the official color of love (and Virgin Voyages ;) ) but on this cruise, white rules the day. Walk hand-in-hand down the cafe-lined waterfront promenades of Mykonos, or explore the hidden hillside vineyards dotted around the island.
Get some future date night inspo on Rhodes by taking a Hellenistic Haute Cuisine class. After exploring the medieval Old Town, a UNESCO World Heritage Site, you'll take a class in Greek cuisine at a local restaurant, where an experienced chef will show you the ins and outs of traditional Hellenistic dishes. And of course, you'll be washing it all down with local wines. But it's not all about eating and drinking. A traditional bike ride might sound pretty romantic, but you know what's even more romantic? E-biking. Save the physical exertion for...well, more important moments, and let the E-bike do all the work while you zip around Santorini's narrow centuries-old streets. Add in some free local coffee and juice, and of course, the earthy fragrances that permeate the island, and you've got one of the best couples trip ideas.

Couples Trip Idea #3: The Gorgeous Beaches & Sunsets of The Caribbean
Not all romantic couples' trip ideas have to be weeklong adventures. Sometimes, all it takes is a long weekend away together to reignite those sparks, or add even more kindling to an already passionate relationship. This 4-night Fire & Sunset Soirées voyage from Miami to Key West and the Beach Club at Bimini, Bahamas, is the perfect escape for couples who just want to kick back, relax, and spend some quality time together.
Though Key West isn't exactly a far-flung port-of-call from Miami, its golden sunsets and peaceful waters make it the ideal getaway for honeymooners and anniversary-celebrators. Take in the melting pot of Bahamian, Cuban, and African-American culture, enjoy a bike tour of Old Town Key West, or watch dolphins leap in and out of the shimmering waters.
At first glance, the Beach Club at Bimini might sound more like a party hub than a relaxing private beach. But rather than a nightclub experience, our private beach club in the Bahamas is actually one of our most peaceful ports. Chill out by the pool to the soothing sounds of our resident beach club DJ, post up in a beach lounger with a book, or reserve a private cabana so you and your special someone can get some alone time away from it all.
For a truly intimate experience, take a Paint by the Bay art workshop — our version of your classic paint night, but with a Bahamian twist. Get inspired by Bimini's natural landscape and kickstart your artistic ambitions, even if those ambitions are limited to drinking some rum punch, closing your eyes, and producing a first-grade level "masterpiece" that you and your partner can laugh about for years to come.
Ready to get away on one of the best trips for couples?
To browse all our romantic destinations, and get more inspiration for the best trips for couples, check out our range of itineraries to ports around the world.