View from the Cheeky Corner Suite's terrace with hand-woven hammock and champagne bucket-style table.
With roots that trace back to the 1800s, sailing vacations were once exclusive and decadent affairs for travelers with distinctive tastes. Today, the team at Virgin Voyages is tapping into the nostalgia of those historic days of sailing with the creation of the indulgent RockStar Quarter offerings on board the Scarlet Lady, setting sail in 2020. While not just for the elite anymore, that legendary glamour has led the way for how these deliberately detailed, top tier spaces were meant to make Sailors feel.

"We were inspired by historic vessels of the past that exuded charm and luxury," said Dee Cooper Senior Vice President of Design for Virgin Voyages. "We wanted to inject a bit of that exclusive, distinctive, luxurious feeling nostalgia in a contemporary way that speaks to today's traveler more."
"These supremely modern digs are stepped in the Virgin rock & roll heritage, with nods to icons like Grace Jones."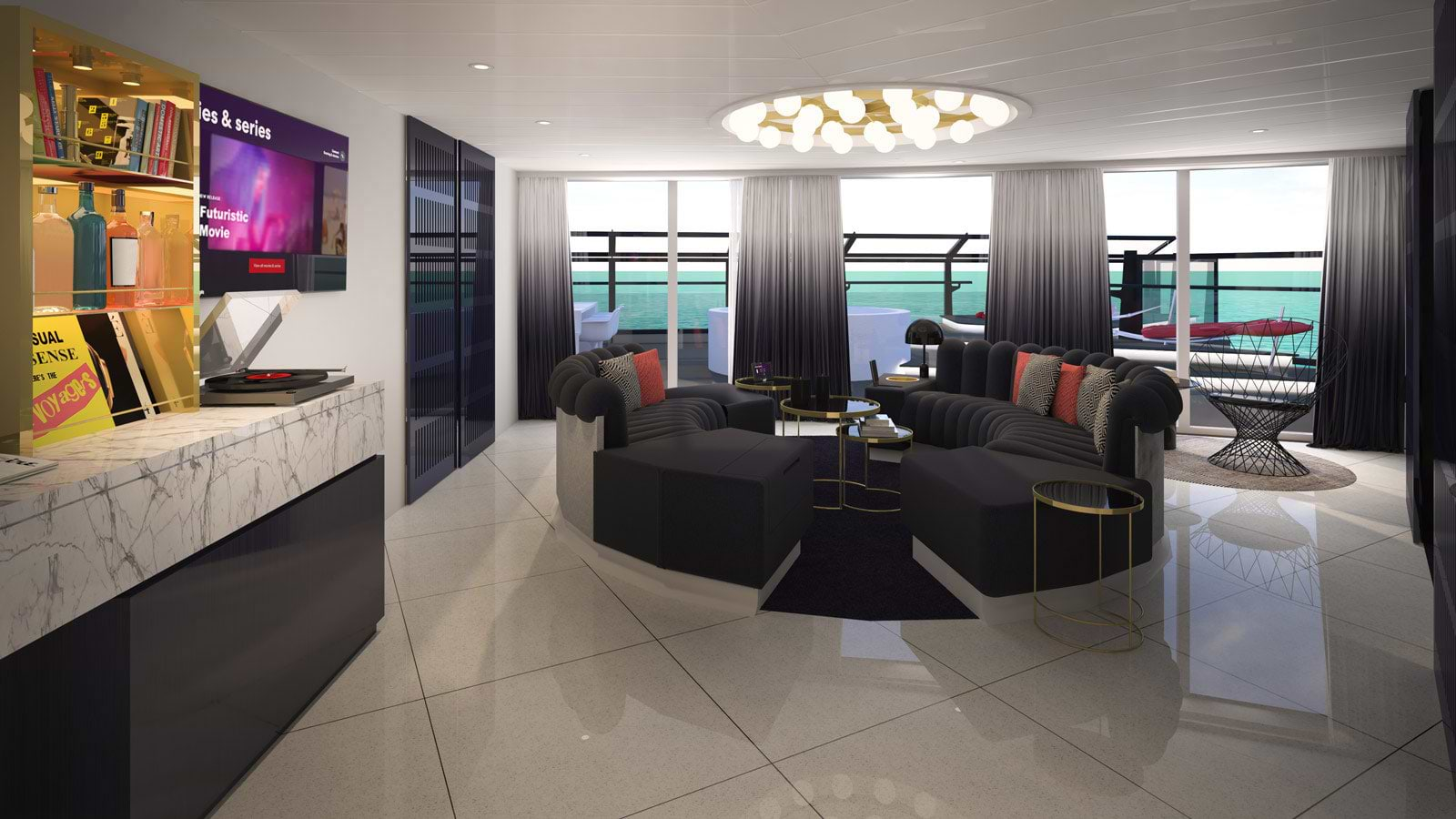 The living space in the Massive suite boasting a stocked in-room bar and turntable area.
These spaces conceived by the team at Virgin Voyages in collaboration with world-renowned designer Tom Dixon of Tom Dixon Design Research Studio encourage connection with the sea while featuring all those details a Sailor might need to live out their rockstar dream (minus actually making that Grammy-winning album).

These supremely modern digs are steeped in the Virgin rock & roll heritage, with nods to icons like Grace Jones. The mega yacht inspired look features a retro-futurism design with a palette of deep blues used with iridescent dichroic elements in the bathroom to echo the deep blue sea.

The suite is replete with bespoke Tom Dixon furniture pieces, large glam vanity tables and European king beds which sit above terrazzo flooring. Every detail has been considered in these top tier offerings, right down to the nautically inspired barware kit drawer, so Sailors have all of the tools for mixing beverages at their fingertips. The room features brass and real leather finishing sprinkled throughout as well as a Yellow Leaf brand, sustainably sourced, terrace hammocks.

The rooms are all clever cabins, with sensors that auto-adjust to Sailor movements, also allowing for the room's lighting to easily change from day to evening play mode.

Terrace featuring Peek-a-View shower and Yellow Leaf brand, hand-woven hammock.
"We wanted to use all aspects of the Virgin brand including our musical legacy, elements of Virgin Galactic and inspiration from Richard Branson's Necker Island," added Jamie Douglas, Senior Product Design Manager for Virgin Voyages. "The idea was to consider Sailor needs and comforts and create suites that were social, inspirational and relaxing so that they wanted to spend time in them."

These 78 RockStar Suites include fifteen Mega RockStar Suites, named the Massive, Fab, Posh and Gorgeous Suites - all primely located on deck 15, just a deck below Richard's Rooftop, a RockStar Suite Sailor only, exclusive Sir Richard Branson inspired top deck (and top-shelf alcohol only) cocktail lounge at the ship's forward facing section.

The Massive Suite's music room, which seconds as an extra bedroom, is stocked with guitars, an amp and a special private lookout point at the front of the ship, perfect for the meditative types and even a vinyl turntable (they all have that one). The terrace in this suite is complete with a standing hot tub, a runway style table for hosting guests and in all four Mega Star Suites, there are open-air Peek-a-View showers, offering a complete gaze at the sea while rinsing off.
"We wanted to use all aspects of the Virgin brand including our musical legacy, aspects of Virgin Galactic and inspiration from Richard Branson's Necker Island."

View out to terrace and into the music room in the Massive Suite.
Sailors in all tiers of RockStar Suites will enjoy breathtaking top to bottom marble bathrooms (stocked with premium products of course). The rains-style showers feature multi-colored dichroic glass windows and doors, providing a sneaky view either inside the room or outside onto the sea, in the aptly named the Peek-a-Boo shower.

RockStar Sailors should prepare for the full treatment like luggage assistance and a private walk down the exclusive terminal pathway upon arrival. RockStar Sailors can also receive special boarding, early booking access to special events and personal rock & roll style bar customizations meant to satisfy even the most diva-like of requests.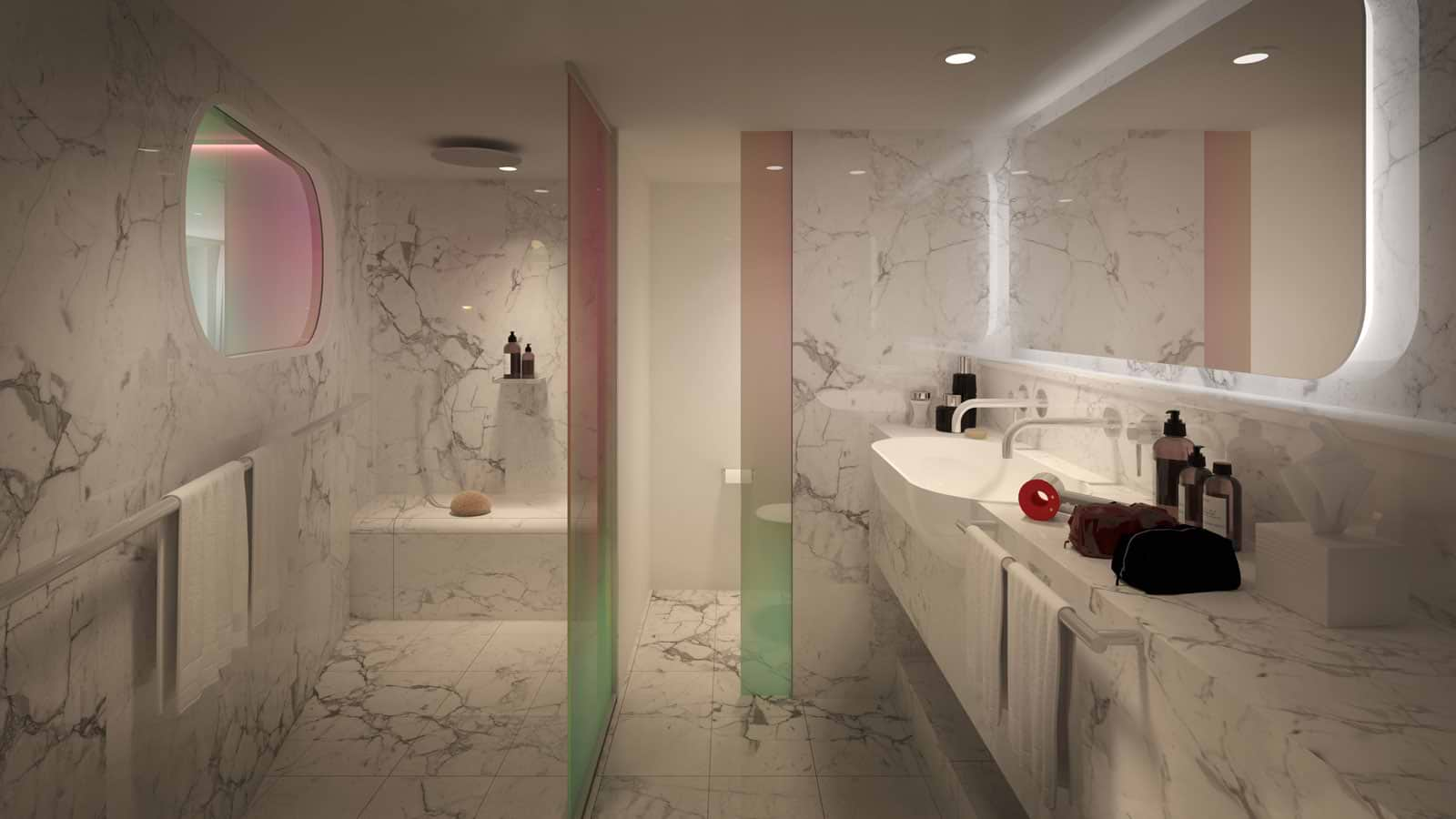 Top to bottom marble bathroom with dichroic glass window and door to shower.
That's why our Sailors can sit around and ponder the best angle for selfies over the bar area or discuss a legendary night out while sipping some bubbly at the specially-designed outdoor champagne table with a perfect fit for an ice bucket.

Then when too much spa, shower and swim time leaves a Sailor with an overly soaked suit at the end of the day, no prob. Sailors can just request the express drying bathing suit service.

We're not kidding, that's a thing.

If you're not at all surprised, these spaces were definitely made for you.

The only question left to ask is, "Your suite or ours?"