Always wanted to live like a rockstar but just never wrote that chart-topping ballad, started that dream band or learned how to play the guitar? We get it. Sometimes life delays things like being a future rockstar legend. Now, we're not telling you to give up on that dream by any means. A face melting, legendary status may still be in the cards. We don't really know all those deets.

What we do know is that a rockstar tested and approved lifestyle is waiting for you anytime you want, with the RockStar and Mega RockStar Quarters on Virgin Voyages. Created by the world-renowned designer, Tom Dixon, these suites are truly top of the line, offering the total rockstar lifestyle you know you deserve.
Every single RockStar Quarter on the ship comes with Better Faster Stronger premium Wi-Fi with streaming, early access to bookable experiences, a fully stocked in-room bar (with the first round on us) Richard's Rooftop access and RockStar Agent Service.

Craving more? Well, these RockStar Quarters boast even more features like exclusive express check-in during embarkation, VIP Access at The Beach Club at Bimini, and upgraded bed and bath amenities.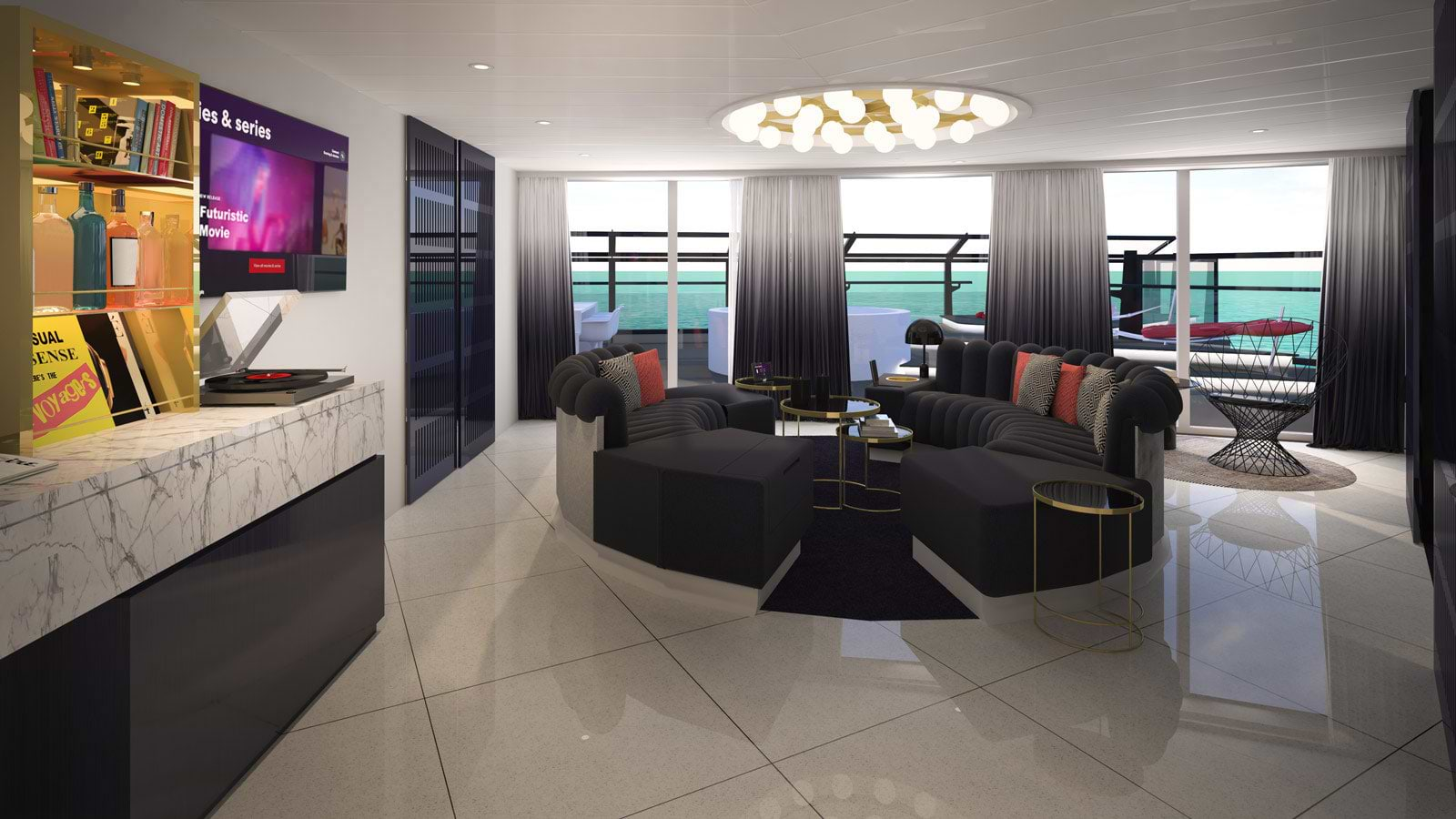 And if while reveling in this total wonderland fit for a rock icon, you take a break from powering through your champagne and caviar tower, and say to yourself, "I wonder if this irresistible RockStar life I'm living right now can get even sweeter?"

We would be compelled to answer with a resounding, yes. Our Mega RockStar Quarters have everything the RockStar Quarters offer but are even more fabulous boasting the ship's prime locations with Peek-a-View outdoor terrace showers, for a refreshing view while freshening up, then a hair and makeup squad to finish off the full look.

This #suite-est life also comes equipped with a customized as you choose and stocked by request, bottomless in-room bar, plus unlimited complimentary alcoholic and specialty beverages throughout the ship, excluding our Scarlet Lady Locker selections. Our Scarlet Lady Locker is made up of rare, fine and vintage wines, champagnes and spirits.

For any time detoxing from all that re-toxing, our Mega RockStar Sailors will have complimentary daily access to the Redemption Spa Thermal Suite. That means our Mega RockStars can replenish and rejuvenate to their heart's content, at any time of the day or night. Oh, and add some complimentary laundry service and a personalized RockStar rider to that list, for a chance at having your every last request fulfilled.