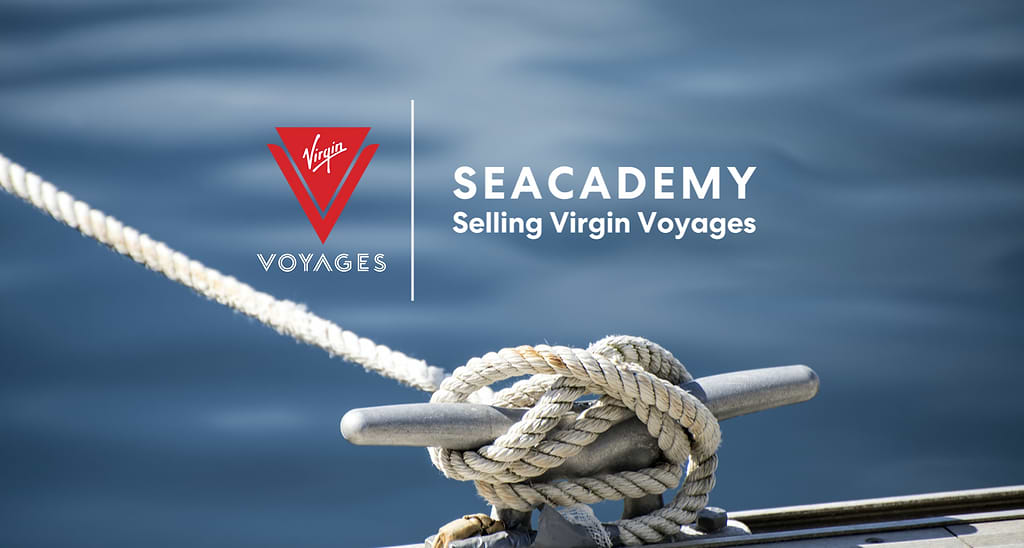 No person is an island, and our commitment to 'Making an Epic Sea Change For All' is not a revolution of one. We need you by our side, and we are dedicated to making sure you're completely comfortable and confident in sharing Virgin Voyages with your Sailors.
So, you've already taken the crucial first steps of becoming a First Mate, and now it's our turn to help you Raise Your Sales with information, insight, and inspiration. After all, we are committed to providing you with the Inside Intel, which is a blended journey of educational opportunities, marketing materials, and actually getting aboard our ships so you can get the first-hand experience you need in order to share Virgin Voyages with your Sailors.
We've heard you, and it's finally time to level up with a special something we call Seacademy: Selling Virgin Voyages.
Like it or knot, you'll complete tiers of lessons to learn everything about selling our sailings, while earning valuable rewards. Every tier earns you a knot, and your level of knot-iness speaks to your mastery of Virgin Voyages. And that's knot all! Each Seacademy tier is worth 3 elective credits towards CLIA's certification program.
With or without knots, remember that First Mates always earn 16% commission on voyage fare, and 10% commission on bookables, like Shore Things and Bar Tab.
Violet (AVAILABLE NOW)
After completing five Seacademy lessons, you'll earn your first knot. As a First Mate with one tier down, you'll receive a downloadable certificate, stamp to add to your email signature, and...ready for this?...if you complete this first tier before January 31, you'll rank among the "First Waves," an exclusive group eligible for extra surprises and future offers, including an invitation to join us on a hosted voyage on board either Scarlet Lady or Valiant Lady during our inaugural year.
Scarlet (coming in Q2 2021)
After completing ten Seacademy lessons, you'll earn your second knot and an updated certificate and email signature stamp, plus a £75/$100 Bonus Commission Voucher (one per First Mate, not combinable with any other voucher).
Silver (available in Q3 2021)
Now you're getting the hang of it, and we're so thrilled. When you complete 15 Seacademy lessons, you'll again receive an updated certificate and email signature. Your hard work also pays off with access to First Mate-exclusive rates from $100 per Sailor per night.
Gold (available in Q4 2021)
After 20 Seacademy lessons, you've certainly learned the ropes of selling Virgin Voyages and it's time to celebrate! You'll receive a downloadable certificate and email signature with your updated level, and three bonuses to show our appreciation for your support and dedication: $150 in Sailor Loot for your cabin on a voyage, priority access to events, and first dibs on future fam trips.
Being "Virgin" means more than changing business for good; it means being champions of the Sailor experience and Brilliant To Do Business With. Seacademy: Selling Virgin Voyages is another way we're delivering on this promise to keep you in the know so that your clients come back to you with rave reviews, time and again.