Award-winning cruise line calls on Creative Collective to help curate limited-time food & beverage experience across its growing fleet.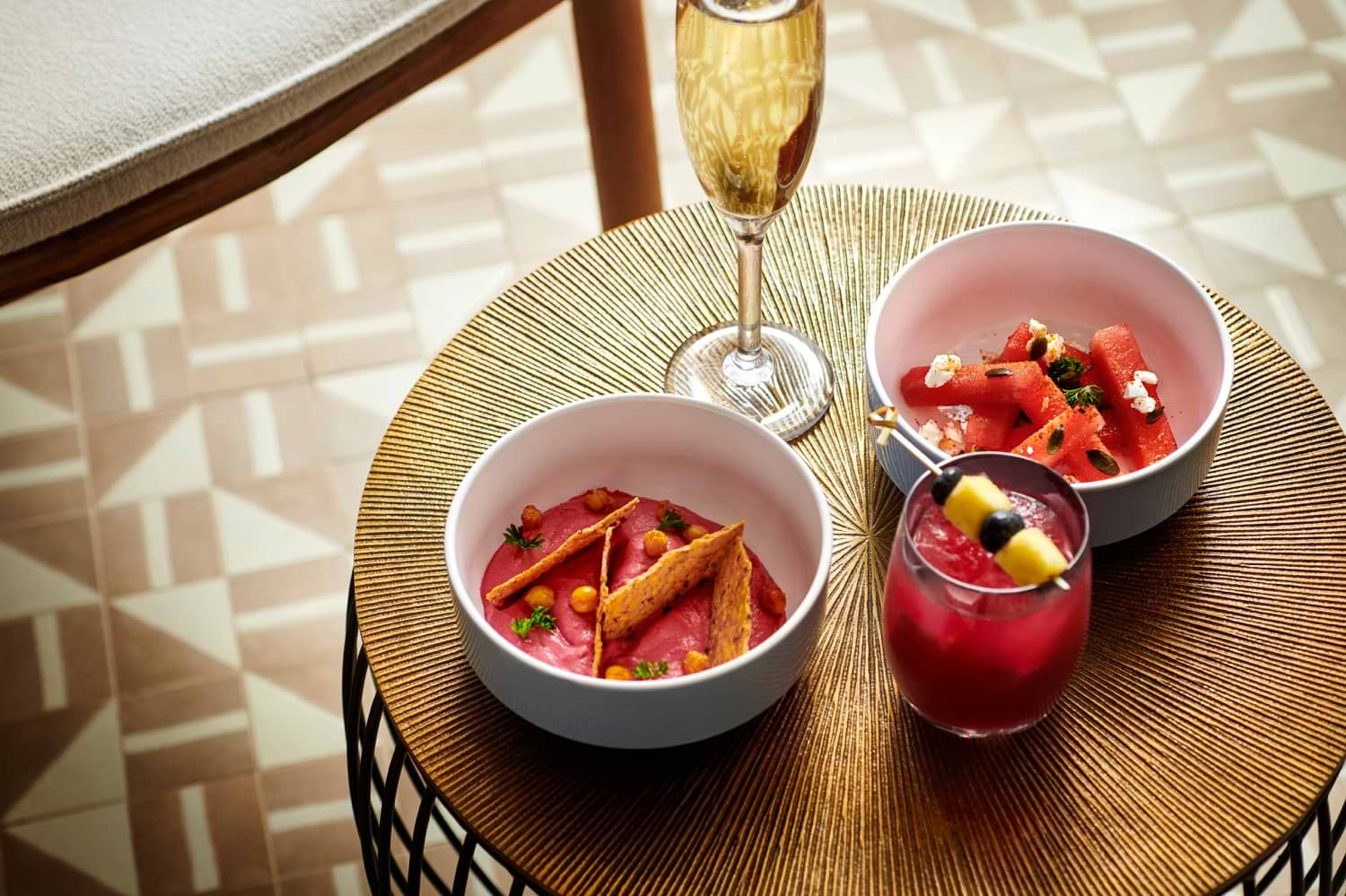 MIAMI, FL – October 13, 2022 – Having just been named one of the best cruise lines in the world in Condé Nast Traveler's 2022 Readers' Choice Awards, Virgin Voyages is taking epic experiences to new heights with the introduction of its first-ever Eat & Drink Month. Partnering with some of the world's top names in food & beverage – from the likes of Michelin star chefs, Matt Lambert and Brad Farmerie, along with James Beard Award Nominated, Silvana Salcido Esparza and Sohui Kim; to Miami's Unfiltered Hospitality and Charles Joly, beverage designer for the most recent Emmy Awards – this November aboard Scarlet and Valiant Lady is going to be one for the (cook)books.

Next month, foodies and cocktail connoisseurs are invited to taste and sip their way around the Caribbean and Mexico during a culinary event new to the high seas. Setting sail from the emerging foodie destination of Miami, Eat & Drink Month includes four- and five-night voyages on Scarlet Lady as well as six- and eight-night voyages on Virgin Voyages' newest vessel, Valiant Lady.

Calling on a Creative Collective of talented chefs and mixologists who helped design the brand's initial F&B vision, Virgin Voyages is bringing culinary delights to its 20+ eateries for this limited-time series. Sailors will be treated to specialty cocktails and menu items, as well as bookable events priced between $15-125/Sailor, including elevated dinner & wine pairings, cooking demos and a sneak peek at a new menu launching in 2023.
To celebrate Eat & Drink Month, every booking in November includes a complimentary $300 Bar Tab that can be used for specialty cocktails or the brand's unique Shake for Champagne feature, delivering bubbles to Sailors anywhere on the ship. One simple shake of a phone and Moët & Chandon is delivered on demand.

With the most five-star reviews on TripAdvisor and ever-growing rebooking rates, Virgin Voyages and its approach to F&B is certainly making waves in the industry. The brand already bid ahoy to buffets and set dining times, instead opting for six signature restaurants and Instagram-worthy bars that rival those in the world's most glamorous cities. Now, Eat & Drink month introduces even more on-board activations that showcase the ships' restaurants, unique concepts and elevated gastronomy.

"When Sailors step aboard one of our ships, they're immediately drawn into a sensory experience centered around making sure we're offering everyone who joins us the vacation of a lifetime. We have made-to-order culinary experiences in intimate eateries rather than mass-produced banquet food in big dining halls. Our food and drink menus were put together by award-winning chefs and mixologists who have taken their land-based gastronomy experience to our restaurants and cocktail bars on-board," says President and Chief Experience Officer, Nirmal Saverimuttu.
"We have created an incredible, award-winning product, and our food and drink continues to be a standout part of the experience. Of all the feedback we receive from past guests on TripAdvisor and Cruise Critic, two things stand apart above all else: our amazing Crew and the food & drinks. Eat & Drink Month is a way for us to turn up the heat and celebrate Sailors' favorite part of coming aboard with a recurring event our guests can look forward to for years to come," he added.
The 2022 Eat & Drink lineup includes an array of events and special appearances that can be booked once on-board. Sample events include:
EAT
Let's Mushroom Around – Learn how Virgin Voyages makes magic with mushrooms at this interactive demo at The Test Kitchen. Discover the techniques behind two of the brand's most iconic mushroom dishes: Test Kitchen's Mushroom Mousse and Razzle Dazzle's Mushroom Tartare. $25/Sailor

Sushi & Poke Demo – Grab some chopsticks and sea how we roll with this sushi & poke demo. Sailors will get a taste of the ancient art of sushi making and learn how to select sushi-grade fish and use a sushi knife before constructing their own cucumber avocado roll and tuna poke bowl. $25/Sailor

Flavors Uncorked at The Wake – Michelin star chef Brad Farmerie lends his expertise to this incredible four-course menu and elevated wine pairing in the ship's most glamorous eatery, The Wake. A winner in Wine Spectator's 2022 Grand Awards, The Wake sets the stage for a beautiful, fall-inspired celebration with handpicked labels from Napa Valley's Caymus Vineyards. $125/Sailor

Razzle Dazzle Menu Sneak Peek – Named after the camouflage pattern on WWI ships, Razzle Dazzle is offering Sailors a chef's choice menu and exclusive sneak peek into its new menu launching in 2023. Food Network's new series "Big Restaurant Bet'' features head judge Chef Eric Kim Haugen who is bringing his culinary genius to Razzle Dazzle's new American-inspired cuisine. During Eat & Drink Month, Virgin Voyages will crowd-source ideas, inviting Sailors to help decide on the evolution of Razzle Dazzle's concept. Price included in voyage fare

Creative Collective: Sohui Kim – Known for NYC's The Good Fork, Insa and Gage & Tollner, Sohui Kim brings a taste of Korean tradition to the ships with her dynamic dumplings dish. Learn to make this delicious comfort meal at Gunbae, the only Korean BBQ at sea. Demo class with Sohui offered on the Nov. 25 voyage on Scarlet Lady. $25/Sailor
Creative Collective: Matt Lambert – Previously from New York City's Michelin-starred restaurant, The Musket Room, Matt Lambert created the original menu for The Test Kitchen and is back to wow Sailors yet again with an appearance at an on-board cooking demo. Meet Matt Lambert on the Nov. 13 sailing on Valiant lady. $25/Sailor
Creative Collective: Brad Farmerie – Known for the Big Apple's Michelin-starred PUBLIC and Saxon+Parole, Farmerie created the limited-time Flavors Uncorked experience at The Wake. He also inspired Eat & Drink Month's three-course Mediterranean menu offered at the nautical chic Dock eatery and indoor Dock House. Three-course menu at The Dock & Dock House included in the voyage fare

Creative Collective: Silvana Salcido Esparza – Featured in Esquire Magazine and on Food Network's "Diners, Drive-Ins and Dives," Silvana Salcido Esparza created the menu at Pink Agave and is back to offer an amuse bouche and an interactive guacamole demo for Sailors. Silvana is setting sail on Scarlet Lady Nov. 16-18 and on Valiant Lady Nov. 19-27. $25/Sailor
DRINK

Spill the Beans with Intelligentsia Coffee – This steaming, hot cupping class at Razzle Dazzle teaches Sailors about the nuances and intricacies of hand-selected varieties from all around the world and lets them taste like the professionals. $15/Sailor

Filthy Bloody Mary Bar – Sailors can start their day with three versions of Filthy Food's All-Natural Bloody Mary, offered from 9 a.m. to 3 p.m. daily during Eat & Drink Month. Balanced, gritty, spicy, or mild, Sailors can select from gin, vodka or tequila at the bloody mary bar at The Social Club. Pricing ranges from $9-13

What's The Tea? – Join our Crew at Test Kitchen for a 60-minute session hosted with JoJo Tea that covers the origins of tea and how to analyze and taste the four main varieties. $15/Sailor

Lotería Gigante – This fiesta developed by Unfiltered Hospitality includes cocktail demos for two of the world's beloved agave drinks, all while playing Millennial Lotería, a hilarious parody and modern version of the classic game, Lotería. Every ticket includes a bottomless margarita and paloma bar. Only available on Scarlet Lady. $35/Sailor

Seven Sea Sippers – Hop through the Seven Seas Sippers treasure map on this nauti pub crawl across seven of the ship's best bars. Stop for a "Pirates' Booty" shot at the Loose Cannon and a "Thar She Blows" bevvie at the Draught Haus. Drink prices range from $9-13 at each bar

Sip and Sway with Kin Euphorics – Find your flow during this dreamy experience at Virgin Voyages' gorgeous beach club in Bimini. A sound bath guided meditation and delicious yoga flow led by Vibransè's own Andrea Mihalik-Brown concludes with a social meetup and complimentary cans of Kin Euphorics. Available on Nov. 18 and 19. $25/Sailor

Nothing Fancy at The Loose Cannon ­– Host with the most, Josue Gonzalez of Unfiltered Hospitality, brings devilish charm, delicious cocktail flair and unfiltered bartending to The Loose Cannon with a special menu created exclusively for Virgin Voyages' Eat & Drink Month. Available on the Nov. 16 voyage on Scarlet Lady. Prices range from $9-13

Behind the Scenes – This 3.5-hour behind-the-scenes-tour peeks around the velvet curtain to discover how we Make Ship Happen. The tour includes 22 stops including areas reserved for Crew as well as top-secret spaces you never knew existed. Available only on Scarlet Lady. $150/Sailor
To book a cabin or to learn more about Virgin Voyages' first Eat & Drink Month, visit www.VirginVoyages.com or contact your First Mate (travel advisor).
About Virgin Voyages
Set Sail the Virgin Way with Virgin Voyages, the irresistible travel brand founded by Sir Richard Branson. Delivering epic vacations at sea, Virgin Voyages launched at the end of 2021. The brand's four Lady Ships – inspired by 50+ years of Virgin history – include Scarlet Lady, Valiant Lady, Resilient Lady and Brilliant Lady. Designed for discerning travelers, Virgin Voyages offers relaxing, exclusively adult (18+) sailings. Working with a Creative Collective of the world's most sought-after designers, performance artists and architects, Virgin Voyages delivers an enchanting boutique hotel at sea with fresh, elevated spaces that strike the perfect balance of nautical chic and glamour. Currently departing from the sun-soaked cities of Miami and Barcelona – and soon to include Athens, San Juan and Melbourne – the fleet offers itineraries to more than 100 awe-inspiring destinations across four continents. Virgin Sailors are spoiled for choice with 20 eateries offering Michelin-star culinary experiences all included, a festival-like line-up of entertainment, stylish and comfortable cabins, Rockstar Quarters, authentic and locally inspired shore excursions, and a dose of Vitamin Sea with well-being naturally intertwined throughout the experience. Promising to Create an Epic Sea Change for All, Virgin Voyages also puts sustainability front and center.