Richard Branson's newest travel brand sets record for largest gathering of people dressed as merpeople on the glimmering shores of Bimini.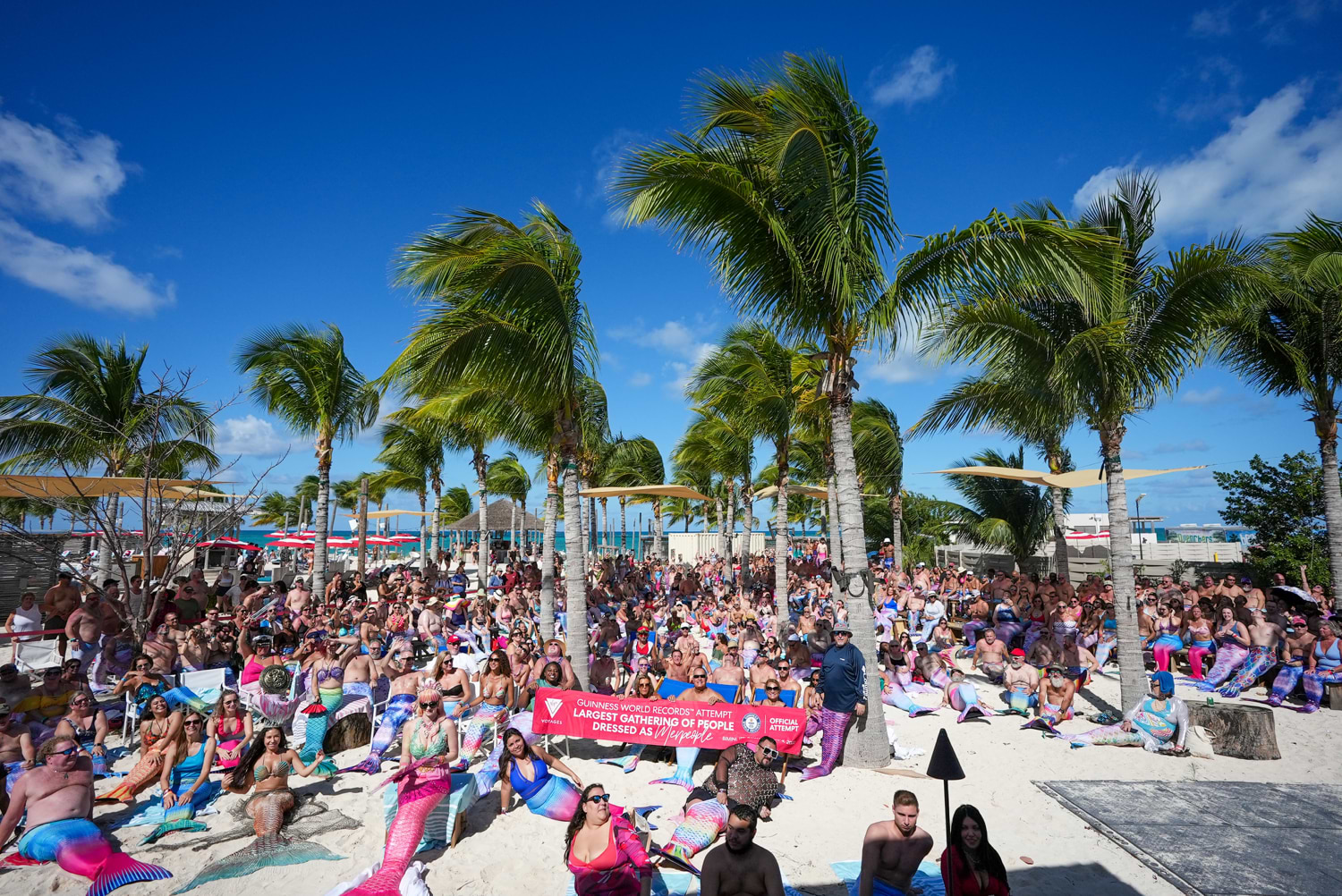 MIAMI, FL – November 8, 2022 – Perched on the powdery white sands of the Virgin Voyages Beach Club in Bimini, 457 Sailors gathered in a kaleidoscope of vibrant mermaid tails, setting the GUINNESS WORLD RECORDS title for the largest gathering of people dressed as merpeople. In true Virgin fashion, this mer-mazing attempt on Nov. 4, 2022 included lively music, epic makeup, shelfies, a few stadium-style waves and Champagne showers once the adjudicator announced that the record was officially beaten.

As part of Valiant Lady's unforgettable MerMaiden voyage from her new winter home in Miami, Sailors were invited to partake in the incredible attempt to set a world record and to enjoy a collection of mermaid beauty pageants both on-board and at the Beach Club. This past Friday, Virgin Voyages officially broke the previous record, a gathering of 378 merpeople set in the UK in June of 2022. Following the voyage, everyone who embraced their mersona and participated in the world record attempt will receive a photo and digital certificate marking the achievement.

"What a fantastic time," said Virgin Voyages' CEO, Tom McAlpin. "Our Sailors really showed up and supported this fun and exciting world record attempt that ties into this legendary brand. Each of our ships have a mermaid that guides our Sailors on their journeys, so what better way to celebrate another brand milestone than in sunny Bimini with so many of our Sailors tapping into their mermaid personas."

Valiant Lady, the fleet's second ship, made her Miami debut on Oct. 30 before departing for Cozumel, Bimini and Roatán, the first time the brand has called on Honduras. The ship was greeted with local celebrations and music and guests had the opportunity to explore the island's beautiful and lush landscapes on immersive shore excursions.

From now through April 2023, Valiant Lady will offer a mix of six- and eight-night voyages to some of the Caribbean and Mexico's most interesting locales. November also marks the brand's first-ever Eat & Drink Month in which every cabin will receive a $300 Bar Tab. Sailors can also take advantage of the Dreamy Getaway offer and snag 25% off and a Bar Tab Bonus on 2022 and 2023 sailings.
For more information or to book, visit www.VirginVoyages.com or call your First Mate (travel advisor).
About Virgin Voyages
Set Sail the Virgin Way with Virgin Voyages, the irresistible travel brand founded by Sir Richard Branson. Delivering epic vacations at sea, Virgin Voyages launched at the end of 2021. The brand's four Lady Ships – inspired by 50+ years of Virgin history – include Scarlet Lady, Valiant Lady, Resilient Lady and Brilliant Lady. Designed for discerning travelers, Virgin Voyages offers relaxing, exclusively adult (18+) sailings. Working with a Creative Collective of the world's most sought-after designers, performance artists and architects, Virgin Voyages delivers an enchanting boutique hotel at sea with fresh, elevated spaces that strike the perfect balance of nautical chic and glamour. Currently departing from the sun-soaked cities of Miami and Barcelona – and soon to include Athens, San Juan and Melbourne – the fleet offers itineraries to more than 100 awe-inspiring destinations across four continents. Virgin Sailors are spoiled for choice with 20 eateries offering Michelin-star culinary experiences all included, a festival-like line-up of entertainment, stylish and comfortable cabins, Rockstar Quarters, authentic and locally inspired shore excursions, and a dose of Vitamin Sea with well-being naturally intertwined throughout the experience. Promising to Create an Epic Sea Change for All, Virgin Voyages also puts sustainability front and center.