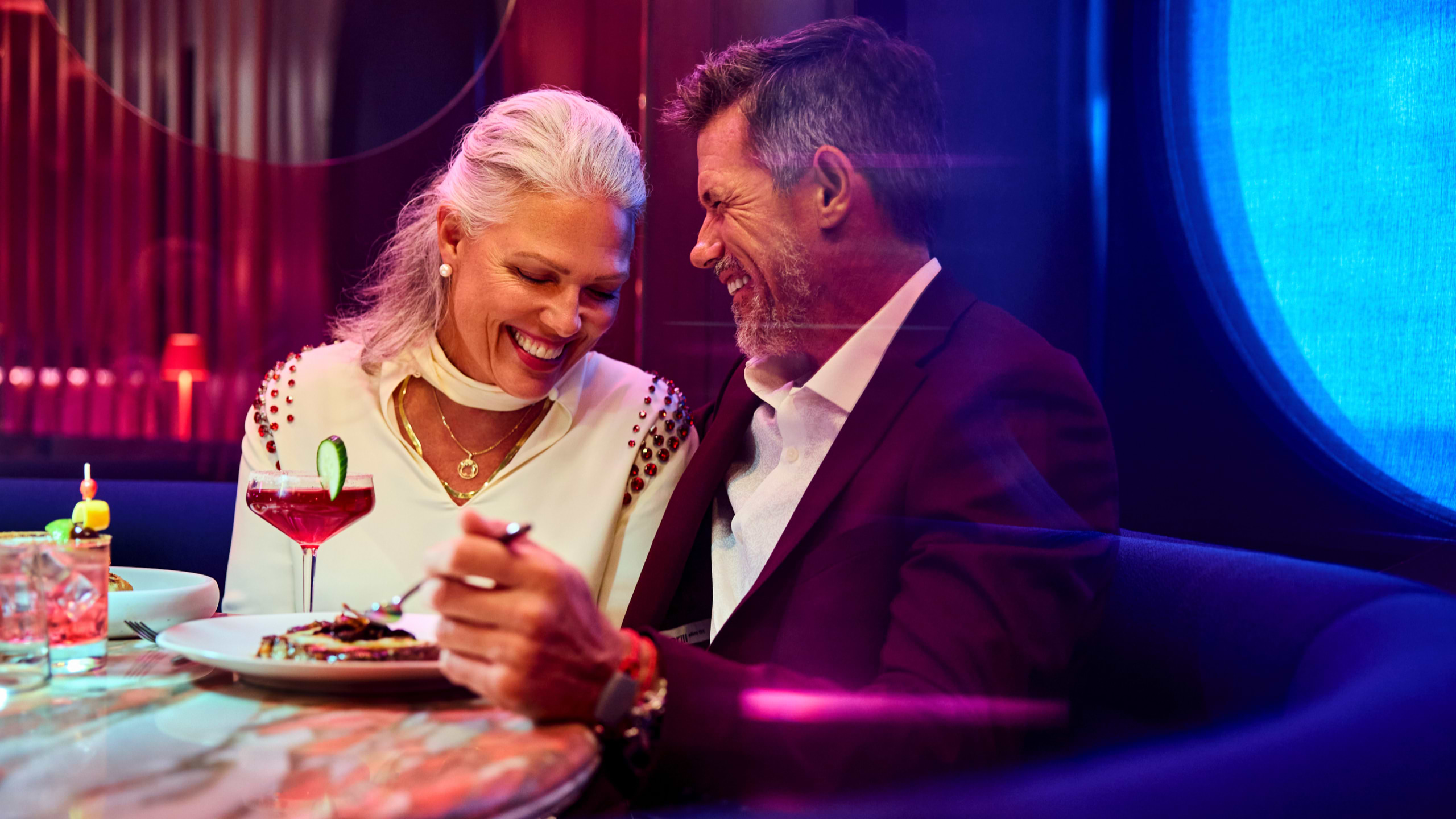 Anniversary gifts are a time-honored tradition. According to the ever-so-popular wedding site The Knot, "the practice of giving a special anniversary gift based on the number of years you've been wed dates back to the Victorian era." Some speculate that the custom dates back even as far as ancient Rome (a place we conveniently sail to!).
We don't know when it started, but we do know gift-giving anxiety can be high around an occasion this big. But look no further and worry no longer, because you can give your partner an anniversary trip with Virgin Voyages. It's a chic, thoughtful alternative to whatever comes up when you frantically Google "best anniversary gift ideas."
Chic and thoughtful is what we do best. From the red-hued ambiance of our cabins to the relaxed intimacy of our spa (ranked among Global Traveler's 2022 "Best Cruise Line Spas"), our ships are romance personified. So whether it's been 6 months or 60 years, we specialize in making the already special… extra special.

Wine and dine together
For traditionalists who don't want to forego the customary anniversary dinner, we've got good news: we have over 20 places to eat on board, including some jaw-dropping dinner options for even the most over-the-top romantics out there.
The Wake, our classic onboard steakhouse, offers a touch of Hollywood glamor, with a sweeping staircase, an impressive wine list, and a grand piano. Its view of the ship's wake (see what we did there?) as the sun sets is unbeatable. Best of all, there's no need to kill the mood by making a grab for the check at the end of a meal — food (and gratuity) are covered in the price of your voyage.
After dinner, head to On the Rocks, our cozy mixology hub, for a nightcap. Let them know it's your anniversary and they'll whip up a custom cocktail tailored to your tastes.

A room with (more than) a view
Sure, there's great food and drinks, but an undeniable highlight of a voyage is the atmosphere once you get back to your room. Our Sailors heap praise on the accommodations available on board. All our cabins, no matter their size or location on the ship, come equipped with a Roomy Rainshower and adaptable Seabeds designed by Walter Knoll. In our suites, you'll even get a stocked mini-bar for those celebratory toasts you prefer to do in private.
Carol Thompson, who sailed on Scarlet Lady, appreciated the "mood lighting — the room can go from blues to reds" (with the help of an easy-to-use tablet to adjust them). She added, "The sound control was awesome. We could make the room dark and quiet, or open the back door and listen to music and the waves."

Anniversary trip ideas for every type of traveler
With an ever-expanding list of destinations across the globe, you can ring in your special date close to home or choose somewhere more far-flung. We ranked Silver in US News & World Report's list of Best Cruises in the Caribbean, and this coming December, we debut our new routes from Australia and New Zealand.
No matter where you choose to go — and whether it's your 2nd or your 22nd anniversary (which, incidentally, is the water anniversary) — a voyage on any ocean is the place to celebrate it. Scott Boggs of Ohio said of his trip, "Last spring my wife and I celebrated our 20th anniversary onboard Scarlet Lady and we loved it…There was nothing but love felt from everyone on board, no matter where we found ourselves."
So go on, lean into love — and join us on board to cheers to another year under your belts.