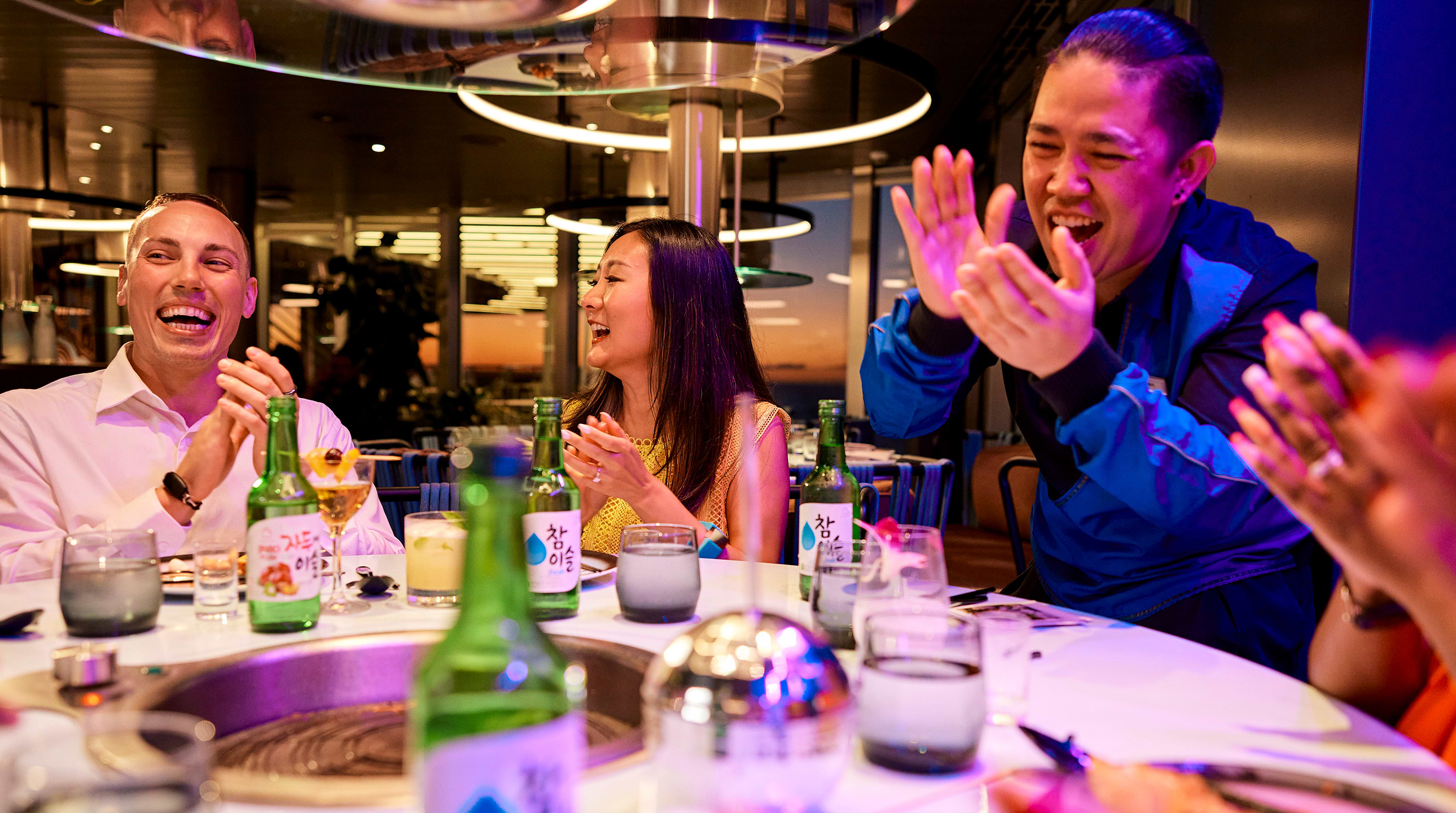 Figuring out where to go for vacation is hard enough. Figuring out where to go to celebrate a special occasion? Even harder. Sure, the prospect of choosing a destination for a birthday or bachelorette/bachelor party sounds exciting. The whole world is open to you. The possibilities seem endless. But also…the possibilities seem endless. One girl on the bachelorette party wants an all-inclusive resort, while another wants to go off-roading through the jungle. A few of your friends want to celebrate a birthday at a nightclub, while others prefer a cool restaurant experience. Planning a reunion? Most of your family might want a chill beach vacation, but of course, your estranged cousin insists on a spa trip. You can't please everyone. Or can you?
Getting people to agree 100% on every aspect of a vacation is harder than getting people to agree on US politics. But when it comes to pitching a large tent that covers everyone's vacation needs, it's tough to beat a Virgin Voyages cruise. A rowdy occasion like a bachelorette or birthday party? You've got the Manor nightclub, the casino, and karaoke lounge. A romantic celebration? You have a wide selection of elevated restaurants brimming with atmosphere, and a relaxing kid-free pool deck. Family or class reunion? Shore Things to keep everyone happy, and a big enough ship for avoiding your crazy uncle. Whether it's a birthday, bachelorette party, class or family reunion, or romantic anniversary, Virgin Voyages is perfect for celebrating the next special occasion in your life.
Celebrate a milestone birthday
Cruises are one of the best birthday party ideas because the balance of power is, well…not balanced. It's your birthday, and everyone has to do what you want. That means you've got free reign to take advantage of all the ship has to offer, choose your favorite restaurants, and make all your friends do the Shore Things that pique your interest.
Historically, cruising has had a stigma of being somewhat rigid. You must show up to dinner at an appointed time. You must adhere to a dress code. Not with us. Our sailings are designed to be completely customizable to suit your individual tastes — even if the tastes within the group diverge wildly. We have over 20 themed restaurants to choose from, ranging from an elevated Mexican cantina and a lively Korean BBQ with drinking games, to a pizza parlor and pub-style bar with foosball tables. Want to celebrate your birthday party with Italian food? Go ahead — order one of everything on the menu (all included). Need to indulge that one friend who loves gastronomic artistry and culinary creativity? Spend a night at Test Kitchen, our experimental restaurant experience. And the best part? Since all the food's on us, you can skip the nightmarish "who's Venmo'ing who?" game that always follows group dinners.
What really makes us one of the best party cruises, though, is our nightlife. The Manor, our two-story nightclub, was inspired by the 1970s New York nightlife scene, and it's the perfect place to cap off the night with your group after dinner and drinks. Whether you're looking for 50th or 30th birthday ideas, meeting new friends and carousing with old ones is always a win, and the Manor's dance floor is where it all happens. If you'd rather bulk up your wallet than spend all your money on nightclub drinks, try your luck at the casino. The "it's my birthday" excuse means your friends should be paying for your poker games all night, and it's the perfect way to watch your "I can totally card-count" friend (we all have one) get humbled at the blackjack table.
Celebrate with a raucous or (relaxed!) bachelorette party
There are countless different kinds of bachelorette parties: the Vegas binge weekend; the tropical getaway; the boozy brunch to kick off a day-drinking extravaganza; the fancy group dinner (aka the excuse to dress up). A Virgin Voyages cruise gives you a little taste of everything.
First of all — we know it's not all about the photo-ops. Pictures are important, but only truly rewarding when they're accompanied by memorable experiences. The Manor nightclub, for example, is not only the most hoppin' place for late-night vibing, but also one of the most photogenic spaces on the ship. The Manor's entry corridor is lined with glittering mirrors, toeing the line between the VIP entryway of a Vegas nightclub and an immersive museum experience. You could easily spend the first half of your night taking photos against the dazzling backdrop… but, you know, you'll have more fun if you just go in and dance.
Our Razzle Dazzle restaurant is the go-to place for a boozy brunch, surrounded by decor that can only be described as eye-catching. The walls and floors are styled like the camouflage of US and British Navy vessels during World War I: red and white zebra stripes. This pattern, called "razzle dazzle," permeates the restaurant's aesthetic and makes for a fantastic backdrop for enjoying delicious waffles and mimosas.
When you think of a bachelor or bachelorette party, your mind immediately flies to late nights on the dance floor, questionable decision-making, and a hazy memory the next morning with a pounding headache. That doesn't have to be your bachelorette experience. One of the best bachelorette party ideas is actually doing the exact opposite — rejuvenate your body instead of exhausting it. Kick back at our Redemption Spa, either as a group or by booking individual appointments. Even the closest group of friends need some time apart, so take a healthy break from each other and enjoy a massage, facial, or beautifying salon appointment. When it's time to reconvene for dinner, you'll not only look and feel refreshed, you might even miss each other.
Shore Things are another great way to celebrate a bachelorette — either separately or together. At our Beach Club at Bimini, for example, a few of you may choose to swim with the stingrays, while others might prefer a wild dolphin safari. You could also simply take advantage of our rocking beach club and soak up the rays and DJ beats in a lagoon cabana. Whether you choose to spend your shore day together or with some much-needed alone time, our Shore Things are the perfect way to celebrate the bachelorette in your life.
Celebrate a friend or family reunion
Reunions can be hit or miss. The word "reunion" itself suggests a gathering of people who haven't seen each other in a long time — perhaps decades — and that means there are a lot of unknowns. Will personalities mesh? Will there be an odd-man-out? Does everyone have the same common interests they had 20 years ago? You'll never take all the unknowns out of a friend, family, or class reunion (and that's part of the fun), but Virgin Voyages makes rekindling those old relationships fun.
Shake off the initial nerves with a night at The Groupie, Virgin Voyages' onboard karaoke lounge. The Groupie has several private karaoke rooms (don't worry, no one outside will hear you), which can be booked for group use. Pop some champagne, sit back on a comfy couch, raise that mic, and let the collective bonding commence as you butcher every single line of "Mr. Brightside." The Groupie also doubles as a gaming and movie lounge if you'd rather break the ice with a comedy.
So you've dipped your toes into some old high school friendships, or conversation with your long-lost cousins, and now you're feeling comfortable enough to go on a real group adventure. What better way to reconnect with old friends (or family) than by sharing a new international experience? Explore Greece as a group by hiking the Ionian coast in Corfu. Test each other's fear threshold by parasailing in Key West, or get drunk together for the first time in years at the Beach Club at Bimini, our private club in the Bahamas. Making new memories is the best way to bond with old classmates, connect with distant family, or reignite good times with childhood friends.
So, planning the reunion fell in your lap. You're not quite sure how it happened. But now you're scrolling through an endless array of group vacation options trying to figure out what makes the most practical and financial sense. We feel your pain, which is why we're taking the headache out of booking a group trip. For every friend you refer who books the same voyage as you, you'll get $50 in onboard credit. Just take care of your friends' bookings, and the $50 credits will roll in (there's a $800 maximum). Onboard credit can be used at the High Street retail shops, for Shore Things, or on alcoholic drinks. It's a great way to redistribute some money to your group, and make everyone's voyage a little more fun and affordable.
Whether you're planning a friend reunion to recapture old times with a rowdy Ibiza getaway, or looking for class reunion ideas for an older, more lowkey group that prefers to lounge on the beach, we want you to revel in those old memories, but also create some epic new ones with us.
Celebrate a romantic anniversary
A truly romantic anniversary getaway is more about subtraction than addition. It's about what's not there, rather than what is. Getting away from the demands of work and family obligations is key to focusing all your attention on your special someone. We know that, and that's why we've subtracted the most important (and distracting) ingredient of all: kids.
Listen, kids are great. They're the future. They're little rays of sunshine, blah, blah, blah. But there's a time and a place for chasing screaming children around a pool deck, and apologizing to all the people whose drinks they inadvertently knock over. That time and place is not a Virgin Voyages cruise. We want you to focus on each other, without distractions. That's why all our cruises are 18+, creating an adult-only atmosphere that allows you to relax, spend quality time with each other, and meet other kid-free couples without having to worry about "bedtime."
Start on the pool deck, where you and your significant other can give each other the ultimate gift of a fresh tan. And for once, you can leave your watch in your room and melt into the lounge chair (figuratively, not literally). With no one to pick up from school, drive to football practice, or monitor while they do their homework, you'll find your schedule refreshingly open. Kick back with a mid-morning cocktail and mezze bites at The Dock, our outdoor Mediterranean-inspired lounge. Have a late dinner at Gunbae, our Korean BBQ, and spend your night throwing back soju shots with strangers without worrying about the babysitter. Do all the "non-family friendly" stuff you've always wanted to do on vacation.
Maybe that's a loooong spa day at our Redemption Spa. Book an intimate couples massage, or just spend some quality time in the hot tubs, mud room, and sauna together. Or maybe your idea of the perfect anniversary is a romantic land excursion. Stroll the streets of Lisbon hand-in-hand on our Sunsets over Lisbon Shore Thing, and enjoy sunset views with a cocktail at one of the city's most picturesque rooftop bars. Or mark your anniversary with a romantic trip to Santorini, and spend the day diving into the wine scene. Our Once, Twice, Three Times a Winery excursion teaches you all about the secrets of wine cultivation, with tastings at several local vineyards. If wine tasting on a Greek island isn't one of the best anniversary trip ideas, we're not sure what is.
What will you celebrate with us?
No matter the occasion, we're excited to make your onboard celebration one to remember. Get started with a little help from our Chief Entertainment, Lifestyle & Celebration Officer, Jennifer Lopez with our Jen AI custom invite planner.