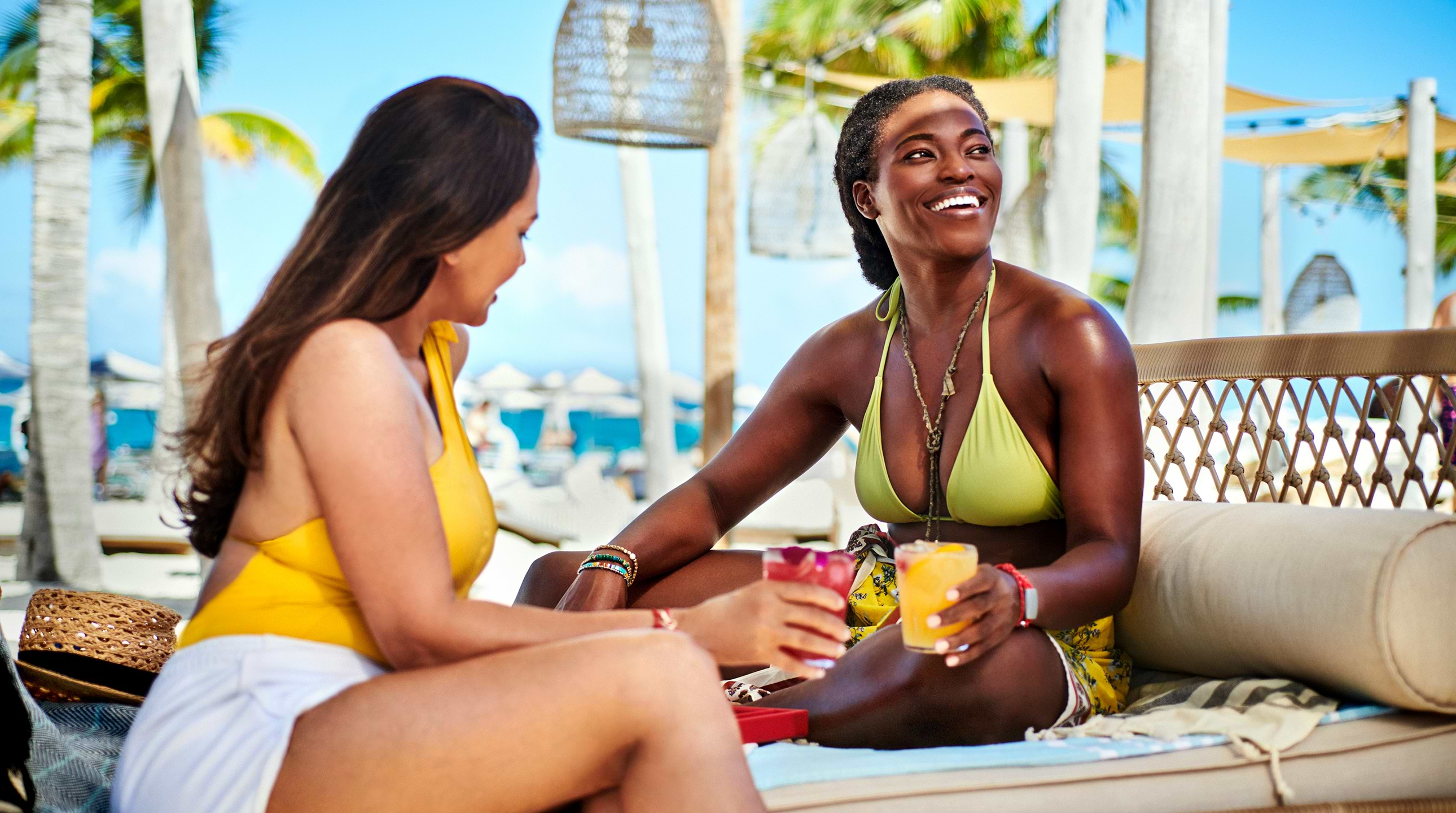 Chances are, at some point in your life you've drifted into a daydream that looks like this: An impossibly blue, cloudless sky hangs over a white sand beach, where you recline under a thatched cabana. You're sipping a mojito, staring out at the sea through ridiculous purple tinted sunglasses you'd be too embarrassed to wear back home. The faint beat of DJ music is pulsing from the pool behind you, where a party beckons.
You could open your eyes, shake it off, and get back to work. Or you could tell yourself: "you know what, I deserve this," and pack your bags for that white sand beach of your imagination. Our cruises to the Bahamas are designed to help you capture that daydream in a bottle: kid-free peace and quiet, and the freedom to let loose (and drink that mojito) without fear of judgment.

Bask in VIP treatment at Bimini
When you cruise from Miami to the Bahamas, you'll get more than just an excuse to bake in the sun guilt-free all afternoon. You'll be able to visit the crown jewel of our Caribbean cruise itineraries: Virgin Voyages Beach Club at Bimini. They used to say "all roads lead to Rome." For Virgin Voyages, all roads lead to Bimini, since every single one of our Caribbean cruises stops there. Comprising three islands in the westernmost part of the Bahamas, Bimini is the embodiment of the word "escape," defined by its turquoise waters and our rocking private beach club.
The Beach Club at Bimini is proof that partying and relaxation aren't mutually exclusive. Bimini Bahamas is basically all the good stuff about a Vegas resort pool, but without the exorbitantly-priced drinks, segregated social hierarchy, and the feeling that you need to take 12 showers immediately afterward. You can chill by (or in) the pool listening to a DJ spin your favorite hits, indulge in curated food (included, of course) and drink menus, or just enjoy a long afternoon swim.
But the club itself is just a small part of what these islands have to offer. Whether you're looking to dive headfirst into the surrounding seas, or just have a leisurely day floating on the water, there are plenty of Shore Things to get you exploring.

Slice through the open water on a jet ski
Hire a jet ski for two and cruise the coast of North and South Bimini Islands. With the warm wind whipping in your face and refreshing seaspray washing over you, you'll follow a knowledgeable guide to old plane and ship wreckage sites, as well as mystical-looking mangrove trees along the coast. And if you've never driven a jet ski before – don't worry. After some instruction from your guide, you'll feel like a pro.

Kick back like a rockstar
Lounging by the pool is one thing, but lounging by the pool in your own private cabana, in a comfortable day bed, in the shade, is another level of relaxation. Our Bimini Lagoon Cabanas are bookable for the full day, come with an adjustable double day bed, side table, two beach chairs, and are perfect for adding another layer to your R&R. Oh yeah, and enjoy $100 of drinks, on us.

Take the party to the sea
Want the boujee beach club atmosphere, but on the open water? Our party boat lets you take to the sea in style just off the coast of Bimini Bahamas. Whether you're traveling solo or with a crew, the party boat is the perfect way to let loose and make friends, complete with music, dancing, drinks, and of course, stunning island views.
When it's time to pull the trigger on that much-needed escape, we offer a wide range of cruises that hit the gorgeous Bahamian islands (and other incredible places, as well). From the 5-night Riviera Maya itinerary that sails to Cozumel and Bimini, to the 8-night Eastern Caribbean Antilles voyage stopping at San Juan, St. Croix, Bimini, and Puerto Plata, we make it easy to turn that Caribbean daydream into a reality.