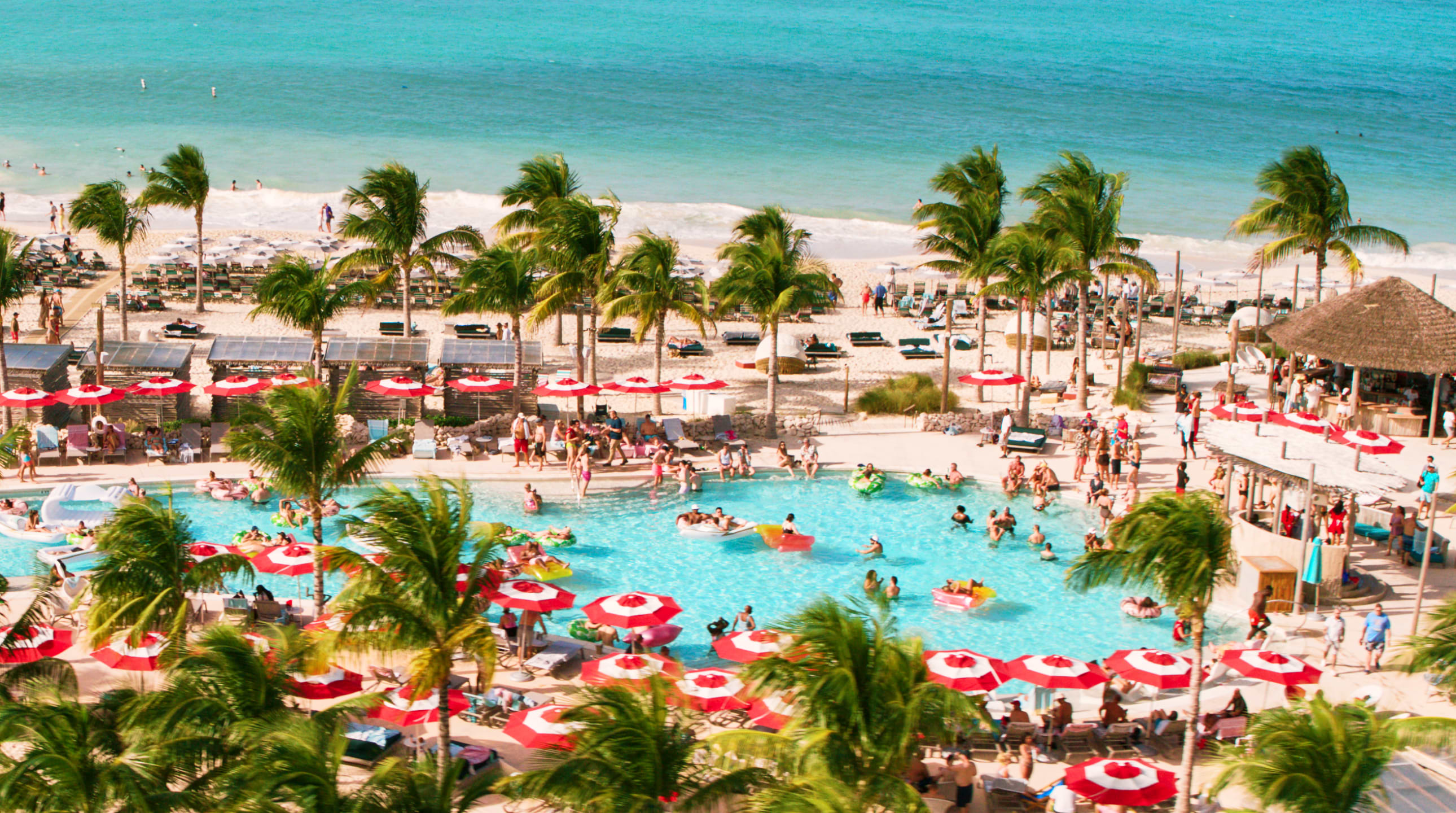 Get to know the Beach Club at Bimini, our exclusive tropical experience in the Bahamas
Bimini, a little island on the western edge of the Bahamas, has been the island chain's best kept secret for years. Now, thanks to Virgin Voyages' Beach Club at Bimini, the secret's out – and we're okay with it. Home to some of the cleanest white-sand beaches and turquoise waters in the Caribbean, not to mention our lively beach club, Bimini Bahamas is the tropical cruise destination that'll quickly leap to the top of your list the second you set foot on its shores. The Bahamas is known for all-inclusive resort luxury, and we've certainly got that in spades at our rocking beach club, complete with cabanas and loungers. But there are also ample opportunities for adventure, from getting closer than you ever imagined to stingrays (and even swimming with them!) to scuba diving through coral reefs and snorkeling under a shipwreck. So whether you're posting up with a book for the afternoon on the best white sand beach on the island, or spending a more active afternoon chasing marine wildlife, here's what you need to know about our Bimini cruise port.

What to Expect at The Beach Club at Bimini
There are over 700 islands in the Bahamas. So what makes Bimini special? Well, call us biased, but our Beach Club at Bimini has a lot to do with it. Our beach club is an exclusive escape designed to take the typical beach day to the next level. You could easily spend the entire day at the club, either lounging in a private cabana, on the beach, or by the lagoon-style pool. Food groves at the club's edges offer free afternoon bites from a menu of local favorites, and six bars are scattered throughout with all manner of tropical drinks on tap. Enjoy your food and drinks in one of our hanging wicker chairs, hammocks, comfy couches, terrace seating, or in the pool itself – all while vibing to the upbeat sounds of our resident DJ. But this isn't like a Vegas pool party. Relaxation and rejuvenation is the name of the game here. So kick back and enjoy Bimini Beach Club however you want – whether that means tanning, napping, floating on a inflatable pool, or all three!

All roads lead to Bimini, Bahamas
On Virgin Voyages' Caribbean cruises, all roads truly do lead through Bimini. Well, almost all. We offer 16 epic cruise itineraries throughout the Caribbean, and the vast majority stop in Bimini. It's the perfect anchor to any Caribbean vacation, whether you're exploring the Eastern Caribbean in San Juan and St. Croix, or skirting the coast of Mexico at Playa del Carmen and Cozumel. Bimini is a staple of our shorter itineraries, like Fire & Sunset Soirées, which sails from Miami to Key West and Bimini, and Dominican Daze, which visits Bimini and Puerto Plata in the Dominican Republic.
Whatever voyage you pick, you won't just be signing up for a relaxing day on the Bimini beach (though that alone would certainly be worth it), you'll have the chance to thoroughly explore Bimini through one of our Shore Things. Whether it's taking a cultural tour of the island, hitting the water via jet ski, going on a hammerhead shark safari, or posting up in your own VIP cabana like a rockstar, it's no wonder the adventurous author Ernest Hemingway spent so much time on the island.

Join us in Bimini and see for yourself!
If visiting the Beach Club at Bimini is like getting the invite to an exclusive private party, well, consider this your invite. However you choose to enjoy it – whether it's simply relaxing in a cabana or scuba diving – our island is your island, and we can't wait to welcome you. You can keep daydreaming about the experience, or browse our Caribbean voyages to start getting excited.