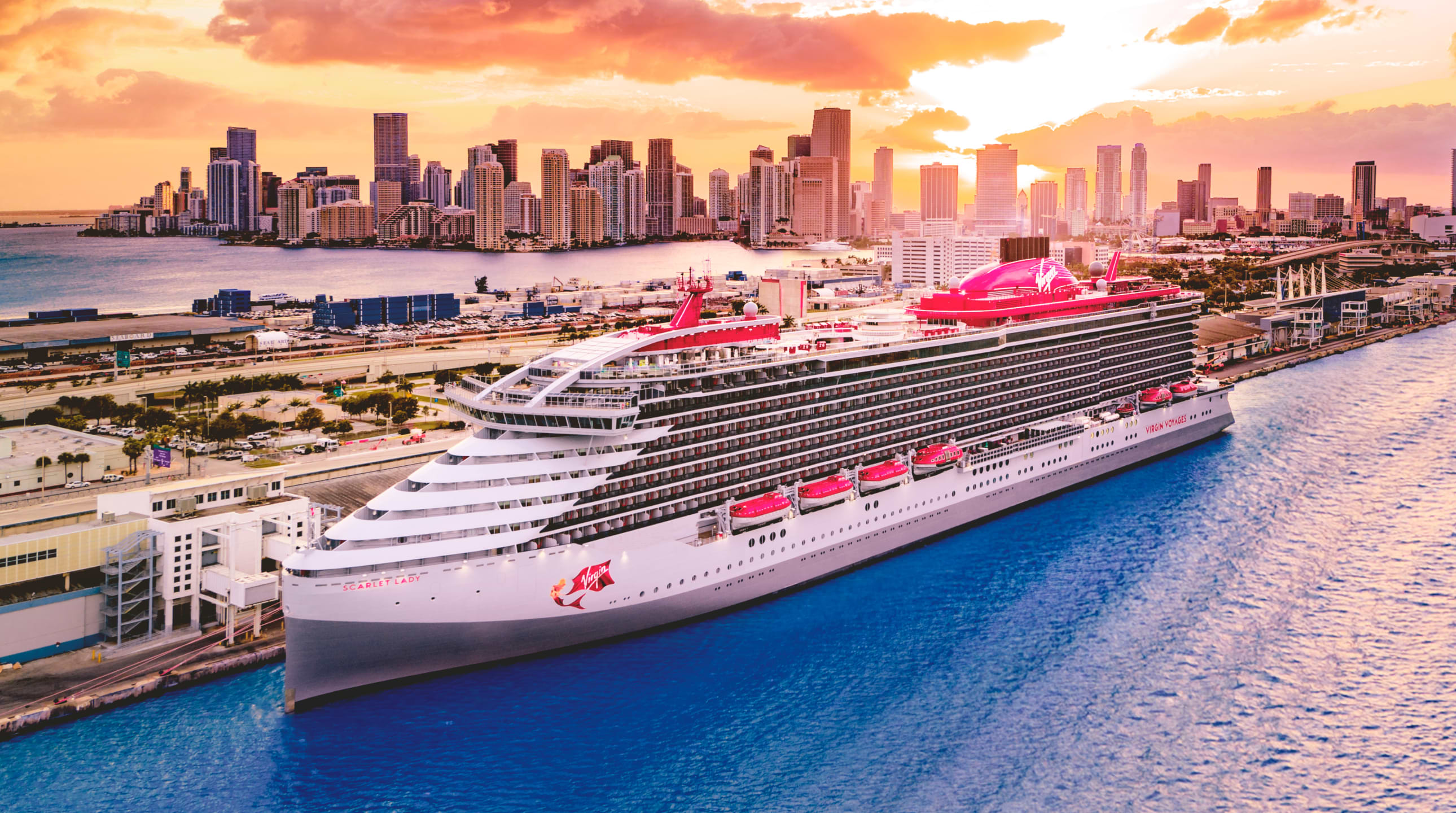 Virgin Voyages is bringing the flair to the Port of Miami, Florida
Miami is to cruising what Nashville is to hot chicken, or what Vegas is to hazily epic nights. Known as the cruising capital of the world, PortMiami is a true crossroads of civilization when it comes to cruise ships traveling all around the world — from Caribbean voyages to transatlantic journeys. While no Sailor is starved for choice at PortMiami — dozens of cruise lines use it as their homeport — our adult only cruises from Terminal V are adding some much needed spice to the world's cruising capital. Whether you're embarking on a transatlantic odyssey to Europe or setting sail for warm Caribbean waters, there are as many reasons to cruise from the Port of Miami as, well… the number of white sand beaches in the Caribbean.
Miami and our other homeports around the world
Our cruise ships are the heartbeat of Virgin Voyages, and Scarlet Lady, the very first ship in our fleet, was the one that got it all started. Hopping all around the Caribbean from the homeport of Miami, there are dozens of Scarlet Lady cruises leaving from Miami to a range of tropical destinations, from Key West to Roatán in Honduras, and even Virgin Voyages' own Beach Club at Bimini. While Scarlet Lady prefers the Caribbean climate, for an international jaunt to Europe, Valiant Lady is your girl. Sailing from Barcelona, Valiant Lady cruises the Mediterranean from St. Tropez to Málaga and Madeira. Travelers "down under," however, should get acquainted with Resilient Lady, our newest ship that's dedicated to sailing the waters of Australia, New Zealand, and Southeast Asia. Oh, and its homeport is Piraeus (Athens), so you can still get a dose of Mediterranean sunshine.
The best (and only) adult-only cruises from PortMiami
When you decide you want an adult-only cruise departing from Miami, you can skip the endless hours of research. There might be dozens of cruise lines coming and going from Port Miami, but Virgin Voyages stands alone as the only adult-only cruise line. You'll notice it the moment you step into Terminal V — a feeling of elevated luxury, and the palpable sense of quiet excitement that comes from knowing you're about to get away from your kids for a whole week. Don't get us wrong, kids are great and all, but so are our design-forward eateries, sophisticated bars and restaurants designed for adult tastes, entertainment that isn't exactly kid friendly, and a pool deck that doesn't feel like an out-of-control daycare. Your kids will be there when you get home, but in the meantime, indulge your more sophisticated culinary tastes and savor the peace and quiet (or a rowdy night out).
Let Miami be the launchpoint for your next celebration
The great thing about an all-included luxury cruise is that there truly is something for everyone onboard. And that isn't just good news for picky eaters and people with discerning taste, it's good news for anyone looking to celebrate an occasion, and trying to figure out the best way to do it. Whether it's a bachelorette party, milestone birthday, family reunion, or a romantic anniversary, going on a cruise is like choosing your own adventure novel that you can tailor to fit your special occasion. Ringing in an important birthday? Toast with some fine wine at our Extra Virgin Italian restaurant. Sending your friend off into married life? Dance the night away at The Manor, our onboard nightclub. Just looking for a solo getaway weekend? Relax on a white sand beach sipping a rum punch, and finally read that book you've been meaning to finish. It doesn't matter what you're celebrating. It all starts at Terminal V.
But Miami isn't just a port…
You'd be doing yourself a disservice if you got right off the airplane and transferred straight to the cruise ship. Miami is the world's busiest cruising hub for a reason — it's a desirable vacation destination in its own right, a little microcosm of the Caribbean itself, with a vibrant nightlife, culinary, cultural, and art scene. From the famous Wynwood Miami Art District to Downtown and Ocean Drive, the rooftop bars and Michelin-star restaurants in Brickell, and of course, South Beach's nightclubs and Art Deco hotels, Miami isn't just a start and endpoint for your vacation. Add a couple days and explore the shore here before embarking on your voyage. And when you book your flight and hotel packages through us, it's super convenient to find the best area hotels and get the most convenient flights.
Let's make a deal: the best cruise deals from Florida
Who doesn't love a good deal? No matter what we're buying — from lift tickets on a ski vacation to cruise tickets on a tropical getaway — we want to feel like we're getting value. That's why we offer a wide range of deals and promos, from 10% off for booking early and an extra $50 in Bar Tab, to incentives for repeat travelers and perks for solo Sailors. There's also a hometown discount in the form of 15% off for Florida Residents. So as you can tell, we're really doing everything we possibly can to get you (and your friends, family, significant others, etc.) down to Miami.