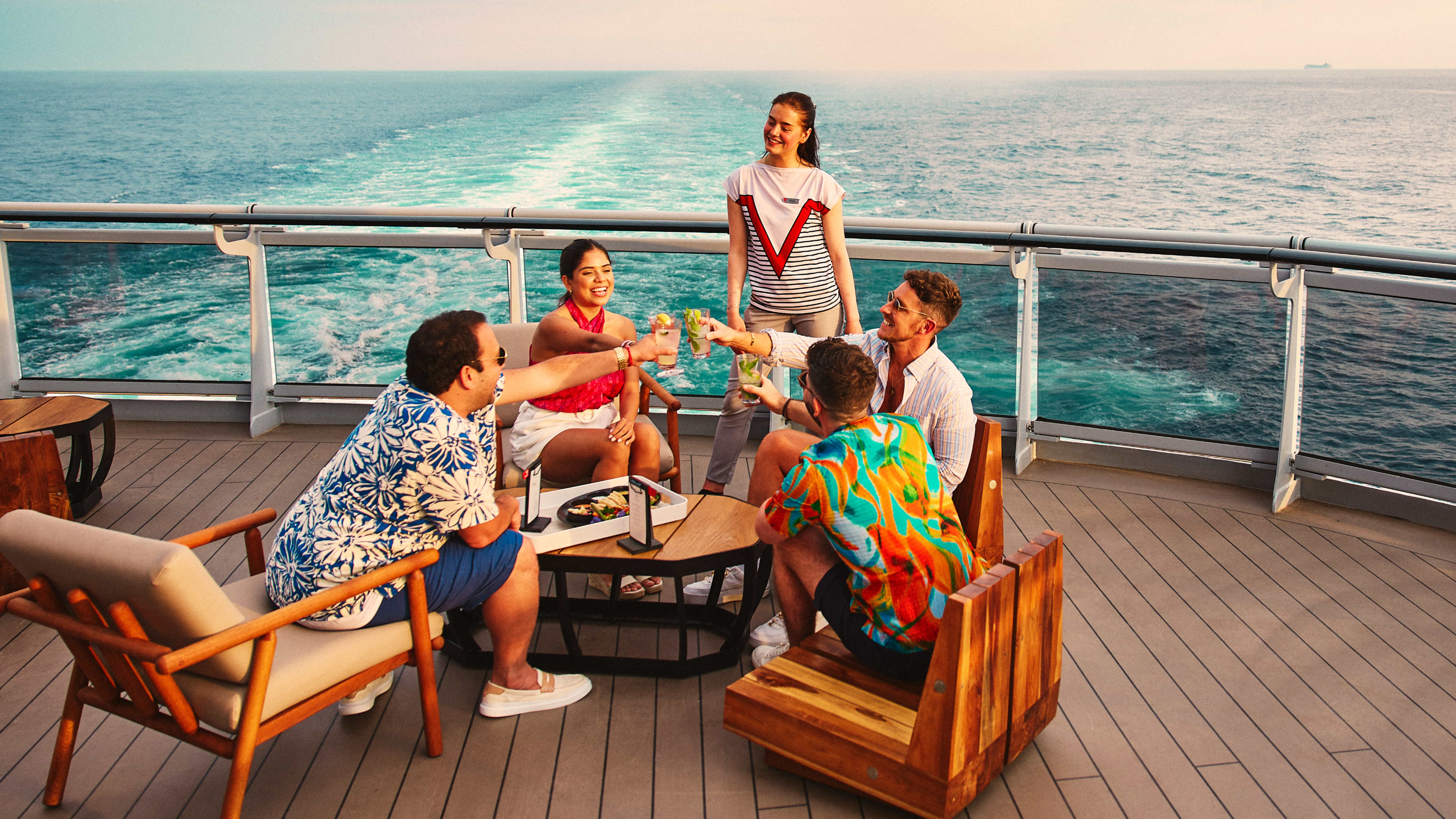 The great thing about cruising, compared to a typical vacation, is that the decision-making process is really simple: just browse the itineraries, figure out which epic destination piques your interest, and book when you find the best cruise ticket deal, especially with cruise ticket prices on the rise. The rest is taken care of. Actually, that's not totally true. On our adult-only cruises there's another step to consider, but we think it actually makes the process even more fun: browsing our cruise deals. Who doesn't love a good deal? Whether it's a BOGO sale on golf clubs or getting free drinks on your cruise, we're huge fans of anything that saves us money and provides value. That's why we're coming in hot with a host of epic deals, from 25% off our Caribbean sailings to free drinks for our Sailors, and much, much more. And what happens when you're saving money before you even board the ship? Well, you're in a better headspace to truly let go, relax and have even more fun on board.
Getting the best cruise ship ticket price is easier than you think
The best part about our cruise ticket pricing, apart from all the great deals waiting to be scored? You can book cruise tickets online with no money down. Nothing kills the vacation vibe like seeing a huge chunk of change disappear from your bank account all at once. That's why we let our Sailors finance their cruise tickets with as little as $0 due at the time of booking, 0% APR, and the flexibility to pay over time. Simply choose the voyage and cabin you want, choose Uplift Pay Monthly as your payment method at checkout, and enjoy your cruise knowing you have the freedom to pay over time.
Whether you finance or not, we make booking your cruise tickets as easy as possible. Simply:
Set a Vacation Budget - Use our Estimator tool to determine your budget.
Decide When and Where you'd like to Vacation - Decide whether you want a Puerto Rican Paloma or a European Aperol spritz, a Caribbean beach day, or an Aussie wildlife adventure.
Find and Book your Voyage - Browse dozens of epic itineraries to ports around the world.
Snag a Deal - Make sure you're taking advantage of the best cruise deals or financing options.
Pack Your Bags!
Cruise to the world's ultimate vacation spots
From the Caribbean to Australia and even voyages that cross the Atlantic, we've got cruise ticket options for whatever kind of wanderlust happens to sweep you away.
So, when's the best time to purchase a cruise ticket?
Unlike airfares, which fluctuate day-to-day, and are the subject of many popular myths dictating which day – and even which hour – is the best time to buy, cruises are much less headache-inducing. Even last-minute cruises won't come with an exorbitant price hike, so you can really book whenever you like, whether it's a year in advance, or (our favorite) more spontaneously a week prior to departure.
What's Included with Your Cruise Ticket Fare?
And forget about budgeting for day-to-day expenses, as you might for other vacations. We take care of all the details so you can sit back and relax. Food at our 20+ onboard eateries is included in your ticket, from elevated Mexican street food at Pink Agave to Gunbae, our Korean BBQ, comfort food classics at Razzle Dazzle, and perhaps most importantly… room service. Basic beverages, like juices, sodas, and sparkling water, are also included, as well as gratuity, so you won't need to bust out your wallet at dinner and awkwardly play the "who pays?" game. But what about entertainment, you ask? Well, fun is a hallmark of Virgin Voyages, so of course, all our Red Room shows and special performances are included on your cruise, and for the wellness-oriented, group fitness classes and workouts are also free of charge. So as you can see, no matter when you hit that "book" button, there's really no bad time to take advantage of all our included luxury offerings.