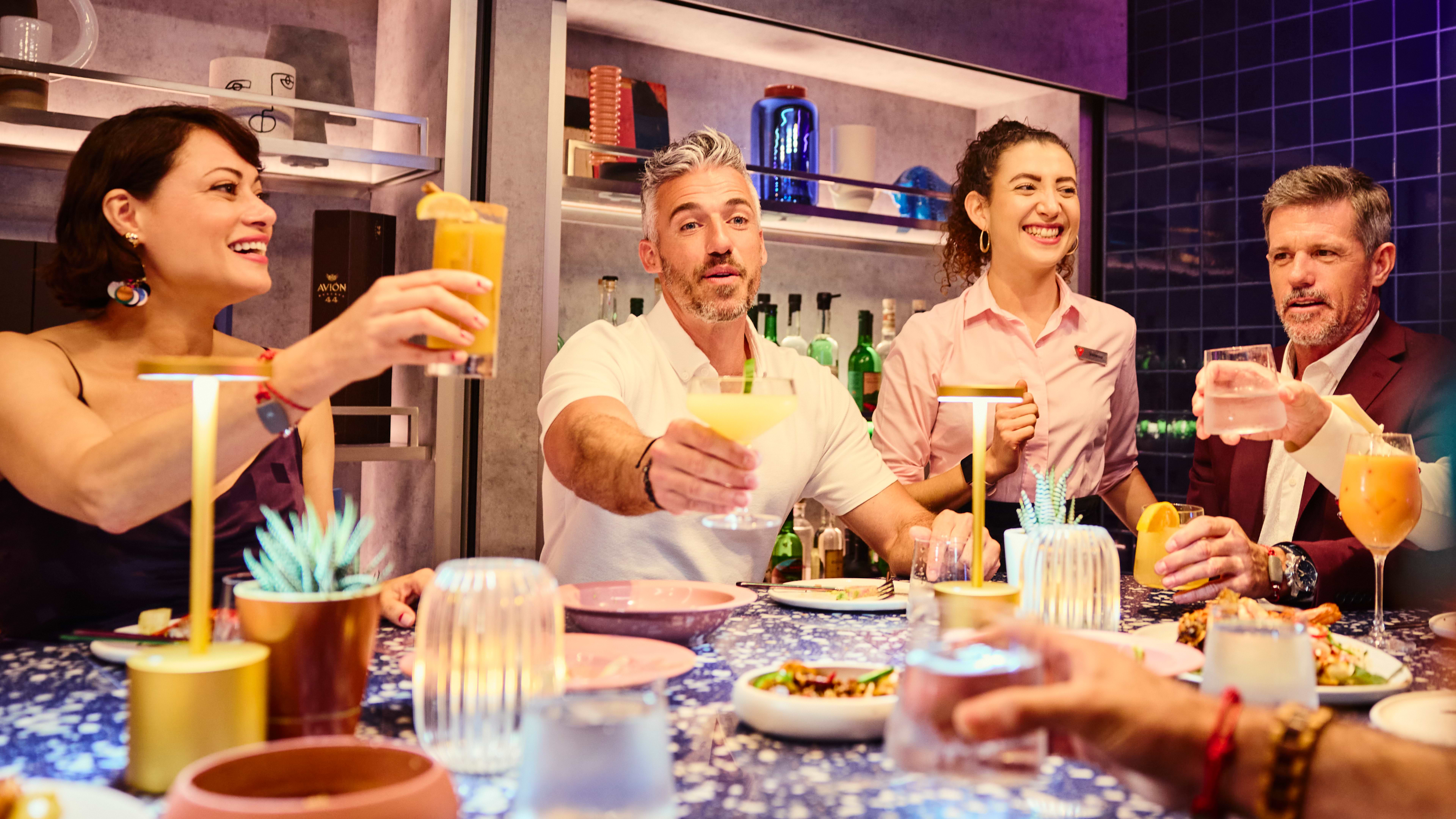 Come find out how we celebrate Thanksgiving on Virgin Voyages
Let's be honest, we always claim to look forward to Thanksgiving, but do we really? The hours (or days) or culinary preparation for a meal that's consumed in 10 minutes. The dry leftovers we feel obligated to eat for a week. The out-of-town family we don't actually like, or have anything in common with, but who we're forced to engage in small talk with. Sitting outside in the freezing cold watching your high school football team lose to their cross-town rival. When you think about it, nothing about a typical Thanksgiving is particularly convenient or enjoyable. Well, except the homemade pie. But is homemade pie enough to keep you home for Thanksgiving?
Maybe we're biased, but at Virgin Voyages, we're big fans of Thanksgiving cruises. When you book a Thanksgiving vacation with your family (or friends, or whoever you'd like to celebrate with), you can enjoy all the holiday's upsides while leaving everything else to us. And we're happy to do it. After all, we've got a lot to be thankful for. Whether it's our three luxurious lady ships, our Sailors who make those ships fun, or the many destinations around the world that welcome us to their ports, Thanksgiving is our chance to show our gratitude, and give back to the Sailors who give so much to us.

Create new traditions with a Virgin Voyages Thanksgiving cruise
As much as you might look forward to watching the leaves change, or the cozy feeling of throwing on your mittens to go out and grab a warm Pumpkin Spice Latte, chances are you'd rather be sitting on a beach somewhere, or zip lining through a jungle. Celebrating Thanksgiving at home is great, but you've been there, done that. You've grown tired of the same traditions, the same old family arguments, the same food, and the same view of dead trees out your window. That's why Thanksgiving cruises are so great. They give you the opportunity to create new traditions, to enjoy a tropical beach day before savoring Thanksgiving dinner, and cap off the night with creative holiday cocktails. Instead of a football smacking against your freezing hands in the backyard, celebrate by jet skiing in the Bahamas, or visiting the ancient temples of Riviera Maya. It's never too late to create a new holiday tradition.

How we're showing that we're thankful for our Sailors
So…why is a Virgin Voyages cruise one of the best Thanksgiving vacations? Well, we're getting in the holiday spirit this year with a range of onboard experiences and activations, particularly when it comes to dining. Thanksgiving is, after all, all about the food. That's why we're serving up special three-course holiday menus, including pumpkin risotto at Extra Virgin, roasted turkey with green mole and cornbread stuffing at Pink Agave, heirloom fall squash soup at Razzle Dazzle, a Korean-style Thanksgiving meal at Gunbae (turkey plate with Asian pear cranberry sauce and kimchi), and more.
And since family can be just as frustrating on a cruise ship as they are at home, don't worry – we've got specialty cocktails on tap too. Try our Fall into Fall bourbon-based cocktail at any restaurant on the ship. If you're not a drinker (or even if you are, but you enjoy a sweet seasonal beverage, sip on our delicious non-alcoholic Pumpkin Spiced Mule).
In the true spirit of the holiday, we're making it easier than ever for people to join us on the sea. Take advantage of our October cruise deal to get 25% off all sailings when you book by the end of the month, and $600 in free onboard drinks on voyages at least seven nights long. And as always, we're constantly coming up with new ways to express our thanks to our Sailors, with deals like 10% off early bookings, financing options, discounts for Florida residents, and prepaid bar tab benefits. Check out our cruise deals page to learn more.