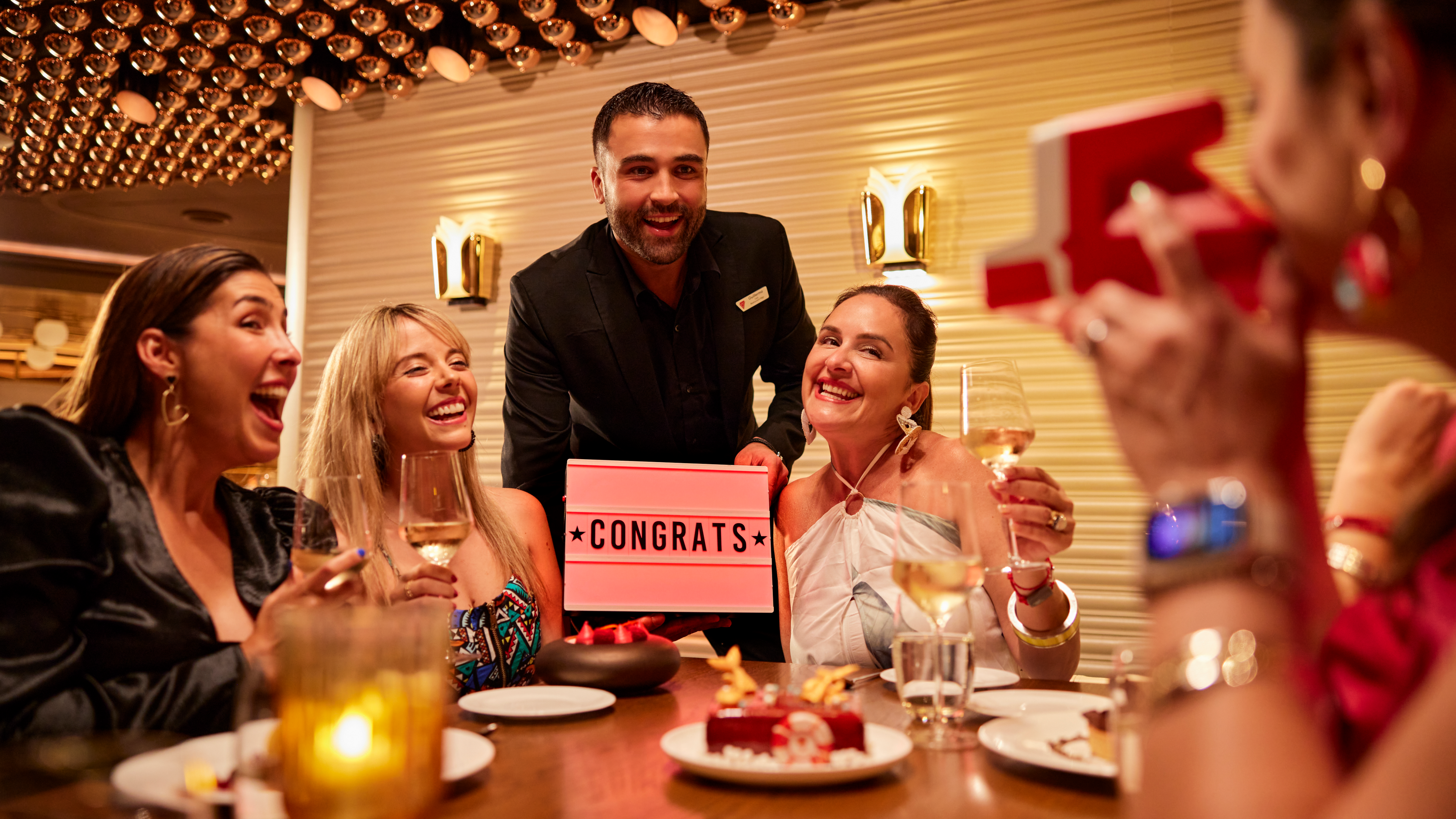 Celebrating all the important and best "ships"
We believe that celebrations don't require excuses or explanations. Wanna celebrate a huge engagement or 21st birthday while having lots of fun? Awesome. Feel like celebrating the latest Patriots victory (or simply seeking a distraction from their losing season)? Go for it. Is it your best friend's sister's dog walker's half-birthday? Party time. We like to think of our award winning best cruise ships as the perfect setting for any kind of celebration in your life. From intimate relationships to platonic friendships, promotions at work, or just a well-earned break from the kids, we're here for you whenever you decide it's time to let loose and mark a special moment in your life to celebrate. Our adults-only cruises are designed to be the perfect backdrop for whatever occasion you're pumped to commemorate.
Friendships, relationships, situationships, and more "ships"
Once you decide to celebrate, it should be smooth sailing from there on out. Everything should be fun and stress free, but unfortunately, most vacations come with a myriad of headaches, like booking hotels and activities, figuring out public transportation, and making sure everyone in your group agrees to every single piece of logistics (like that's ever gonna happen). The great thing about a cruise trip – whether it's a Mediterranean cruise, Caribbean cruise, or Transatlantic cruise – is that you won't get decision fatigue. Our luxury ships put all the party options right at your fingertips, so you can celebrate however the mood strikes you once you're onboard.
Celebrating a new or long-standing relationship (or situationship)? We've got romantic spa experiences ranging from couples massages to sensual hot tubs and sauna sessions and mud rooms. What better way to express your undying affection than by slathering each other in mud? Celebrating an engagement or bachelorette party? We can't help you in the strip club department, but we've still got plenty of party vibes on deck, including our 70s-inspired Manor nightclub and lively Red Room performances. Celebrating a break from the kids, a promotion, or just taking a mental health getaway? What's better for your mental health than, well…eating? Indulge in over 20 delicious onboard eateries, with menus curated by Michelin-starred chefs. You can also take advantage of a free workout class (to work off all that indulging), and of course, explore the shore in our cruise ports all over the world.
Indeed, rather than choose one destination for your trip, we're offering multiple vacation spots to celebrate on every cruise. From a romantic couples getaway on the whitewashed islands of Greece to a rocking pool party, perfect for birthdays and bachelorettes, on the Bahamian island of Bimini, there's no shortage of ideal backdrops to mark your special milestone.
We put the "ship" in friendship
Call us biased, but we think actual ships (in addition to all the other "ships") are also a pretty great reason to celebrate. Our best cruise ships are the crown jewels of Virgin Voyages; they're not only the reason we're an award-winning adult only cruise line – they're quite literally the reason we're afloat at all.
It all started with Scarlet Lady, our very first ship that's been sailing the Caribbean since 2021. We launched Valiant Lady soon afterward in 2022 to expand our sailings to the Mediterranean. Based in Barcelona, Valiant Lady is your gal for exploring the French Riviera, and Spanish coast and islands. Our newest ship, Resilient Lady, holds a special place in our hearts for opening up the South Pacific. Based in Piraeus (Athens), Resilient Lady bounces between the Greek islands, Southeast Asian destinations like Singapore and Malaysia, and Australia. And that's not all. Since three's a crowd, we're already looking forward to 2024, when Brilliant Lady will join the fleet.
So while we certainly embrace traditional reasons to celebrate, at Virgin Voyages we're lucky to spend every day celebrating our lady ships.