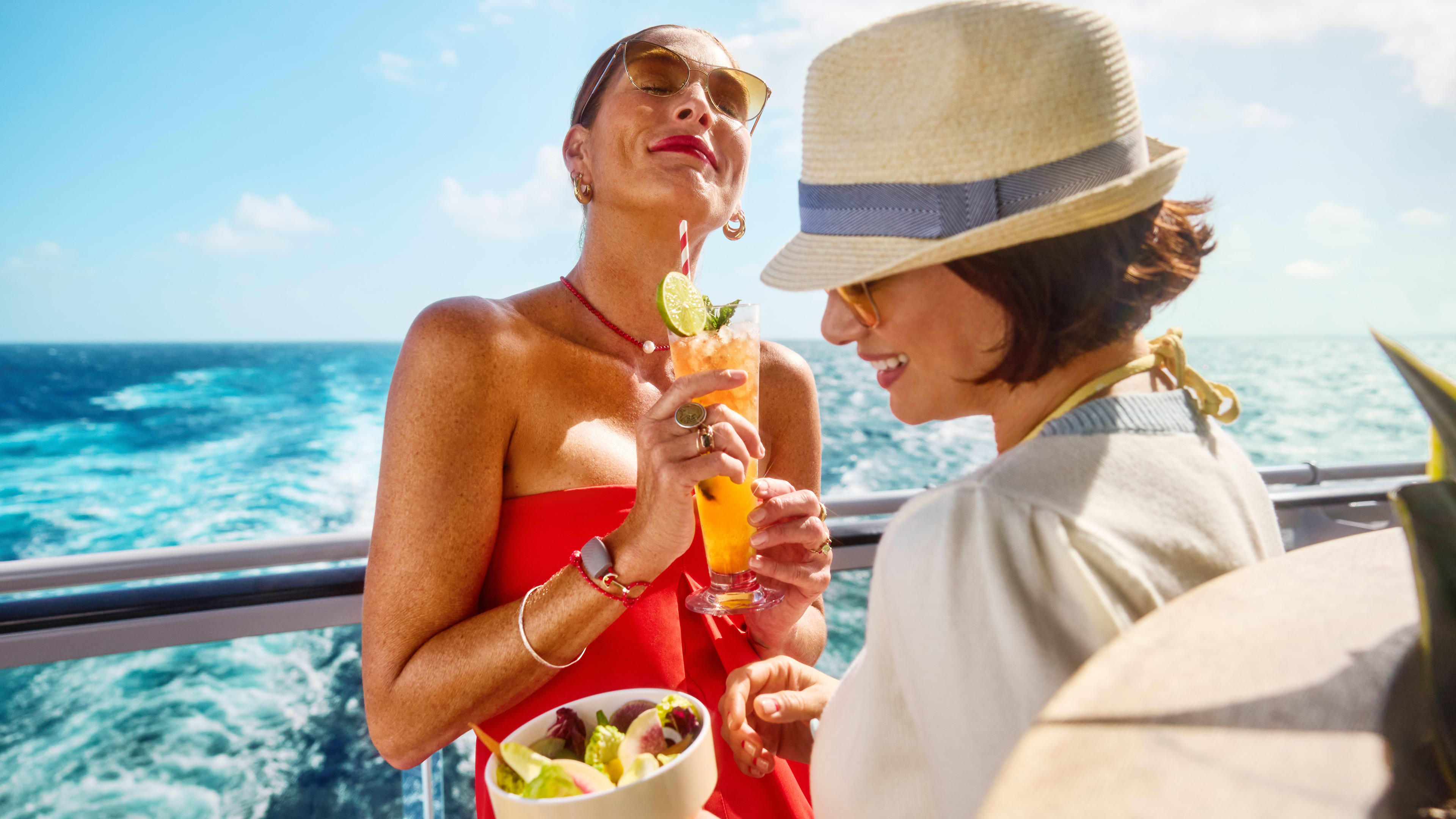 First words. First concerts. First kisses. Firsts; they hold a special place in our hearts — and there's a first time for everything, including sailing the high seas. If you've never been on a cruise before, we're here to tell you that it's (more than) worthwhile to consider as you plan your next vacation. And in a totally pure effort to not be biased, may we mention ABC News agrees? As the news outlet points out, the advantages of cruising are myriad, from the ease of packing and planning to the overall cost efficiency. And who doesn't want a luxury experience while saving a little coin?
With us, dining at our 20+ eateries is included, and there's no need to fret about finding a charming hotel within your price range in a safe part of a city you aren't familiar with. And on a Virgin Voyage, we go one step beyond the average cruise line — our accommodations are bespoke and roomy, and the food is award-winning.
This commitment to luxury has vaulted our lady ships ahead of the pack for anyone who's sailed with us. For Virgin Voyages Sailor Steven Bridges of Portland, ME, "the attention to every little detail truly made this vacation an amazing experience."
Bridges continued, "We contemplated many cruise options before selecting Virgin Voyages to 'pop our cruise cherry' and show us the ropes! 'Wow' is all we could say from the time we boarded the ship."

So you're new around here? Well we've got some tips for your first cruise
For your first time, it can be helpful to think about a part of the world you'd like to see, but perhaps feel intimidated by the thought of arriving and having to drop into the middle of the action. If, for example, you've always wanted to see Europe, but feel overwhelmed by the number of cities your friends tell you are "must-sees," a cruise is the ideal option to take in multiple countries and cultures in one streamlined itinerary.
We have itineraries with routes through the Mediterranean, Adriatic, and Aegean Seas all bundled into easy 7 or 10-night sailings, so you can see everything from late-night departures in Dubrovnik (where Game of Thrones was filmed) to overnights in Ibiza (a legendary nightlife hotspot).
Once you've decided on a part of the world to see, you'll want to bring your passport and any requisite visas (but we'll let you know what you need in terms of visas when you confirm your booking with us). And as far as packing, we've already put together a handy guide of things to bring (e.g. a bold dinner outfit) versus what to leave at home (i.e. your hair dryer — we've got one in every cabin).

Stress less, enjoy more
There's anxiety inherent to any form of travel — and, at the risk of being too broad, to any new life experience in general! But at Virgin Voyages, we make sure that you'll never have to worry about where to get your next meal, what to do on shore, or how to spend your nights at sea.
Our ships feature over 20 eateries with distinct menus, from a Korean BBQ joint to a classic and elegant steakhouse with views of the ship's wake (aptly called, The Wake). Cruise Critic awarded us "Best Dining" in their 2022 awards edition, and we receive real-life customer feedback that lets us know we're getting it right. Scott Boggs of Enon, OH, raved, "This was my first cruise so I wasn't sure what to expect but…I was amazed at the availability of quality foods, with just about anything from avocado toast to tacos available any time of day or night."
For your time in port, our team puts together a thoughtful list of shore excursions, working with locals on the ground in each destination to bring our Sailors unique, off-the-beaten-path experiences. Whether you're a history buff or a leisure seeker, we've got you covered, with options as varied as a Napoleon invasion-themed walking tour in Corsica to a day at a private beach club in Gran Canaria.
And our ships shine at night, with themed parties, world-class shows developed by top entertainment minds… and even private onboard karaoke rooms.

Welcome aboard, cruise virgin
When you're ready to commit to your very first cruise — Virgin Voyages is waiting with open arms to welcome you. (Like we welcomed Doris Welsh of Key Largo, who said afterwards, "I booked…on a whim - our first cruise ever - and we had such a great time that we are going again. We would not think of going on any other cruise line!").