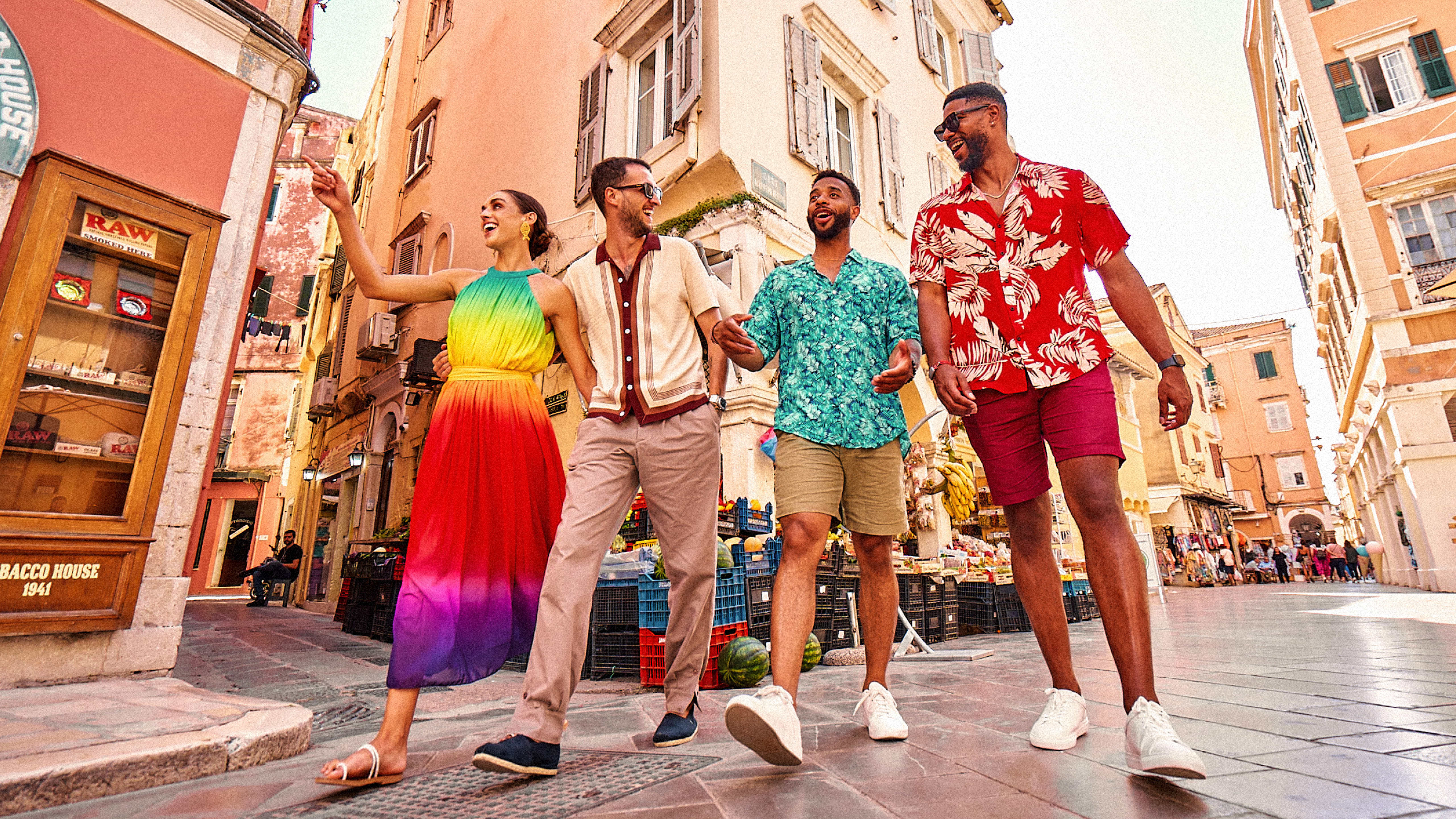 It's the question that always seems to crop up no matter what situation we find ourselves in: what do I wear? For some, the question engenders excitement and endless possibilities. It signals the opportunity for creativity and getting fun and funky with your style. For others it means a headache, prompting late-night Google sessions to figure out an appropriate outfit. When it comes to what to wear on a cruise, there's good news — you don't have to stress. At least, not on a Virgin Voyages cruise. We have no dress code, but if you do enjoy dressing up, there are plenty of opportunities for creative fun. The best part? There's no wrong way to dress on our cruises.

We throw dress codes overboard
Sure, sometimes dressing up can be nice. But we believe that the obligation for wearing cocktail dresses, suits, and ties, belong at weddings and funerals — not on vacation. This isn't the Titanic in 1912, where the onboard experience is defined by a class system rife with social posturing. Our voyages are casual, inclusive, come-as-you-are experiences where what you wear doesn't matter nearly as much as how much fun you're having.
But what does that really mean? It means we don't have a traditional dining room with a formal dinner requiring formal dress. It means that even at our 20+ restaurants — some of which, like The Wake, have a decidedly elevated feel — you can wear whatever makes you feel most comfortable. Just came from the pool deck in a bathing suit and flip flops? Fine by us. Heading to a shipwide pajama party later and feel like eating dinner in your PJs? More power to you.
BUT, if you do relish the chance to dress up and wear something other than casual everyday attire, we've got you covered. Between shows in the Red Room, nightclub nights in The Manor, and special events like our pajama party, there are plenty of ways to get creative. The most exciting is probably Scarlet Night, a special night on each of our voyages where everyone does their craziest, sexiest, comfiest (you name it) red outfit and jumps into the pool together. While the "Scarlet Night Virgin Voyages dress code" is technically just "wearing red," there are endless opportunities to get creative with your outfit and express your individual style.

Dress like you on our exclusively adult voyages
So without a dress code for guidance, you're wondering: What to wear on Virgin Voyages? That's the beauty of it. You can wear whatever you want. Think of it this way: our dress code is whatever makes you feel like the best version of yourself. Maybe that's a suit and tie. Maybe that's a jogging suit, gym attire, or a bathrobe.
Obviously, comfort is huge. Before anything else, wear what makes you feel comfortable and cozy. But that doesn't mean you should confine yourself to what you wear in your everyday life. An adults-only cruise is an opportunity to take risks, maybe even wearing outfits you might not feel comfortable wearing around friends or family. The best part about deciding what to wear on an adult-only cruise? There is no normal. Anything goes. So do that glittering vest you've never wanted to wear to your hometown bar, and grab a specialty cocktail in our Red Bar; or saunter down to the Dock House in your bathrobe, straight off a relaxing spa day, for some mezze bites.
Our "dress code" comes down to one simple philosophy: If it feels good — wear it!

Clothing suggestions & packing for a cruise
Okay, there might not be a right or wrong way to dress, but you still have to wear something. Having ultimate freedom, with no restrictions or guidelines, can actually make the packing process even tougher. We're here to help.
No matter where you're sailing with us, it's a good idea to pack for warmer weather. That means sandals, swimsuits, sundresses, sunhats, etc. Flowing, loosely-fitting fabrics that won't make you overheat while walking around on a city tour are an absolute must. Consider what might look nice in photos, too. If you're heading to Santorini, it might be a good idea to bust out that vibrant blue sundress or stylish red linen shirt to contrast with the whitewashed Cycladic architecture. If you'll be walking the parapets of Castillo San Cristobal in San Juan, a flowing white dress that'll catch the sea breeze would make for a majestic photo-op against the Caribbean backdrop. Photo-worthiness shouldn't be your only consideration — comfort and practicality are more important — but it can help narrow down your wardrobe and offer some guidelines.
For inspiration on some of the best cruise fits out there, check out Who What Wear's guide to the freshest vacation looks. And if you find something you like while shopping onboard—that's the perfect way to add to your vacation wardrobe, too!