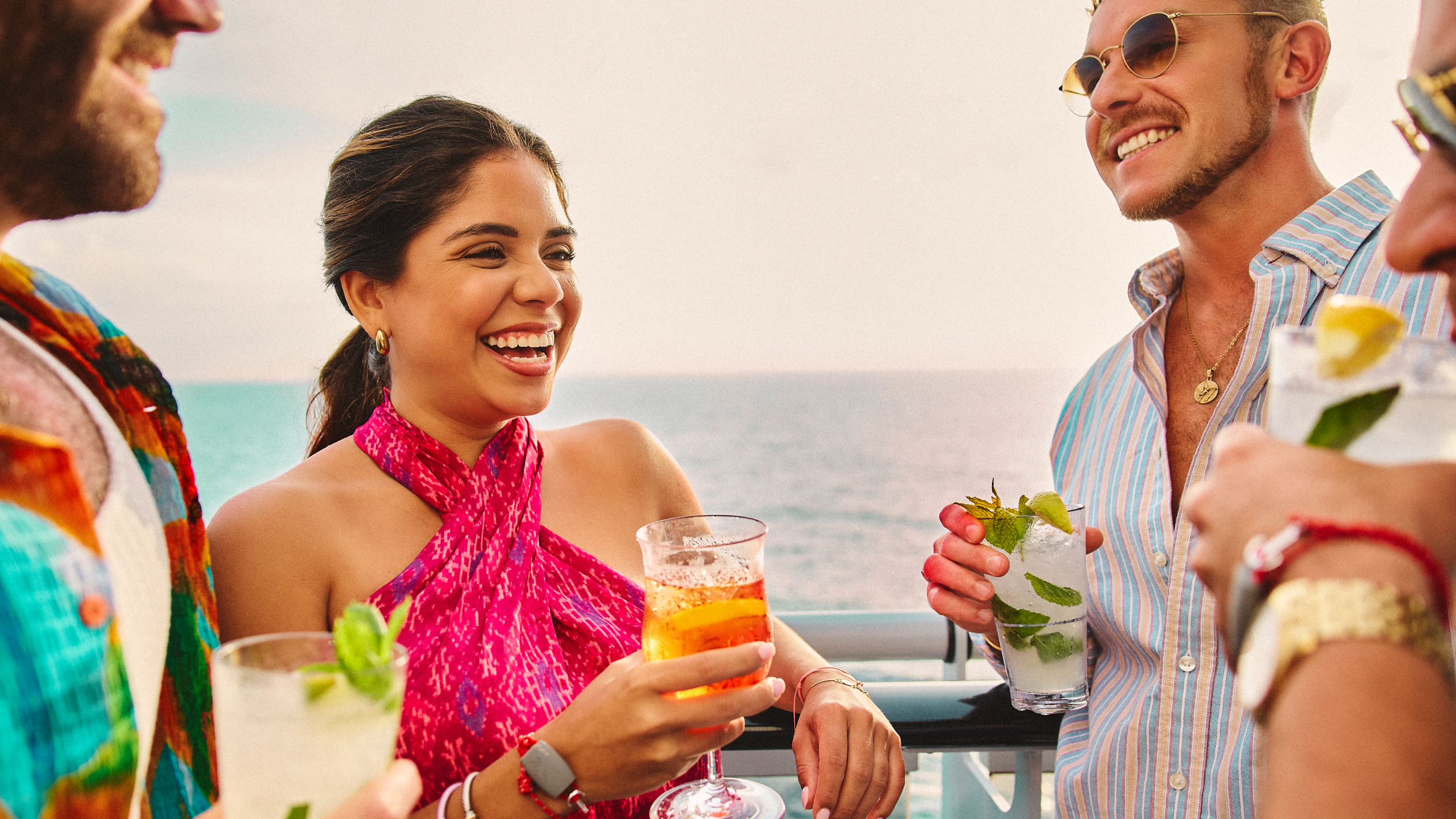 You might think that cruising is an inherently extroverted vacation. After all, you're on a cruise ship with hundreds of people taking vacation, frequenting onboard cocktail lounges & bars and fine dining and luxury cuisine restaurants, attending broadway-style entertainment shows, and enjoying curated communal spaces and activities — not to mention the group-oriented Shore Things on land. But at Virgin Voyages, we recognize that not all our Sailors are extroverts. Our cruises have something for everyone, and that includes introverts. Sure, you can attend our nightly Red Room performances, have communal dining experiences with total strangers, and meet friends at the nightclub, but you can also take intimate after-hours swims on the pool deck, read a book in The Den, or enjoy a rejuvenating spa treatment. Indeed, Virgin Voyages is actually one of the best cruises for introverts, if you know how to take advantage of our quieter, more intimate spaces.
From how to make friends on a cruise for more social Sailors, to how our solitary sailors can get the most out of their voyage — here's what makes Virgin Voyages a perfect choice for both extroverts and introverts alike.

Treat yourself to some alone time
For many, cruise vacations are an opportunity to meet new people and spread their social wings. But maybe you're not looking for a social cruise. Indeed, for many Sailors, cruises are the exact opposite: a chance to get away from it all with some much-needed peaceful alone time, or a space for intimate quality time with a loved one. That's fine, too. The sheer variety and diversity of spaces aboard our luxury inspired cruise ships make us a haven for the introverts amongst us (hi, I'm one, too!).
The great thing about a Virgin Voyages cruise is the Sailor's ability to tap into whatever kind of vacation they want, whether that be a social cruise or a more solitary experience. While the restaurants onboard offer a great opportunity for meeting new people, you technically don't even have to leave your room to enjoy our ship's gourmet offerings. Stay in for a romantic meal with your partner by using Ship Eats, our room service that lets you order straight to your room from our app. Whether it's eggs and coffee on the balcony while watching the sunrise or an intimate dinner in bed, all you have to do is answer the doorbell. You can even pre-order breakfast while you're still up the night before. If you prefer a grab-and-go bite while exploring the ship, check out The Galley, our elevated cafeteria-style culinary hub with food ranging from pho and sushi to classic cheeseburgers.
Being an introvert aboard means you'll probably get to use some of our onboard spaces in special ways many Sailors never even consider. Our pool deck, for example, which is usually packed during the day, is almost completely empty at night, when most Sailors are attending live performance shows, or out for late dinner, or doing a cruise ship pub crawl. Take advantage of having the deck to yourself by going for a relaxing swim under the stars. Or enjoy an evening hot tub session with your significant other without worrying about making small talk with whoever else might decide to take a plunge. Indeed, when it comes to after-hours fun, you might decide to forego the bar experience, our special cruise ship casino, and nightclub scene in favor of a quieter champagne toast in our SIP Lounge, or even a karaoke session in The Groupie, our karaoke lounge with bookable private rooms.
Another great way to savor some alone time onboard is by treating yourself to a spa day at our Redemption Spa. Take advantage of the mud room, salt room, sauna, steam room, and hot and cold plunge pools, or recline on a heated marble hammam bench as you watch the waves through one of the giant porthole windows. You can also sign up for a special treatment, including body wraps, facials, and massages, to really pamper yourself. Whether you're taking a personal day or a rejuvenation journey with a special someone, there's no better way to decompress than by spending the day in our private spa sanctuary.

For the social butterflies
Cruise vacations as an extrovert doesn't require quite as much creativity as cruising as an introvert. And that's not necessarily a bad thing. Cruises are naturally social vacations, and especially on Virgin Voyages, you don't have to try very hard to mix, mingle, and make new friends. It's still up to the Sailor, however, to make the most of the social opportunities and activities being offered.
When it comes to how to make friends on a cruise, it doesn't get much better or easier than the Grog Walk, our shipwide bar crawl. Bouncing between some of our coolest bars, you'll get a crash course in the different social spaces we have onboard, and have a unique opportunity to meet your fellow Sailors. It's a particularly fun opportunity for solo Sailors wondering how to meet people on a cruise. There are plenty of other special onboard events and activations, too, like our PJ Party (it's exactly as fun and comfy as it sounds), trivia nights, and our nightly shows in the Red Room, many of which lean on audience interaction and participation. And of course, there's also Scarlet Night – our epic, shipwide, all-red celebration that ends with everyone jumping in the pool at night.
Many of our 20+ eateries also serve as prime venues for socialization. The Red Bar in our Razzle Dazzle restaurant, for example, serves up creative cocktails in a funky setting, and Gunbae, our elevated Korean BBQ restaurant, is all about socialization. With communal seating (we'll seat you with other groups of Sailors) and drinking games led by your server, Gunbae is the perfect casual setting for meeting new people. There's no better way to break the ice, after all, than by throwing back shots of soju while bonding over freshly-grilled octopus.
But even food doesn't foster connection quite like winning money together. That's what makes our Cruise Casino a great under-the-radar place to make new friends. Share the high of rolling 7s at the craps table or hitting 21 in blackjack with your fellow Sailors. And you know, even if things don't go your way, commiserating over a losing streak might even make for a more powerful bond than winning. Whether you're looking to celebrate your winnings or quickly forget your losses, the Manor nightclub is located right next to the casino. A haven for true extroverts, the Manor is the pinnacle of Virgin Voyages nightlife, offering the perfect environment for letting loose and meeting new friends. And for introverts looking to break out of their comfort zone? There's nothing quite like a T-Swift dance remix to melt those imposing social barriers.