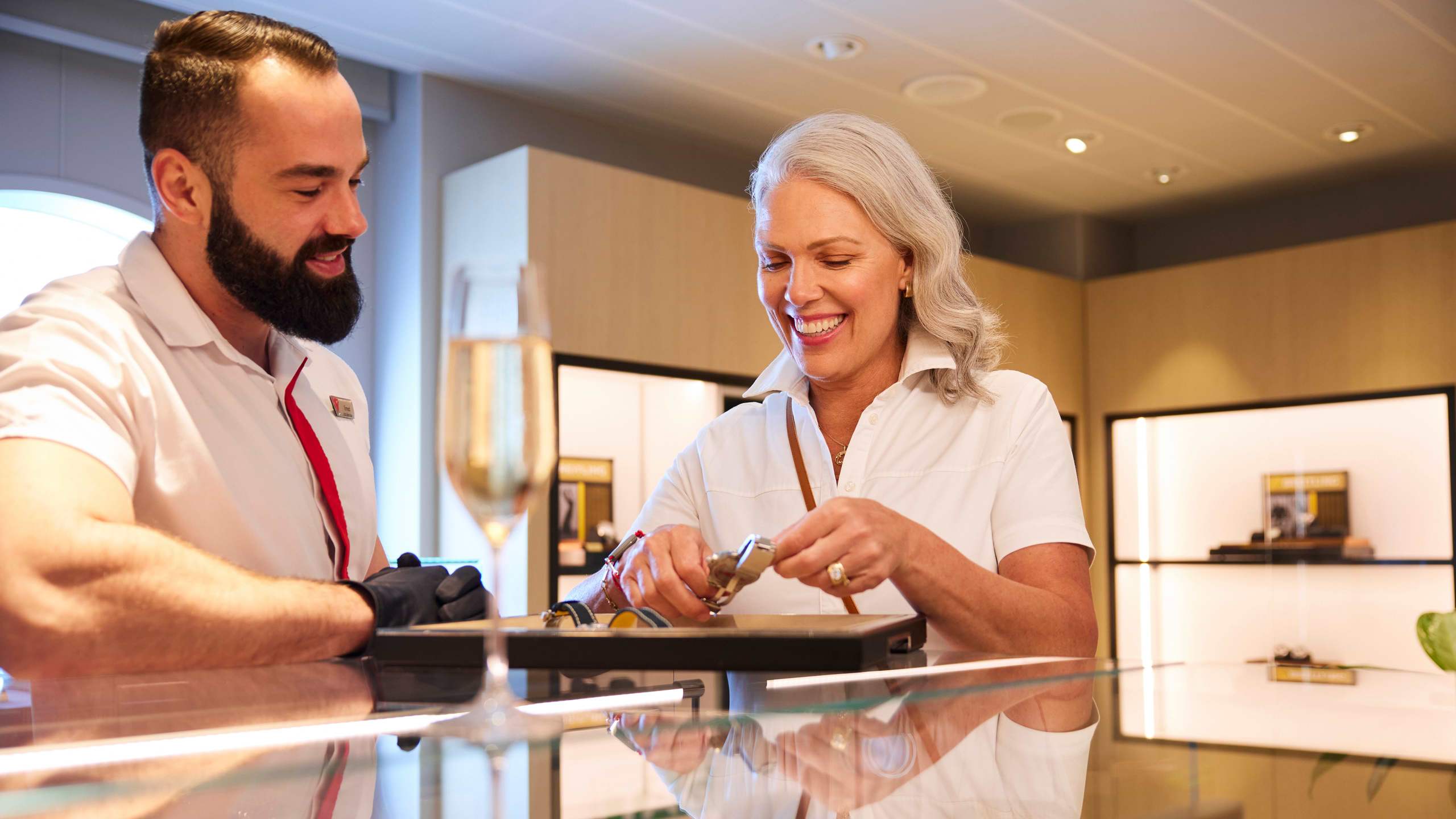 A shopaholic's dream day probably looks like strolling down the most fabulous streets, popping between luxury shops and boutiques. Now, imagine taking that dream day to the next level, with a floating 5th Avenue at sea, and instead of weaving through stressful NYC crowds, you're looking out the window at a peaceful Caribbean sunset. That's how we've designed our onboard High Street shopping experience. Capturing the high-end luxury shopping experience of a major city's thoroughfare, we also leave behind the hectic bustle of the city, instead embracing a more relaxed (and sustainable) shopping experience in our cruise stores.
Embracing thoughtful retail
We like to call our Virgin Voyages High Street shops "thoughtful retail." What does that mean? No, it doesn't just mean thinking twice before racking up credit card debt across six cards. To us, thoughtful retail means offering a carefully curated selection of brands with stories that represent our values, from Engrace Diamonds' first-ever lab-grown diamonds at sea to John Hardy's gender-inclusive jewelry designs.
Sustainability is one of the most important tenets of Virgin Voyages' shops. We're proud to partner with Mavrans, a new brand offering clothing made from eco-friendly materials like recycled water bottles. Farm Rio is another of our prized eco-conscious partnerships. This sustainable fashion brand captures the spirit of Brazil's cultural history and tropical vibe in its designs. Our Resilient Lady and Scarlet Lady are also home to Citizen's first standalone boutiques at sea, selling the world's first Eco-Drive watch powered by a light source. This prevents millions of batteries from entering landfills each year. Our beauty shop is also taking sustainable shopping to the next level, with Iconic London famous for their cruelty-free makeup lines and vegan brushes, and Juice Beauty products made with organic ingredients.
Putting the spotlight on luxury
Like our luxury cruise ships themselves, Virgin Voyages' merchandise is also defined by luxury. Indulge in our fine jewelry selection with Shy Creations and Monica Rich Kosann, brands that put intentional focus on telling individual stories, and creating precious moments. Then, of course, there are world-renowned luxury brands like Louis Vuitton, Gucci, and Chanel in our What Goes Around Comes Around shop. Specializing in pre-owned items, this shop lets you take home a stylish accessory without breaking the bank.
If it wasn't obvious by now, we take beauty pretty seriously. Be sure to check out Sephora on Resilient Lady, where you can immerse yourself in a world of skincare, makeup, and beauty accessories, and get acquainted with the latest trends. Chanel Boutique, on Valiant Lady, is the perfect place to indulge in your sophisticated side, with a selection of iconic and timeless beauty products like fragrances and makeup collections. Sailors on Scarlet Lady aren't missing out, either, with MAC boutique on hand to help you experiment with expertly-crafted makeup formulas and get a fun makeover with vibrant new colors.
Get dolled up on High Street
A Virgin Voyages High Street experience isn't complete without attending one of our special onboard events. For the aspiring spirits connoisseurs out there, make sure to attend a Booty Free Tasting in the Booty Free shop. You'll get an expert education in your favorite spirit, learn the differences between notes, aging processes, what constitutes different blends, and of course, get to tickle your palate by tasting some samples. The most lively High Street event, however, is undoubtedly Scarlet Night Makeover. Scarlet Night is already the biggest and most exciting night on the ship, and our makeover event adds yet another layer of flair. Prepare for an epic Scarlet Night by taking this workshop, which shows you how to create an amazing look. Get all glam'd up with beauty products and leave looking absolutely fabulous.
Keep an eye out for other special retail events offered periodically across our fleet. From whiskey tastings to presentations spotlighting your favorite luxury brands, High Street truly never sleeps.