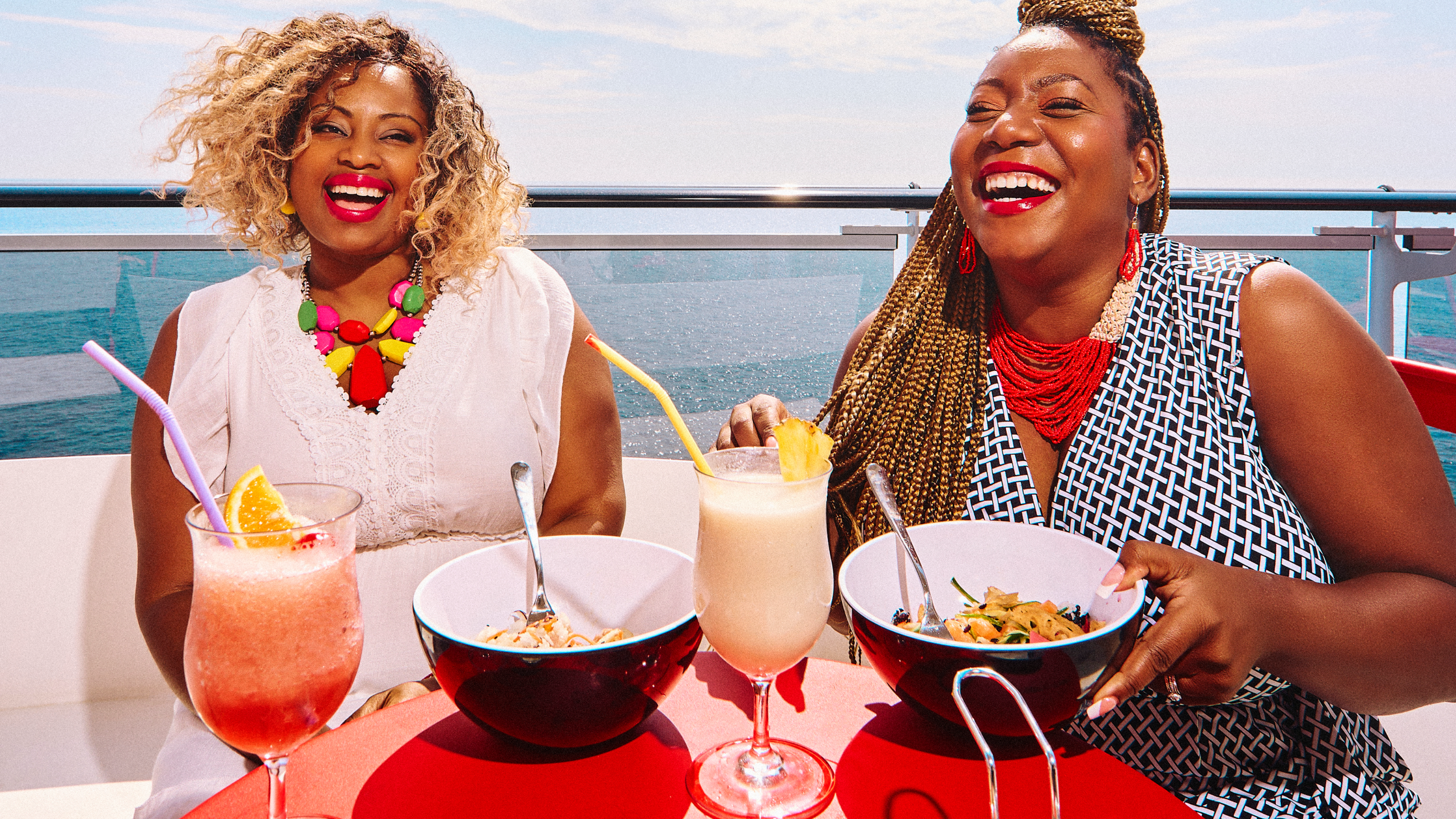 Way back when, the term "mocktail" was something to be snickered at, it represented a lame alternative, a drink that lacked personality and creativity, and alcohol. Now, however, mocktail stock is through the roof. Mocktails aren't just non-alcoholic drinks designed to make teetotalers happy and give children something to sip on (not that you'll find kids on our cruises) — they're craft mixology creations in their own right. Our restaurants and bars serve up mocktails that require just as much skill to make as an Old Fashioned, and no, we're not just talking about Shirley Temples and Arnold Palmers.
Best Sober Cruise for Non Drinkers
At Virgin Voyages, we recognize the value of quality mocktails. Not just for sober passengers, but for drinkers who just want a break from the booze. That's why many of our 20+ eateries onboard have separate mocktail menus with carefully-curated creations. And if you have a favorite mocktail that's not on the menu, our trained mixologists can make whatever you'd like. Whether you're looking for the best cruise line for non drinkers, or just want the occasional mocktail in addition to boozy bevs, Virgin Voyages offers a sober cruise experience that doesn't sacrifice the fun.
Cruise Ship Restaurants with Non-Alcoholic Drink Options
While all of our eateries offer non-alcoholic drinks, the Test Kitchen is home to one of our most forward-thinking mocktail menus. We worked with professional bartender Julia Momosé to curate our alcoholic and non-alcoholic cocktails — and there are some key ingredients we focused on to create our non-alcoholic offerings. Many of our drinks offered in our cruise ship restaurants incorporate cashew, in the form of a light syrup, which adds a tropical element to drinks and compliments seafood dishes particularly well. Apples are also widely used throughout our non-alcoholic drink menu. Both fruity and acidic, they carry rich flavors and clean notes, and go well with elements of honey and elderflower. Finally, keep an eye out for drinks using Seedlip Garden 108, a unique non-alcoholic ingredient with notes of English peas and hay. It's often paired with Japanese steamed green tea and a bit of honey.
In addition to Test Kitchen, and our other eateries, you can also get a non-alcoholic drink experience at our Afternoon High Tea Service at Sip Lounge. While some may opt for champagne, there are so many teas to keep your taste buds tingling you won't miss the bubbles at all. Try our Jasmine Cloud, a classic jasmine tea with a vegetal flavor, or our Panna Chiya, a big leaf green tea from Darjeeling. Our Mint Blend is a cooling, refreshing blend of spearmint and peppermint, and Sheva Hibiscus Rose is not only alcohol free but also caffeine free, known for its tart hibiscus bite.
Onboard Non-Alcoholic Drink Options
If you're looking for some inspiration for what to order at the bar — apart from our delicious menu options, there are literally an endless variety of options. All your favorite alcoholic drinks can be made virgin-style, like virgin piña coladas (made with coconut milk and cream), moscow mules (made with grapefruit instead of vodka), and bloody marys (with tomato juice, Worcester sauce, and Tabasco). You can also order a tried and true mocktail like a Shirley Temple, Roy Rogers, or Arnold Palmer.
If you've taken a few sober cruises and are inspired to craft your own non-alcoholic creations at home, we've got you covered. Charles Steadman, our very own Director of Food and Beverage Experience, laid out some key strategies for mocktail making in an interview with Quench List. "One common mistake to avoid when making non-alcoholic cocktails is neglecting flavor balance," he said. "Sweetness can easily overpower the drink, so avoid excessive use of sweet ingredients. Incorporate acidity from citrus juices or vinegar-based mixers to counterbalance sweetness. Experiment with bitters, herbs, and fresh ingredients to add complexity. Finally, always taste and adjust the drink as you go, following any recipes you have as guidelines but adapting them to your concept or event."
Learn more about what makes Virgin Voyages the best cruise line for non drinkers and drinkers alike by checking out our Drinks & Bars page.