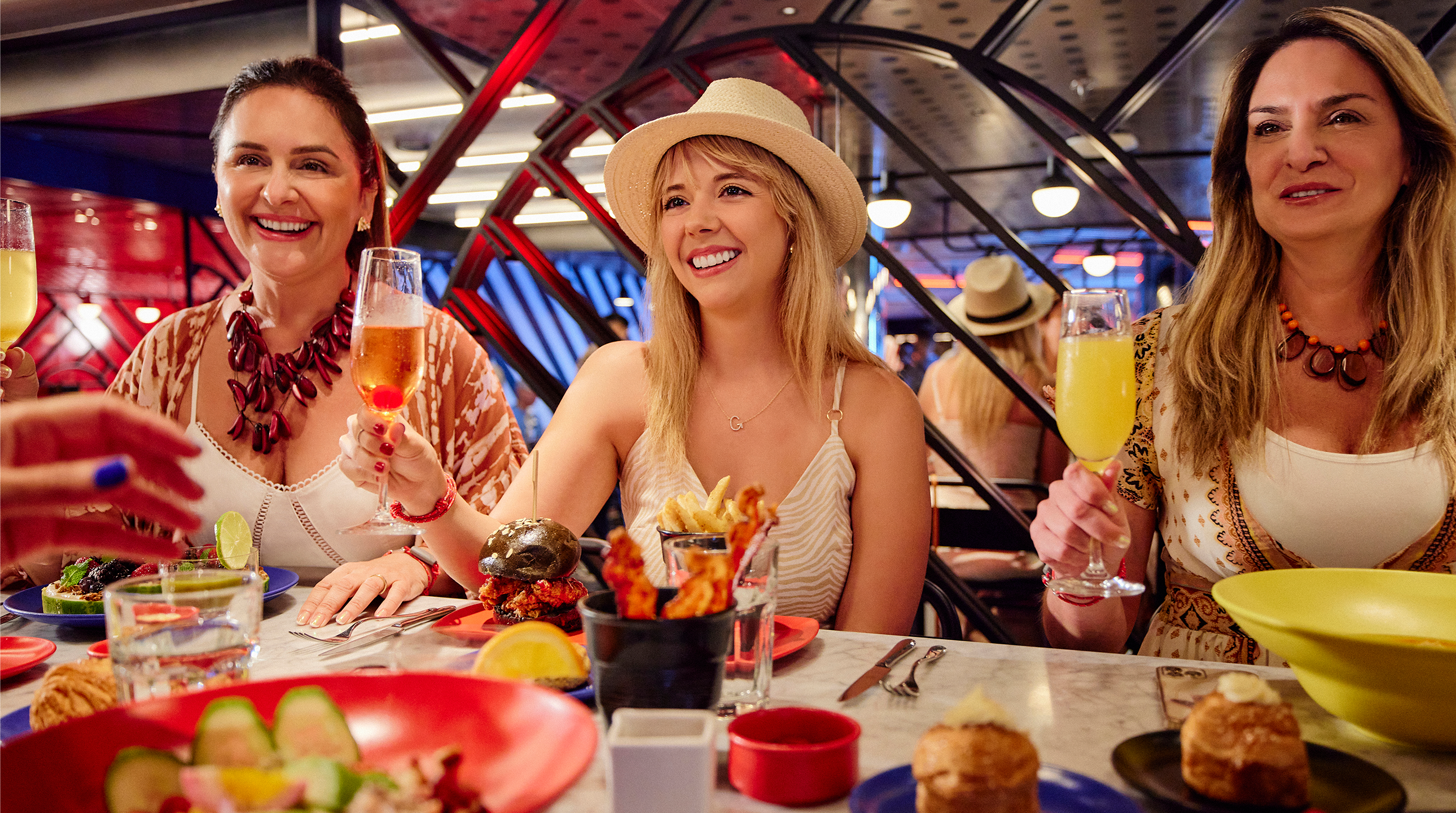 Memorial Day. The day that those of us in the United States honor those who put their lives on the line while serving in the military. And we're incredibly grateful for their service.
It's also become the unofficial start of summer. That sweet day off. Laptops closed. Sun on your face. Falling on the last Monday of May, it marks the first long weekend for so many of us where we get to attend BBQs, host BBQs, or skip them all together and give ourselves a little me-time. And maybe you'll even be on board with us, in which case, we can't wait to host you — doing all the grilling and the dishes. Sun on your face included, of course, from the Caribbean to the Med.
No plans yet? Need a little inspo for the weekend? No prob — because we have a few Virgin Voyages-inspired ideas to make your long weekend count.

Host a cookout
Ahh, the classic Memorial Day BBQ. Where the grill is hot all day long, the hot dogs and burgers fly freely, and a nice cold beer really hits in just the right spot. And a cookout can look like anything — it doesn't have to be fancy, because it's really just an excuse to hang out with friends and enjoy that fresh summer weather. So fire up the group chat, make sure that grill is still working, and be the one in the friend group who makes sure there's an event to look forward to. Want to bring a little Virgin Voyages to your cookout? Wear a splash of red. Sure, it's giving Americana, but it's also coyly bringing in a little bit of Scarlet Night energy to your party. And for those of you who have attended Scarlet Night on board, you know that energy is exactly what a party needs.

Get away for the weekend
Unsurprisingly, we're big on the importance of travel, even if it's not with us. Change up your scenery and take a drive to the beach. Or a lake. Or hike that stunning place nearby you keep seeing other people go to on Instagram. With an extra day off on Memorial Day, you might as well give yourself a little change of perspective — letting nature back in before opening up that laptop again on Tuesday. Because even if you aren't traveling on the high seas this weekend, we know how truly restorative travel can be; even if it's just a mini-getaway.

Give yourself a spa day
Okay, so this isn't a traditional way to spend the holiday, but why not spice it up and do something nice for yourself? We love a spa day (and yes, we are partial to ours), but until you can climb on board, hit a spa nearby and indulge in a massage. Or hot and cold pool dips. Or a manicure and pedicure (our nail salon has sea views, but views are absolutely not mandatory for self care). Because getting ready for summer can look like anything — and treating yourself after a long winter is exactly what you deserve.
And if the oh-my-gosh-I'm-so-glad-summer-is-finally-here vibes have inspired you to travel (further), may we suggest a seaside getaway in the Mediterranean? Because for this week only, we're running one of our most lucrative (but fleeting!) offers a Memorial Day Sale — giving you 55% off your Second Sailor and up to $600 in free drinks when you sail from Barcelona or Athens through October 2023. So let the celebrations continue well past this weekend; letting us host you in some of the most gorgeous places in the world. So give yourself something to look forward to after the blues of a long weekend ending sets in (we know, we know — don't think about that just yet). But future epic plans on your cal? That'll keep anyone's spirits up long after your BBQ guests have gone home.