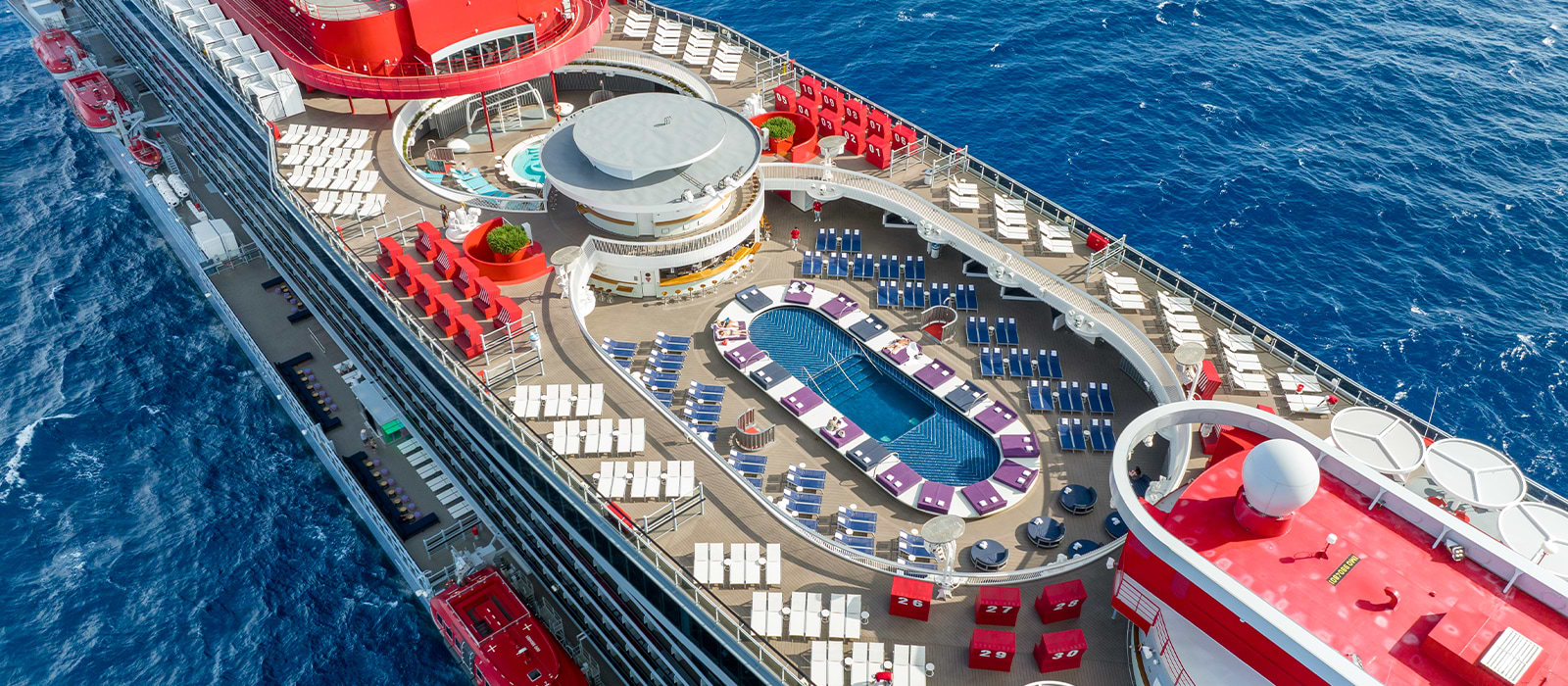 ACCESSIBILITY
Plan before from sea to shore
All Sailors deemed Fit to Travel and have additional needs or requests should reach out to us prior to their voyage date to go over specific details.
Related FAQ's
Are there cabins for Sailors with disabilities or reduced mobility?
Yes, we have a limited number of cabins available for Sailors with special needs or reduced mobility. Please book early and specify all of your required accommodations to our Sailor Services Crew, your travel agent or in your online booking.
Are there wheelchair-accessible cabins?
Yes, we have a limited number of cabins that can accommodate wheel chairs. Please bring your own preferred wheelchair, if needed, and be sure to book early to guarantee the cabin of your choice. Collapsible wheelchairs are strongly encouraged.
Can I bring my mobility scooter on board?
Yes, Sailors staying in ADA-compliant cabins and suites are allowed to bring mobility scooters on board but are asked to please store them in the cabin when not in use.
Are there special services I can request to assist with my medical condition?
Yes, please contact our Sailor Services Crew to request any specific medical services or needed accommodations.
Can I undergo dialysis treatment on board?
While our medical facilities are ready to go with some of the best equipment and medical professionals available for emergencies and short-term medical needs, our facilities are not adequately equipped for this highly specialized, longer-term treatment.
I need to bring oxygen on board. What are the procedures?
Don't sweat it. We understand there are a couple of must-haves when planning the perfect voyage. Sailors are permitted to bring oxygen cylinders and equipment on board, but please be mindful of the following guidelines:

Sailors must make independent delivery arrangements with a third party for the rental, delivery and return of any oxygen cylinders and related medical equipment. Only 2 cylinders per cabin may be personally hand carried aboard by Sailors. All other quantities must be delivered. Stevedores at the port terminal are unable to coordinate the transfer of oxygen cylinders.

Due to safety concerns and storage limitations, Virgin Voyages does not allow Sailors to carry or use liquid oxygen or large cylinder (greater than 680 liters or E / M-24 size) systems. Additionally, the types and quantities of oxygen cylinders allowed on board may be limited. Please contact our Sailor Services Crew to discuss your individual needs.

Sailors are responsible for notifying their air carrier of any oxygen requirements. Sailors who book their air travel through Virgin Voyages and who will require oxygen on their flight should call to speak with Sailor Services as soon as possible. This information is necessary to expedite the delivery of airline tickets and airline contact information for the Sailor to be able to make adequate arrangements with their air carrier for the use of oxygen in-flight.

Also, be aware that you are allowed only one oxygen cylinder on board the ground transportation offered to RockStar Suite Sailors. Sailors bringing more than one cylinder must make their own arrangements for transportation between the airport, lodging and the cruise terminal.

Are you able to accommodate my dietary requests and/or food allergies?
Our expansive food and beverage offerings should be able to accommodate most dietary needs and requests, but be sure to ask our Sailor Services Crew before you sail regarding any specific requests or allergy concerns. Please note, we are NOT an allergen-free kitchen.
How do I make a special request such as meals, excess baggage?
If you have any special requests or need personal accommodations, please contact our Sailor Services Crew or your travel agent, and they'll be able to let the ship know precisely what you need!
What services are available for Sailors with a hearing loss? Will you provide a TDD kit?
Yes, we have a limited number of TDD kits available to accommodate those with hearing loss. Please contact our Sailor Services Crew for specific requests and accommodations.
Will Virgin Voyages provide interpreters for the hearing impaired?
Yes, interpreters for the hearing impaired are currently available upon request. Please contact Sailor Services with at least 60 days notice to make this request.
Am I allowed to bring my service animal on my voyage?
Yes, service animals are permitted on board. Please be mindful of the number of furry friends you take on your voyage as there is a limited total number allowed per sailing and we must accommodate for all Sailors.

Service animals are dogs that are individually trained to do work or perform tasks for the benefit of an individual with a disability (e.g., guide dogs, hearing-ear dogs, psychiatric service dogs). The task(s) performed by the dog must be directly related to the person's disability. Individuals with disabilities will generally be permitted to access all the ship's public spaces accompanied by their service animal.

While we will make every effort to accommodate miniature horses as service animals, we ask the guest requiring the use of a miniature horse as a service animal to contact Sailor Services as soon as possible to assess the miniature horse's characteristics as a service animal.
We're sorry, but emotional support animals are not service animals. Emotional support animals will not be allowed on board.
For more information on service animals, we invite you to visit the U.S. Department of Justice Service Animal FAQs.